RO:Provincia (Nova Roma)
From NovaRoma
 Home| Latíné | Deutsch | Esperanto | Español | Français | Italiano | Magyar | Português | Română | Русский | English
Nova Roma este impartita in provincii. O provincie poate cuprinde una sau mai multe tari, sau doar parti din o tara. Spre deosebire de provinciile canadiene sau statele americane, provinciile Nova Roma sunt creatii ale senatului, corpul nostru guvernamental. Senatul, potrivit lex Vedia provincialis, poate crea o noua provincie sau poate uni unele deja existente prin senatus consultum. Tot senatul poate numi sau inlocui guvernatorii. Aceeasi lege stipuleaza indatoririle guvernatorilor.
Administratia
Structura administratiei provinciale variaza in functie de conditiile existente ale unei provincii. Mai multe provincii trec peste granitele nationale si lingvistice, de aceea pot fi numiti oficiali care sa reflecte acest lucru, alte provincii pot fi imense geografic sau au populatii izolate. Nu exista alte legi privitoare la organizarea formei de guvernamant a unei provincii decat lex Vedia provincialis. Aceasta creaza un cadru flexibil pentru realitatile provinciilor.
Provinciile Nova Roma
(Sud-vestul Americii) http://amaust.romanrepublic.org/
(Sud-estul Americii) http://groups.yahoo.com/group/austrorientalis
(Nord-vestul Americii) http://ambor.novaroma.org
(America central-nordica)
(Argentina) http://argentina.novaroma.org
(Vestul Asiei, pana acum Asia Occidentalis)
(Sud-estul Asiei, pana acum Asia Orientalis)
(Australia)
(Brazilia)
(Marea Britanie)
(California, Hawaii, Nevada) http://www.angelfire.com/empire/martiana/provincia/index.html
(Vestul Canadei) http://www.canadaoccidentalis.org
(Estul Canadei) http://www.canada-orientalis.org
(Romania) http://www.dacia-novaroma.org/
(Belgia, Franta, Olanda, Luxembourg) http://www.novaroma.org/nr/Provincia_Gallia_%28Nova_Roma%29
(Austria, Germania, Elvetia)
(Irlanda si Nordul Irlandei)
(Portugalia si Spania) http://perso.orange.es/mac856/ and http://www.geocities.com/nrhispania/
(Italia) http://italia.novaroma.org
(Zona Marilor Lacuri ) http://romanrepublic.org/lacusmagni
(America central-estica)
(Nord-Estul Americii) http://www.novabritannia.org
(Cehia, Ungaria, Slovacia) http://www.nrpannonia.iweb.hu
(Ucraina, Rusia, Belarus) http://sarmatia.org
(Danemarca, Finlanda, Islanda, Norvegia, Suedia) http://thule.novaroma.org
(Polonia)
Harta provinciilor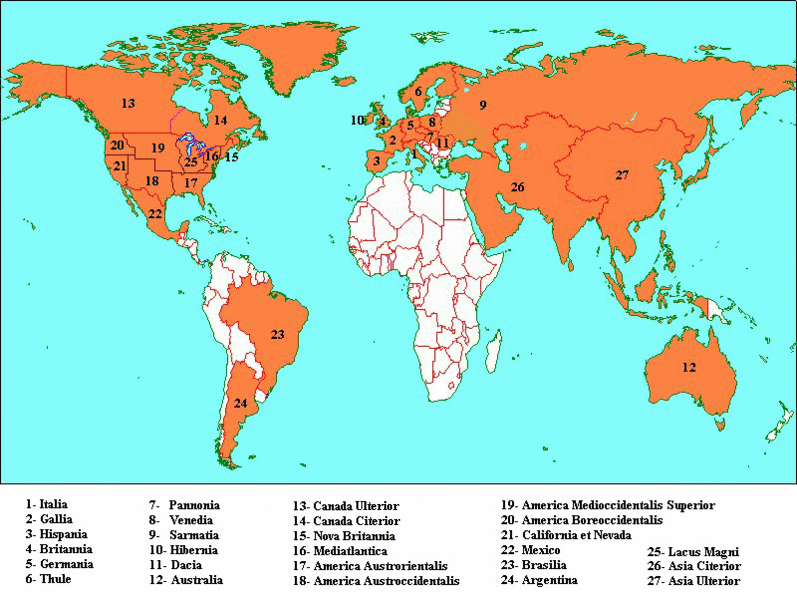 Lista guvernatorilor
Aceasta este lista cu actualii guvernatori a.d. VI Id. Mar. ‡ M. Moravio T. Iulio cos. ‡ MMDCCLXI a.u.c.
 Home| Latíné | Deutsch | Esperanto | Español | Français | Italiano | Magyar | Português | Română | Русский | English

This page is maintained under authority of the Princeps senatus.
Make no unauthorized changes .
Areas by alphabetical listing
| | Name | Abrv | Nation(s) | Region(s) details and link to any area lists | Area status | Communities | Assigned | Rank & email |
| --- | --- | --- | --- | --- | --- | --- | --- | --- |
| 1 | Alasca et Havaia | AEH | USA | Alaska, Hawaii | Unsettled | NIL | VACANT | Senate |
| 2 | America Cismississippiana | ACM | USA | Illinois, Indiana | Unsettled | NIL | VACANT | Senate |
| 3 | America Deserta | AMD | USA | Arizona, Nevada, Utah | Province | NIL | Lucius Cornelius Sulla Felix | Proconsul |
| 4 | America Gallica | AGL | USA | Arkansas, Louisiana | Unsettled | NIL | VACANT | Senate |
| 5 | America Hispanica | AHS | USA | New Mexico, Colorado | Unsettled | NIL | VACANT | Senate |
| 6 | America Mississippiensis | AMS | USA | Mississippi, Alabama | Unsettled | NIL | VACANT | Senate |
| 7 | America Missuriensis | AMO | USA | Iowa, Missouri | Unsettled | NIL | VACANT | Senate |
| 8 | America Montana | AMW | USA | Montana, Wyoming | Unsettled | NIL | VACANT | Senate |
| 9 | America Nebrascensis | ANE | USA | Nebraska, Kansas | Unsettled | NIL | VACANT | Senate |
| 10 | America Noveboracensis | ANB | USA | New York, New Jersey | Unsettled | NIL | VACANT | Senate |
| 11 | America Oregonensis | AOR | USA | Idaho, Oregon, Washington | Unsettled | NIL | VACANT | Senate |
| 12 | America Texia | ATX | USA | Texas, Oklahoma | Province | NIL | Publius Quinctius Petrus Augustinus | Procurator |
| 13 | America Transappalachiana | ATA | USA | Tennessee, Kentucky | Unsettled | NIL | VACANT | Senate |
| 14 | Argentina | ARG | Argentine, Paraguay, Uruguay | N/A | Unsettled | NIL | VACANT | Senate |
| 15 | Australia | AUS | Australia, New Zealand | N/A | Unsettled | NIL | VACANT | Senate |
| 16 | Brasilia | BRA | Brazil | N/A | Unsettled | NIL | VACANT | Senate |
| 17 | Britannia | BRT | United Kingdom, Ireland | N/A | Unsettled | NIL | VACANT | Senate |
| 18 | California Angelensis | CAA | USA | California, south of Paso Robles and Delano | Province | NIL | Quintus Fabius Maximus | Proconsul |
| 19 | California Franciscensis | CAF | USA | California north of Paso Robles and Delano | Province | NIL | Quintus Fabius Maximus | Proconsul |
| 20 | Canada Citerior | CCI | Canada | Ontario, Québec, Labrador, New Brunswick, Nova Scotia | Province | NIL | Gnaeus Iulius Caesar | Proconsul |
| 21 | Canada Ulterior | CUL | Canada | Alberta, Saskatchewan, Manitoba, British Columbia, Yukon, Northwest, Nunavut | Province | NIL | Gnaeus Iulius Caesar | Proconsul |
| 22 | Carolina | CAR | USA | North Carolina, South Carolina | Unsettled | NIL | VACANT | Senate |
| 23 | Columbia | COL | USA | Maryland, Columbia | Unsettled | NIL | VACANT | Senate |
| 24 | Dacia | DAC | Romania | Moldavia to river Dniestr | Province | NIL | Titus Iulius Sabinus | Proconsul |
| 25 | Dacota | DNS | USA | North Dakota, South Dakota | Unsettled | NIL | VACANT | Senate |
| 26 | Gallia | GAL | Netherlands, Luxembourg, Belgium, France, Monaco, Switizerland | French-speaking Swiss territories, without the German-speaking territories of Belgium | Unsettled | NIL | VACANT | Senate |
| 27 | Georgia Florida | GAF | USA | Florida, Georgia | Unsettled | NIL | VACANT | Senate |
| 28 | Germania | GER | Germany, Austria, Liechtenstein, Switzerland, Belgium | German-speaking territories of Switzerland and Belgium | Unsettled | NIL | VACANT | Senate |
| 29 | Guria | GUR | North Korea, South Korea | N/A | Unsettled | NIL | VACANT | Senate |
| 30 | Hispania | HIS | Portugal, Spain | N/A | Unsettled | NIL | VACANT | Senate |
| 31 | Italia | ITA | Italy, Vatican, San Marino, Malta, Switizerland | Italian-speaking Swiss territories | Italia | NIL | VACANT | Senate |
| 32 | Lacus Magni | LMG | USA | Wisconsin, Michigan | Unsettled | NIL | VACANT | Senate |
| 33 | Mediatlantica | MED | USA | Pennsylvania, Delaware | Unsettled | NIL | VACANT | Senate |
| 34 | Minnesota | MIN | USA | Minnesota | Unsettled | NIL | VACANT | Senate |
| 35 | Nipponia | NIP | Japan | N/A | Unsettled | NIL | VACANT | Senate |
| 36 | Nova Britannia Citerior | NBC | USA | Maine, New Hampshire, Vermont | Unsettled | NIL | VACANT | Senate |
| 37 | Nova Britannia Ulterior | NBU | USA | Massachusetts, Rhode Island, Connecticut | Unsettled | NIL | VACANT | Senate |
| 38 | Nova Hispania | NHS | Mexico, Belize, Guatemala, Honduras, El Salvador, Nicaragua, Costa Rica, Panama | N/A | Unsettled | NIL | VACANT | Senate |
| 39 | Ohio | OHO | USA | Ohio | Unsettled | NIL | VACANT | Senate |
| 40 | Pannonia | PAN | Slovenia, Hungary | N/A | Unsettled | NIL | VACANT | Senate |
| 41 | Sarmatia | SAR | Ukraine, Russian Federation, Belarus | Transnistria (East Bank of river Dniestr) | Unsettled | NIL | VACANT | Senate |
| 42 | Thule | THU | Iceland, Norway, Sweden, Denmark, Finland | N/A | Unsettled | NIL | VACANT | Senate |
| 43 | Venedia | VEN | Poland | N/A | Unsettled | NIL | VACANT | Senate |
| 44 | Virginia | VIR | USA | Virginia, West Virginia | Unsettled | NIL | VACANT | Senate |
Areas by Geographic Region
Asia and Australia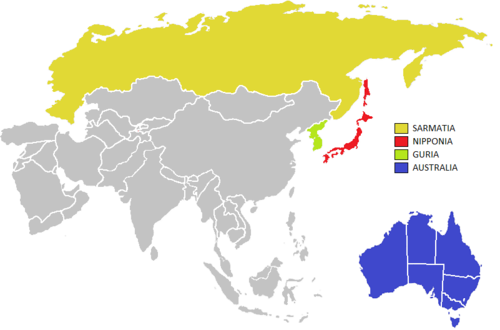 Canada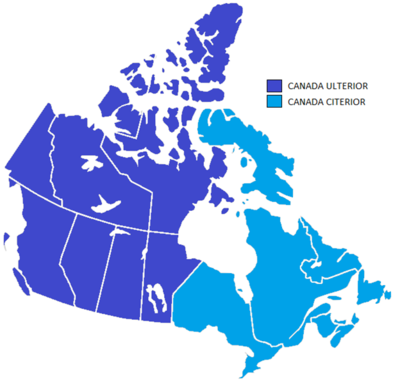 Europe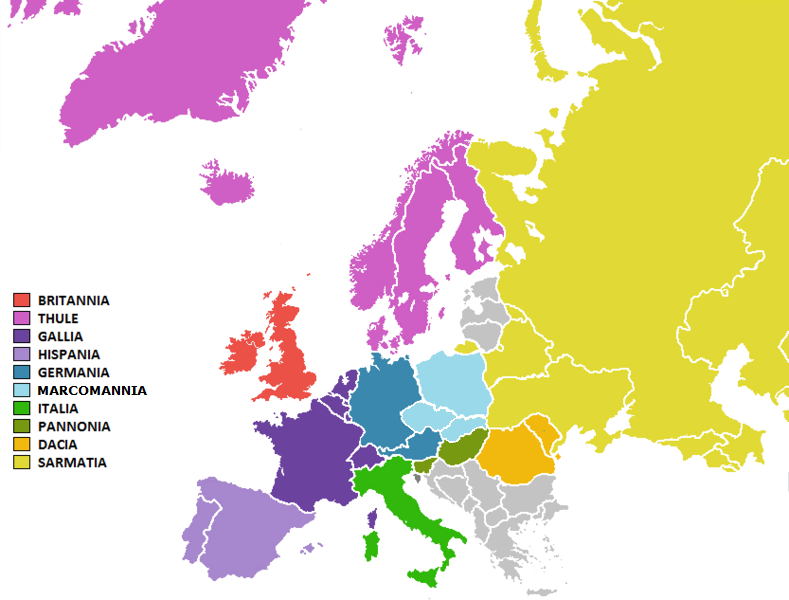 Mexico and Central America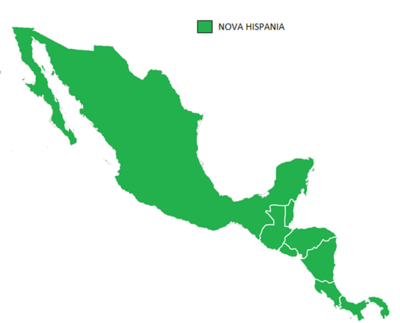 South America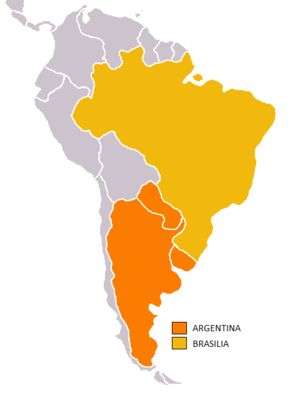 United States