Aulus Vitellius Celsus (Nova Roma)
From NovaRoma
 Home| Latíné | Deutsch | Esperanto | Español | Français | Italiano | Magyar | Português | Română | Русский | English
 Wiki: User: Talk - Contributions to this site 
 The only official record is in the Album Civium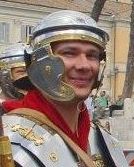 Aulus Vitellius Celsus
Album Civium

A. Vitellius is serving as Consul M. Curiatius' praefectus appointed into Bulgaria to represent Nova Roma and to lead the project of creating a new province in this area.
In september 2009 he participated in the Svishtov Roman Festival in which he led the group of Bulgarian Nova Romans ( M. Curiatio M. Iulio cos. ‡ MMDCCLXII a.u.c.). The Roman ritual which Vitellius's group represented to the public was a Roman wedding ritual from the end of the Republic, called confarreatio: Video: The Confarreatio
Between 5 and 7 of June 2010, he organized the first Roman festival in Kyustendil - 'Ulpia Pautalia 2010', which aim was the recreation of the Roman civilian life and rituals: Ulpia Pautalia 2010
In may 2011 as Aedilis Curulis, he organized the Third Festival of Antiquity in Plovdiv - 'Philippopolis 2011', where he, and his friend - augur Tiberius Germanicus (Nova Roma member from Estonia) represented auspicia for the first time in reenactment history: Video: The Auspicia ( auspicium )
He also takes part as a roman legionary in the events, organized by first bulgarian reenactor club 'Legio IIII Scythica' /led by other bulgarian active member of Nova Roma Tiberius Cassius Geminus/: 'Enemy at the gate', dedicated to battle of Abrittus, when the romans were defeated by goths Video: [1]; and 'Meeting the Emperor Septimius Severus in Augusta Traiana'. Video [2]
In April 2012 he and Legio IIII Scythica, were invited to participation on Parade march around historical center of Rome. The celebration Natale Di Roma - Birthday of Rome was organized by italian reenactment group - Gruppo Storico Romano: Video [3]
In May 2012 he invited Nova Roma citizens from Hungary, Czech Republic and Estonia, to participate in an International Nova Roman Convention during the Festival of Antiquity in Plovdiv, a festival of which he was the organizer for the 4th time:ON THE NOVA ROMA WEBSITE
P. Memmio K. Buteone (II) cos. ‡ MMDCCLXIII a.u.c.
Other Posts