IT:Provincia (Nova Roma)
From NovaRoma
 Home| Latíné | Deutsch | Esperanto | Español | Français | Italiano | Magyar | Português | Română | Русский | English
Nova Roma è divisa in diverse provinciae. Una provincia può comprendere una singola nazione o diverse, o, all'estremo opposto, essere composta di unità sub-nazionali facenti parte di una stessa nazione. Al contrario delle province del Canada o degli Stati americani, le provinciae Novaromane sono create dal Senato, l'organo governativo 'nazionale' . Il Senato, secondo la lex Vedia provincialis, può creare una nuova provincia o combinarne diverse già esistenti per mezzo del senatus consultum. Il Senato ha anche il potere di nominare e sostituire i governatori. La stessa legge specifica anche i poteri ed i doveri dei governatori provinciali.
Governo
La struttura dei governi provinciali varia ampiamente a seconda delle condizioni esistenti della provincia. Alcune province attraversano i confini nazionali e linguistici, pertanto devono essere nominati ufficiali consapevoli di questa situazione. Altre province sono geograficamente ampie o hanno popolazioni isolate. Non ci sono altre leggi riguardanti l'organizzazione o i governi provinciali oltre alla lex Vedia provincialis. Ciò crea una struttura flessibile per le variabili realtà delle provinciae.
Provinciae of Nova Roma
(Sud-ovest America) http://amaust.romanrepublic.org/
(Sud-Est America) http://groups.yahoo.com/group/austrorientalis
(Nord-Est America) http://ambor.novaroma.org
(Nord e Centro America)
(Argentina) http://argentina.novaroma.org
(Asia occidentale)
(Resto dell'Asia, ex Asia Orientalis)
(Australia)
(Brasile)
(Gran Bretagna)
(California, Hawaii, Nevada) http://www.angelfire.com/empire/martiana/provincia/index.html
(Canada occidentale) http://www.canadaoccidentalis.org
(Canada Orientale) http://www.canada-orientalis.org
(Romania) http://www.dacia-novaroma.org/
(Belgio, Francia, Paesi Bassi, Lussemburgo) http://www.novaroma.org/nr/Provincia_Gallia_%28Nova_Roma%29
Austria, Germania, Svizzera)
(Irlanda e Nord Irlanda)
(Portogallo e Spagna) http://perso.orange.es/mac856/ and http://www.geocities.com/nrhispania/
(Italy) http://italia.novaroma.org
(Grandi Laghi americani) http://romanrepublic.org/lacusmagni
(America Est/Centrale)
(Nord-Est America) http://www.novabritannia.org
(Repubblica Ceca, Ungheria, Slovacchia) http://www.nrpannonia.iweb.hu
(Ucraina, Russia, Bielorussia)
(Danimarca, Finlandia, Islanda, Norvegia, Svezia) http://thule.novaroma.org
(Polonia)
Mappa delle Province Novaromane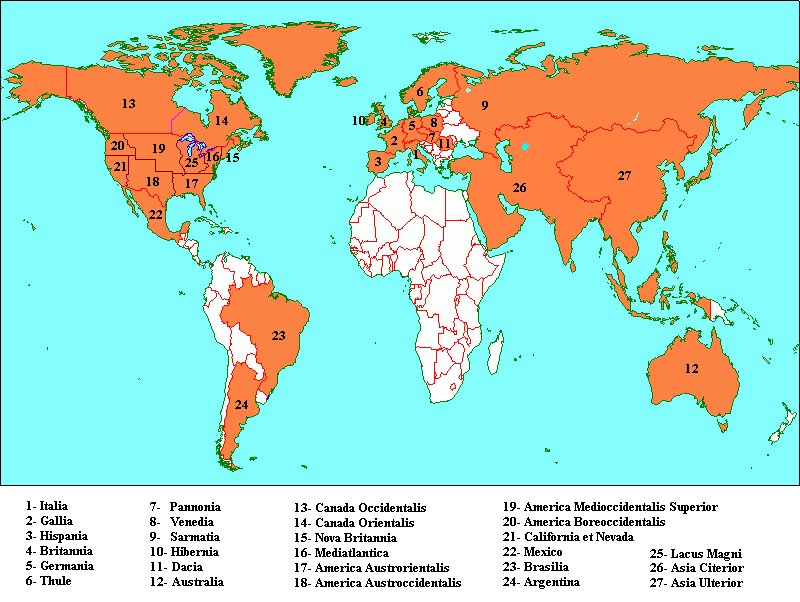 Elenco dei governatori attuali
Questo è l'elenco degli attuali governatori dell'anno M. Moravio T. Iulio cos. ‡ MMDCCLXI a.u.c.:
 Home| Latíné | Deutsch | Esperanto | Español | Français | Italiano | Magyar | Português | Română | Русский | English

This page is maintained under authority of the Princeps senatus.
Make no unauthorized changes .
Areas by alphabetical listing
| | Name | Abrv | Nation(s) | Region(s) details and link to any area lists | Area status | Communities | Assigned | Rank & email |
| --- | --- | --- | --- | --- | --- | --- | --- | --- |
| 1 | Alasca et Havaia | AEH | USA | Alaska, Hawaii | Unsettled | NIL | VACANT | Senate |
| 2 | America Cismississippiana | ACM | USA | Illinois, Indiana | Unsettled | NIL | VACANT | Senate |
| 3 | America Deserta | AMD | USA | Arizona, Nevada, Utah | Province | NIL | Lucius Cornelius Sulla Felix | Proconsul |
| 4 | America Gallica | AGL | USA | Arkansas, Louisiana | Unsettled | NIL | VACANT | Senate |
| 5 | America Hispanica | AHS | USA | New Mexico, Colorado | Unsettled | NIL | VACANT | Senate |
| 6 | America Mississippiensis | AMS | USA | Mississippi, Alabama | Unsettled | NIL | VACANT | Senate |
| 7 | America Missuriensis | AMO | USA | Iowa, Missouri | Unsettled | NIL | VACANT | Senate |
| 8 | America Montana | AMW | USA | Montana, Wyoming | Unsettled | NIL | VACANT | Senate |
| 9 | America Nebrascensis | ANE | USA | Nebraska, Kansas | Unsettled | NIL | VACANT | Senate |
| 10 | America Noveboracensis | ANB | USA | New York, New Jersey | Unsettled | NIL | VACANT | Senate |
| 11 | America Oregonensis | AOR | USA | Idaho, Oregon, Washington | Unsettled | NIL | VACANT | Senate |
| 12 | America Texia | ATX | USA | Texas, Oklahoma | Province | NIL | Publius Quinctius Petrus Augustinus | Procurator |
| 13 | America Transappalachiana | ATA | USA | Tennessee, Kentucky | Unsettled | NIL | VACANT | Senate |
| 14 | Argentina | ARG | Argentine, Paraguay, Uruguay | N/A | Unsettled | NIL | VACANT | Senate |
| 15 | Australia | AUS | Australia, New Zealand | N/A | Unsettled | NIL | VACANT | Senate |
| 16 | Brasilia | BRA | Brazil | N/A | Unsettled | NIL | VACANT | Senate |
| 17 | Britannia | BRT | United Kingdom, Ireland | N/A | Unsettled | NIL | VACANT | Senate |
| 18 | California Angelensis | CAA | USA | California, south of Paso Robles and Delano | Province | NIL | Quintus Fabius Maximus | Proconsul |
| 19 | California Franciscensis | CAF | USA | California north of Paso Robles and Delano | Province | NIL | Quintus Fabius Maximus | Proconsul |
| 20 | Canada Citerior | CCI | Canada | Ontario, Québec, Labrador, New Brunswick, Nova Scotia | Province | NIL | Gnaeus Iulius Caesar | Proconsul |
| 21 | Canada Ulterior | CUL | Canada | Alberta, Saskatchewan, Manitoba, British Columbia, Yukon, Northwest, Nunavut | Province | NIL | Gnaeus Iulius Caesar | Proconsul |
| 22 | Carolina | CAR | USA | North Carolina, South Carolina | Unsettled | NIL | VACANT | Senate |
| 23 | Columbia | COL | USA | Maryland, Columbia | Unsettled | NIL | VACANT | Senate |
| 24 | Dacia | DAC | Romania | Moldavia to river Dniestr | Province | NIL | Titus Iulius Sabinus | Proconsul |
| 25 | Dacota | DNS | USA | North Dakota, South Dakota | Unsettled | NIL | VACANT | Senate |
| 26 | Gallia | GAL | Netherlands, Luxembourg, Belgium, France, Monaco, Switizerland | French-speaking Swiss territories, without the German-speaking territories of Belgium | Unsettled | NIL | VACANT | Senate |
| 27 | Georgia Florida | GAF | USA | Florida, Georgia | Unsettled | NIL | VACANT | Senate |
| 28 | Germania | GER | Germany, Austria, Liechtenstein, Switzerland, Belgium | German-speaking territories of Switzerland and Belgium | Unsettled | NIL | VACANT | Senate |
| 29 | Guria | GUR | North Korea, South Korea | N/A | Unsettled | NIL | VACANT | Senate |
| 30 | Hispania | HIS | Portugal, Spain | N/A | Unsettled | NIL | VACANT | Senate |
| 31 | Italia | ITA | Italy, Vatican, San Marino, Malta, Switizerland | Italian-speaking Swiss territories | Italia | NIL | VACANT | Senate |
| 32 | Lacus Magni | LMG | USA | Wisconsin, Michigan | Unsettled | NIL | VACANT | Senate |
| 33 | Mediatlantica | MED | USA | Pennsylvania, Delaware | Unsettled | NIL | VACANT | Senate |
| 34 | Minnesota | MIN | USA | Minnesota | Unsettled | NIL | VACANT | Senate |
| 35 | Nipponia | NIP | Japan | N/A | Unsettled | NIL | VACANT | Senate |
| 36 | Nova Britannia Citerior | NBC | USA | Maine, New Hampshire, Vermont | Unsettled | NIL | VACANT | Senate |
| 37 | Nova Britannia Ulterior | NBU | USA | Massachusetts, Rhode Island, Connecticut | Unsettled | NIL | VACANT | Senate |
| 38 | Nova Hispania | NHS | Mexico, Belize, Guatemala, Honduras, El Salvador, Nicaragua, Costa Rica, Panama | N/A | Unsettled | NIL | VACANT | Senate |
| 39 | Ohio | OHO | USA | Ohio | Unsettled | NIL | VACANT | Senate |
| 40 | Pannonia | PAN | Slovenia, Hungary | N/A | Unsettled | NIL | VACANT | Senate |
| 41 | Sarmatia | SAR | Ukraine, Russian Federation, Belarus | Transnistria (East Bank of river Dniestr) | Unsettled | NIL | VACANT | Senate |
| 42 | Thule | THU | Iceland, Norway, Sweden, Denmark, Finland | N/A | Unsettled | NIL | VACANT | Senate |
| 43 | Venedia | VEN | Poland | N/A | Unsettled | NIL | VACANT | Senate |
| 44 | Virginia | VIR | USA | Virginia, West Virginia | Unsettled | NIL | VACANT | Senate |
Areas by Geographic Region
Asia and Australia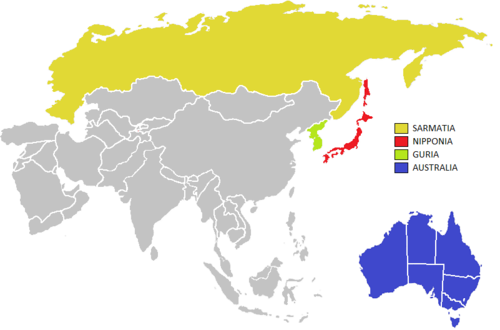 Canada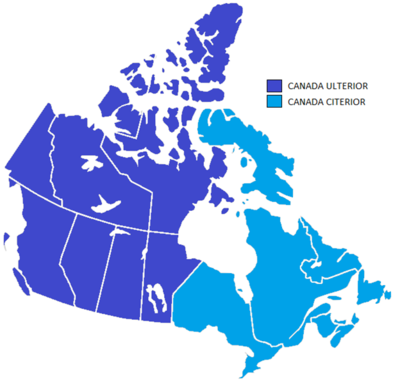 Europe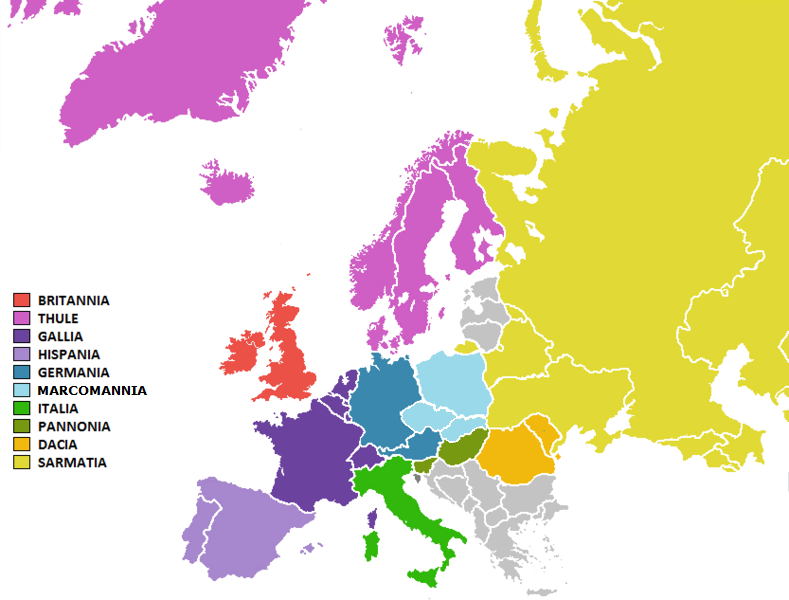 Mexico and Central America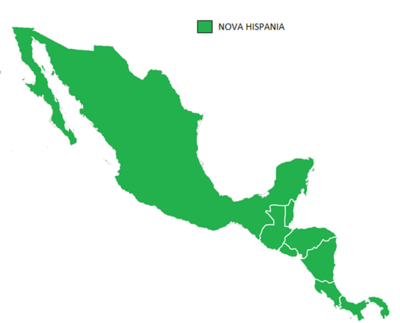 South America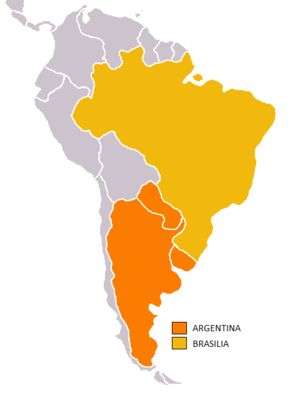 United States