Main Page
From NovaRoma
---
NOVA ROMA
Dedicated to the restoration of classical Roman religion, culture and virtues
 Home| Latíné | Deutsch | Español | Français | Italiano | Magyar | Português | Română | Русский | English
Hodié a.d. VIII Id. Sex. ‡ Q. Arrio (II) T. Domitio (III) cos. ‡ MMDCCLXXIII a.u.c. est. "C"
---
---
Obituary and Commemorations:
Read obituary and commemorations about Ti. Galerius Paulinus, and his 12 years dedicated to the restoration of classical Roman culture and virtues:
In memory of Ti. Galerius Paulinus


---
DAILY PHOTO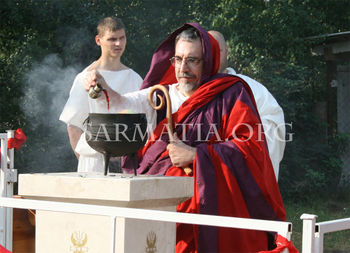 Augur M. Lucretius Agricola sacrifices in
Provincia Sarmatia
(Ukraine), inaugurating a Nova Roman temple.