Nova Roman Xenia Project
From NovaRoma
 Home| Latíné | Deutsch | Español | Français | Italiano | Magyar | Português | Română | Русский | English
Xenia (Gk: ξενία, Lat. hospitium) is the Greek concept of hospitality, a generosity and courtesy shown to those who are far from home. This custom common to the ancient Mediterranean world, shared by the Romans as well, is often translated as "guest-friendship" (or "ritualized friendship") because the rituals of hospitality create and express a reciprocal relationship between guest and host. The Greek god Zeus was sometimes referred to as Zeus Xenios, meaning he was god of, among other things, travelers. This created a particular religious obligation to be hospitable to travelers, but guests also had responsibilities beyond reciprocating hospitality.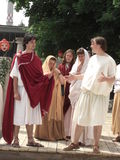 The
"Nova Roman Xenia Project"
is an undertaking born from the experience of many Nova Romans, the world over, who have made each other feel welcome as guests in their homes. In this, they have not only aided their fellow citizens in travel but have facilitated the gathering together of members of our global Roman community whereby real life relationships could develop, and in so doing, foster greater awareness of the foreign cultures from which fellow Nova Romans come, ultimately allowing us to build our
own
New Roman culture.
Those of us who are willing to receive their fellow citizens as guests in their homes, in so doing, provide them with the finest opportunity for fellow Nova Romans to come to know each other in real life, to understand each other's modern cultures, and to aid each other in travel while visiting countries where Romans may or may not have lived but where their cultural legacy can still be felt, an ever-present pulse of the original Roman heart still beating in so many of our modern traditions. By coming together in understanding, we can further bring to light the distant influences of Roman culture that sometimes in the faintest of traces, at other times in bold strokes, have influenced our modern cultures.
The project is now in its first phase and there is still much to discuss.
We ask only one thing from you:
Please share your ideas HERE in this NR WIKI page.
How to participate in the Xenia Project
If you want to travel to a city which is listed below in this table, contact the citizen who is offering accommodation in that city, as shown in this table, below, and discuss the details privately.
If you are ready to receive your fellow Nova Romans into your house as guests should their travels lead them through your city, please add your name to this table, below.
Participants in the Xenia Project
*How many guests? = the number of guests you are willing to receive in your home.
NOTE that this is just the beginning of a potentially great project.
Further changes in all aspects of this project, including its presentation and design, can be expected soon. Vivat Nova Roma!