Main Page
From NovaRoma
---
NOVA ROMA
Dedicated to the restoration of classical Roman religion, culture and virtues
 Home| Latíné | Deutsch | Español | Français | Italiano | Magyar | Português | Română | Русский | English
Hodié a.d. VI Kal. Dec. ‡ Q. Arrio (II) T. Domitio (III) cos. ‡ MMDCCLXXIII a.u.c. est. "C"
---
---
Obituary and Commemorations:
Read obituary and commemorations about Ti. Galerius Paulinus, and his 12 years dedicated to the restoration of classical Roman culture and virtues:
In memory of Ti. Galerius Paulinus


---
DAILY PHOTO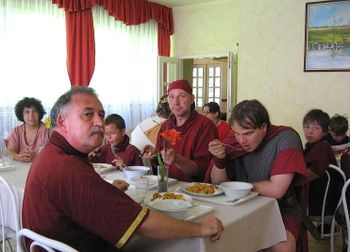 A tradition during the
ludi Apollinares
was to have lunch or dinner with open doors. Open door lunch of Nova Roman citizens for the
Ludi Apollinares
during the IV Nova Roman Reenactment Camp in
Pannonia
(Hungary), in 2761. From left to right Livia Plauta
tribuna plebis
, M. Metellus, Sp. Porcius and
Cn. Lentulus
as
centurio
around the table.