Main Page
From NovaRoma
(Difference between revisions)
m

(Added link to repaired magistrate/senate contact form)

Line 9:
Line 9:
 

{{PortalBox | title=THE REPUBLIC | content={{Include summary|:Res publica Novae Romae}}

 

{{PortalBox | title=THE REPUBLIC | content={{Include summary|:Res publica Novae Romae}}

 

----

 

----

−

'''Quick links:''' [[Declaration (Nova Roma)|Declaration]] - [[FAQ]] - [[:Category:Legal system (Nova Roma)|Laws]] - [[Aerarium Saturni (Nova Roma)|Treasury]] - [[Comitia (Nova Roma)|Comitia]] - [[{{CURRENTYEAR}}|Magistrates]] - [[Senate (Nova Roma)|Senate]] - [[Provincia (Nova Roma)|Provinces]] - [[Municipium (Nova Roma)|Municipalities]] - [[Citizen (Nova Roma)|Citizens]] - [http://www.novaroma.org/civitas/album Album civium] - [[Society of Nova Roma|Social structure]] - [[Annals (Nova Roma)|Annals]] - [[:Category:Res publica (Nova Roma)|All articles about our republic]] - [[:Category:Nova Roma|All articles about Nova Roma]] }}

+

'''Quick links:''' [[Declaration (Nova Roma)|Declaration]] - [[FAQ]] - [[:Category:Legal system (Nova Roma)|Laws]] - [[Aerarium Saturni (Nova Roma)|Treasury]] - [[Comitia (Nova Roma)|Comitia]] - [[{{CURRENTYEAR}}|Magistrates]] - [[Senate (Nova Roma)|Senate]] - [[Provincia (Nova Roma)|Provinces]] - [[Municipium (Nova Roma)|Municipalities]] - [[Citizen (Nova Roma)|Citizens]] - [http://www.novaroma.org/civitas/album Album civium] - [[Society of Nova Roma|Social structure]] - [[Annals (Nova Roma)|Annals]] - [[:Category:Res publica (Nova Roma)|All articles about our republic]] - [[:Category:Nova Roma|All articles about Nova Roma]] }}

 
 
 

{{PortalBox | title=ROMAN RELIGION | content={{Include summary|:Cultus_deorum_Romanorum}}

 

{{PortalBox | title=ROMAN RELIGION | content={{Include summary|:Cultus_deorum_Romanorum}}
---
Revision as of 06:47, 3 July 2013
NOVA ROMA
Dedicated to the restoration of classical Roman religion, culture and virtues
 Home| Latíné | Deutsch | Español | Français | Italiano | Magyar | Português | Română | Русский | English
Hodié a.d. XIX Kal. Ian. ‡ Q. Arrio P. Annaeo cos. ‡ MMDCCLXXII a.u.c. est. "D"


Aquila Nova Roma - The Official Newsletter of Nova Roma has returned!
CURRENT EVENTS

DIS MANIBVS
L. CORNELIO SVLLAE FELICI
CENSORI III : CONSVLI III : PRAETORI : QVAESTORI : CVRATORI AERARII
SIT TIBI TERRA LEVIS
---
---
• The next event of Nova Roma is in Provincia Thracia, organized by A. Vitellius Celsus, legatus pro praetore, the Festival of "Сердика е моят Рим" ("Serdica is my Rome"): 21-22 September.
---
• Taxes are now overdue if you have not paid! - Ask about it in our Facebook group or in our mailing lists.
---
Join the Nova Roman guest-friendship project.
Watch videos about Nova Roma on YouTube
Watch amazing photos of Nova Roman wedding ceremonies, a consecration of an augur, and an inauguration of a templum
---
---
DAILY PHOTO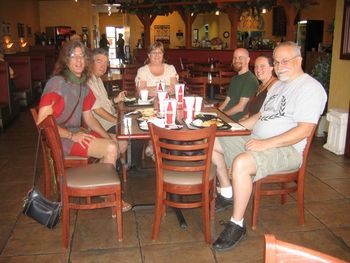 A meeting of the Nova Roman citizens of
Oppidum Fluminis Gilae
.