Main Page
From NovaRoma
(Difference between revisions)
(added Ipse Dixit)

Line 8:
Line 8:
 

<p style="font-size:125%; font-family:Times, Serif; color:#600000; font-weight:bold; text-align:center">'''These ''Ludi Novi Romani'' are the games celebrating the 20th Anniversary of the founding of Nova Roma through March 1-15.  

 

<p style="font-size:125%; font-family:Times, Serif; color:#600000; font-weight:bold; text-align:center">'''These ''Ludi Novi Romani'' are the games celebrating the 20th Anniversary of the founding of Nova Roma through March 1-15.  

 

<br/>Nova Roma was founded 20 years ago, March 1, 1998.'''

 

<br/>Nova Roma was founded 20 years ago, March 1, 1998.'''

 
+
 
+
 
+
 
+
 
+
 

</p>

 

</p>

 
+
 

</div>

 

</div>

 

<div style="width:100%">

 

<div style="width:100%">
---
Revision as of 13:00, 4 March 2018
---
NOVA ROMA
Dedicated to the restoration of classical Roman religion, culture and virtues
 Home| Latíné | Deutsch | Español | Français | Italiano | Magyar | Português | Română | Русский | English
Hodié a.d. III Kal. Mar. ‡ Q. Arrio (III) A. Tullia cos. ‡ MMDCCLXXIV a.u.c. est. "B"
---
---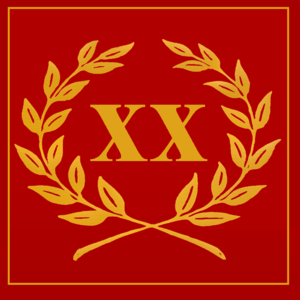 Nova Roma completes its 20th year today!
PARTICIPATE IN THE LUDI NOVI ROMANI
CELEBRATING THE XXth ANNIVERSARY OF THE FOUNDING OF NOVA ROMA
These Ludi Novi Romani are the games celebrating the 20th Anniversary of the founding of Nova Roma through March 1-15.
Nova Roma was founded 20 years ago, March 1, 1998.
DAILY PHOTO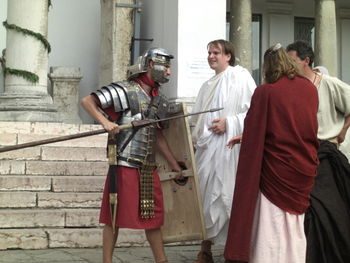 Good security at
XX Floralia Aquinci
. Performance of a Roman trial with
Cn. Lentulus
in the role of the defence, protecting the culprit (in black
toga
) with his body, when, after pronouncing the verdict, the guard is coming for him.