Main Page
From NovaRoma
(Difference between revisions)
m

(Added link to repaired magistrate/senate contact form)

Line 9:
Line 9:
 

{{PortalBox | title=THE REPUBLIC | content={{Include summary|:Res publica Novae Romae}}

 

{{PortalBox | title=THE REPUBLIC | content={{Include summary|:Res publica Novae Romae}}

 

----

 

----

−

'''Quick links:''' [[Declaration (Nova Roma)|Declaration]] - [[FAQ]] - [[:Category:Legal system (Nova Roma)|Laws]] - [[Aerarium Saturni (Nova Roma)|Treasury]] - [[Comitia (Nova Roma)|Comitia]] - [[{{CURRENTYEAR}}|Magistrates]] - [[Senate (Nova Roma)|Senate]] - [[Provincia (Nova Roma)|Provinces]] - [[Municipium (Nova Roma)|Municipalities]] - [[Citizen (Nova Roma)|Citizens]] - [http://www.novaroma.org/civitas/album Album civium] - [[Society of Nova Roma|Social structure]] - [[Annals (Nova Roma)|Annals]] - [[:Category:Res publica (Nova Roma)|All articles about our republic]] - [[:Category:Nova Roma|All articles about Nova Roma]] }}

+

'''Quick links:''' [[Declaration (Nova Roma)|Declaration]] - [[FAQ]] - [[:Category:Legal system (Nova Roma)|Laws]] - [[Aerarium Saturni (Nova Roma)|Treasury]] - [[Comitia (Nova Roma)|Comitia]] - [[{{CURRENTYEAR}}|Magistrates]] - [[Senate (Nova Roma)|Senate]] - [[Provincia (Nova Roma)|Provinces]] - [[Municipium (Nova Roma)|Municipalities]] - [[Citizen (Nova Roma)|Citizens]] - [http://www.novaroma.org/civitas/album Album civium] - [[Society of Nova Roma|Social structure]] - [[Annals (Nova Roma)|Annals]] - [[:Category:Res publica (Nova Roma)|All articles about our republic]] - [[:Category:Nova Roma|All articles about Nova Roma]] }}

 
 
 

{{PortalBox | title=ROMAN RELIGION | content={{Include summary|:Cultus_deorum_Romanorum}}

 

{{PortalBox | title=ROMAN RELIGION | content={{Include summary|:Cultus_deorum_Romanorum}}
---
Revision as of 06:47, 3 July 2013
---
NOVA ROMA
Dedicated to the restoration of classical Roman religion, culture and virtues
 Home| Latíné | Deutsch | Español | Français | Italiano | Magyar | Português | Română | Русский | English
Hodié a.d. III Kal. Dec. ‡ Q. Arrio (II) T. Domitio (III) cos. ‡ MMDCCLXXIII a.u.c. est. "F"
---
---


Aquila Nova Roma - The Official Newsletter of Nova Roma has returned!
DAILY PHOTO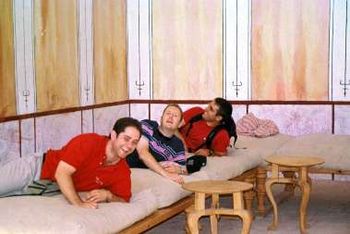 Photo taken at the
V Conventus Novae Romae
.
Cn. Salvius Astur
,
C. Moravius Laureatus
, & T. Amatius Paulus at
Arbeia
, enjoying a moment in a reconstructed Roman
triclinium
.