Main Page
From NovaRoma
(Difference between revisions)
(Update)

(145 intermediate revisions by 10 users not shown)
Line 1:
Line 1:
 

{{MainPageBanner|subtitle=Dedicated to the restoration of classical Roman religion, culture and virtues}}

 

{{MainPageBanner|subtitle=Dedicated to the restoration of classical Roman religion, culture and virtues}}

−

__NOTOC__ __NOEDITSECTION__

+
−

{{LanguageBar|Main Page}}

+
 
 
−

<table class="mainpage_table">

+

{{| title=Res

−

<tr>

+
−

<td class="mainpage_left">

+

''''|- :[[Nova Roma]] ../[[Res |]]

−

{{MainPageBox | title=Res Publica ''(the Republic)''| content=<span style="font-weight:normal">

+
−

[[Nova Roma]] is an organization dedicated to the study and restoration of ancient Roman culture. From its legendary founding in 753 BCE to 330 CE, when it ceased to be the center of Imperial authority, Rome set the standard and laid the foundation for our modern Western civilization.</span> [[Res Publica Novae Romae|Learn more...]]

+
 
 
−

Quick links: <span style="font-weight:normal">[[FAQ]] - [[:Category:Tabularium (Nova Roma)|Tabularium]] - [[Aerarium Saturni (Nova Roma)|Aerarium Saturni]] - [[{{CURRENTYEAR}}|Magistrates]] - [[:Category:Senators (Nova Roma)|Senators]] - ''[[Provincia (Nova Roma)|Provincia]]e'' - [[Annals (Nova Roma) | Annals of Nova Roma]] - [[Ager Publicus (Nova Roma)|Ager Publicus]] - [[Fasti_MMDCCLX|Fasti MMDCCLX]]</span>

+
−

}}

+
 
+

Quick links:[[:Category:(Nova Roma)|]] - [[(Nova Roma)|]] - [[:Category:(Nova Roma)|]] - [[]] - [[|]] - [[]] - [[|]]}}

 
 
−

{{MainPageBox | title=Cultus Deorum ''(Roman Religion)'' | content=<span style="font-weight:normal">

+

{{| title=| content=:

−

Sometimes called "Roman Paganism", the modern practice of the '''''Cultus Deorum Romanorum''''' is an attempt to [[reconstructionism|reconstruct]] the ancient religion of the Romans as closely as possible, making as few concessions to modern sensibilities as possible.</span> [[Cultus Deorum Romanorum|Learn more...]]

+
 
 
−

Quick links: <span style="font-weight:normal">[[:Category:Religio Romana (Nova Roma)|Cultus Deorum]] - [[Priests (Nova Roma)|Priests and Priesthoods]] - [[:Category:Ritus|Rites and Rituals]] - [[Roman Calendar]] - [[Comitia Curiata (Nova Roma)|Comitia Curiata]]</span>

+
−

}}

+
 
+

Quick links:[[(Nova Roma)|]] - [[(Nova Roma)|and ]] - [[:Category:|]] - [[]] - [[(Nova Roma)|]] /}}

 
 
−

{{MainPageBox | title=Cives ''(Citizens)''| content=

+

{{| title=| content=:

−

*[http://www.novaroma.org/civitas/album Album Civium] - Database of citizens

+

--

−

<!-- *[http://www.novaroma.org/bin/view/gallery Pinacotheca (Photo Gallery) ] -->

+

[:]- - [[|]] - [[|]] - [[:Category:|]]}}

−

*[[Reenactments|Campus Martius]] - Military reenactments

+
−

*[[Sodalitates (Nova Roma)|Sodalitates]] - Special Interest Groups

+
−

*[[:Category:Events for Romans|Events for Romans]] - Past and future gatherings

+
−

}}

+
 
 
−

{{MainPageBox | title=Via Romana ''(the Roman Way)''| content=

+
−

*[[Via Romana]]

+
−

*[[Roman Virtues]]

+

{{| title=| content=}}

−

*[[Lingua Latina]] - The Latin Language

+
−

*[[:Category:Bibliotheca|Camenaeum]] - Literature and Art

+
−

*[[:Category:Roman Clothing and Equipment|Roman Clothing and Equipment]]

+
−

}}

+
 
 
−

{{MainPageBox | title=Forum ''(communication,  marketplace)''| content=

 
−

*[[Mailing lists (Nova Roma)| Community Forum]]

 
−

*[http://www.insulaumbra.com/academiathules/ Academia Thules] - Our first University

 
−

*[[Macellum (Nova Roma)|Macellum]] - Marketplace

 
−

*[[Interview the Expert]]

 
−

}}

 
 
 
 
+
 
 
−

{{MainPageBox | title=BECOMING A CITIZEN | content=

 
−

* [[FAQ|Frequently Asked Questions]]

 
−

* [http://groups.yahoo.com/group/Nova-Roma/ Nova Roma Mailing List] - Join our email discussion list

 
−

* [[Choosing a Roman name]]

 
−

* '''[http://www.novaroma.org/bin/apply Apply for citizenship in Nova Roma]'''

 
−

* For New Citizens: [[New citizen first steps|''now what do I do?'']]

 
−

}}

 
 
 
−

</td>

+

{a }}

−

<td class="mainpage_right" align="right">

+
−

<!-- don't use MainPageBox here, because the Current Events content comes from a template -->

+
−

{|class="mainpagebox"

+
−

|-

+
−

|class="mainpagebox_head" | CURRENT EVENTS

+
−

|-

+
−

|class="mainpagebox_inner"|

+
−

<div align="center"><span class="year" title="2007 C.E.">L. Arminio Ti. Galerio cos.[[Consular Years (Nova Roma)|‡]] ([[MMDCCLX]] [[AUC|a.u.c.]])</span><br/>{{{{LOCALMONTHABBREV}} {{LOCALDAY}}}}</div><hr>

+
−

{{Current Events Shortlist}}

+
−

<div align="center">'''[[Current events|All Current Events...]] - [[Fasti_MMDCCLX|Interactive Calendar]]'''</div>

+
−

|}

+
 
 
 
+
 
+
 
+
 
+
 
+
 
+
 
+
 
+
 
+
 
+
 
+
 
+
 
+
 
+
 
+
 
+
 
+
 
 
−

{|class="mainpagebox"

+

[[Category:]]

−

|-

+
−

|class="mainpagebox_head" | PHOTO OF THE DAY

+
−

|-

+
−

| {{DailyPhoto}}

+
−

|}

+
−

 

+
−

 

+
−

{{MainPageBox | title=The Nove Roma Web Site | content=

+
−

''Citizens of Nova Roma - You can edit this site!''

+
−

* Need an account? Any citizen can [[NovaRoma:create a wiki account|create a wiki account]]!

+
−

* Problems? Join the mailing list [http://groups.yahoo.com/group/NRWiki NRWiki @ yahoogroups.com] and post a message.

+
−

* Visit our [[NovaRoma:Community Portal|Community Portal]] for editing guidelines.

+
−

*[[NovaRoma:Admin Requests|Contact the site administrators]] if you have any requests.

+
−

}}

+
−

 

+
−

</td>

+
−

</tr>

+
−

</table>

+
−

 

+
−

[[Category:Nova Roma]]

+
---
Revision as of 16:45, 7 April 2020
---
NOVA ROMA
Dedicated to the restoration of classical Roman religion, culture and virtues
 Roma Resurgens | Latíné | Deutsch | Español | Français | Italiano | Magyar | Português | Română | Русский | English| Roma Resurgens  
Hodié a.d. XV Kal. Oct. ‡ Q. Arrio (III) A. Tullia cos. ‡ MMDCCLXXIV a.u.c. est. "D"
---
DAILY PHOTO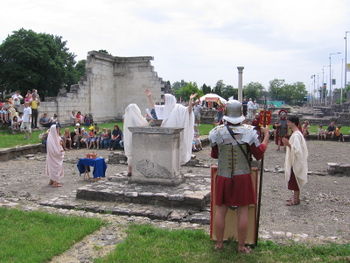 Legatus pro praetore
of
Pannonia
and priest
Cn. Lentulus
, assisted by Nova Romans, sacrifices for the well-being of
Nova Roma
at the altar of Aquincum, during the
Floralia Festival
in Budapest, Hungary.