Main Page
From NovaRoma
(Difference between revisions)
 

(16 intermediate revisions by 3 users not shown)
Line 1:
Line 1:
 

{{MainPageBanner|subtitle=Dedicated to the restoration of classical Roman religion, culture and virtues}}

 

{{MainPageBanner|subtitle=Dedicated to the restoration of classical Roman religion, culture and virtues}}

 

<div style="width:100%">

 

<div style="width:100%">

−

----

 
−

{{PortalBox | title=Obituary and Commemorations: | content=

 
−

<p style="font-family:Times, Serif"><span style="font-size:130%">'''Read [[In memory of Ti. Galerius Paulinus|obituary and commemorations]] about Ti. Galerius Paulinus''', and his 12 years dedicated to the restoration of classical Roman culture and virtues: </span></p>

 
−

<p style="font-family:Times, Serif; text-align:center; font-size:170%">'''[[In memory of Ti. Galerius Paulinus]]'''

 
−

<br>

 
−

[[File:SPQR-BLACK.JPG|60px]]

 
−

</p>

 
−

----

 
−

}}

 
−

 
 

<div style="width:49.7%;float:left; margin-left:0px">

 

<div style="width:49.7%;float:left; margin-left:0px">

 
 
---
Latest revision as of 12:07, 30 August 2019
NOVA ROMA
Dedicated to the restoration of classical Roman religion, culture and virtues
 Home| Latíné | Deutsch | Español | Français | Italiano | Magyar | Português | Română | Русский | English
Hodié a.d. III Id. Dec. ‡ Q. Arrio P. Annaeo cos. ‡ MMDCCLXXII a.u.c. est. "A"
CURRENT EVENTS

DIS MANIBVS
L. CORNELIO SVLLAE FELICI
CENSORI III : CONSVLI III : PRAETORI : QVAESTORI : CVRATORI AERARII
SIT TIBI TERRA LEVIS
---
---
• The next event of Nova Roma is in Provincia Thracia, organized by A. Vitellius Celsus, legatus pro praetore, the Festival of "Сердика е моят Рим" ("Serdica is my Rome"): 21-22 September.
---
• Taxes are now overdue if you have not paid! - Ask about it in our Facebook group or in our mailing lists.
---
Join the Nova Roman guest-friendship project.
Watch videos about Nova Roma on YouTube
Watch amazing photos of Nova Roman wedding ceremonies, a consecration of an augur, and an inauguration of a templum
---
---
DAILY PHOTO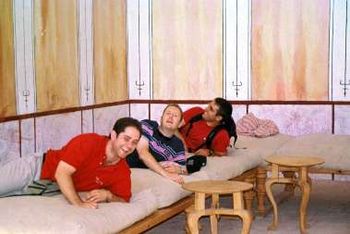 Photo taken at the
V Conventus Novae Romae
.
Cn. Salvius Astur
,
C. Moravius Laureatus
, & T. Amatius Paulus at
Arbeia
, enjoying a moment in a reconstructed Roman
triclinium
.