Main Page
From NovaRoma
(Difference between revisions)
m

 

(33 intermediate revisions by 4 users not shown)
Line 2:
Line 2:
 

<div style="width:100%">

 

<div style="width:100%">

 

<div style="width:49.7%;float:left; margin-left:0px">

 

<div style="width:49.7%;float:left; margin-left:0px">

 
+
 

{{PortalBox | title=THE REPUBLIC | content={{Include summary|:Res publica Novae Romae}}

 

{{PortalBox | title=THE REPUBLIC | content={{Include summary|:Res publica Novae Romae}}

 

----

 

----

Line 19:
Line 20:
 

----

 

----

 

'''Quick links:''' [[:Category:Reading list|Reading list]]s - [[Latin language]] - [[:Category:Roman Clothing and Equipment|Roman clothing and equipment]] - [[:Category:Via Romana|All articles about the Roman Way]] - [[:Category:Ancient Rome|All articles about ancient Rome]]}}

 

'''Quick links:''' [[:Category:Reading list|Reading list]]s - [[Latin language]] - [[:Category:Roman Clothing and Equipment|Roman clothing and equipment]] - [[:Category:Via Romana|All articles about the Roman Way]] - [[:Category:Ancient Rome|All articles about ancient Rome]]}}

 
+
 

</div>

 

</div>

 

<div style="width:49.7%;float:right; margin-right:0px">

 

<div style="width:49.7%;float:right; margin-right:0px">

Line 26:
Line 28:
 
 
 

{{Becoming a citizen}}

 

{{Becoming a citizen}}

 
+
 

</div>

 

</div>

 

<div style="clear:both">{{PortalBox | title=The Nova Roma Web Site | content=This site is an ongoing project of the [[citizen (Nova Roma)|citizens]] of Nova Roma to build a guide to our Republic and to that of ancient Rome. Any citizen can [[NovaRoma:create a wiki account|create an account]]. Join the mailing list [http://groups.yahoo.com/group/NRWiki NRWiki @ yahoogroups.com] to ask questions or propose projects. '''Visit our [[NovaRoma:Community Portal|Community Portal]] for [[NovaRoma:Help files|editing guidelines and tutorials]]''' and to learn about current projects. Learn how to '''[[NovaRoma:Submit_Citizen_Photo|upload your profile picture]]''', '''[[NovaRoma:password|recover your password]]''' or [[NovaRoma:Admin Requests|contact the site administrators]] if you have any requests.

 

<div style="clear:both">{{PortalBox | title=The Nova Roma Web Site | content=This site is an ongoing project of the [[citizen (Nova Roma)|citizens]] of Nova Roma to build a guide to our Republic and to that of ancient Rome. Any citizen can [[NovaRoma:create a wiki account|create an account]]. Join the mailing list [http://groups.yahoo.com/group/NRWiki NRWiki @ yahoogroups.com] to ask questions or propose projects. '''Visit our [[NovaRoma:Community Portal|Community Portal]] for [[NovaRoma:Help files|editing guidelines and tutorials]]''' and to learn about current projects. Learn how to '''[[NovaRoma:Submit_Citizen_Photo|upload your profile picture]]''', '''[[NovaRoma:password|recover your password]]''' or [[NovaRoma:Admin Requests|contact the site administrators]] if you have any requests.

Line 43:
Line 46:
 

</div>

 

</div>

 

__NOTOC__ __NOEDITSECTION__

 

__NOTOC__ __NOEDITSECTION__

−

<p style="color:#600000; font-family:Times, Serif; font-weight:bold; text-align:center"><span style="font-size:400%; line-height:100%">

+

 

−

[[File:Spqr-red-trans-50.gif]][[File:Smallredtrans-NR15.PNG]][[File:Spqr-red-trans-50.gif]][[File:Smallredtrans-NR15.PNG]][[File:Spqr-red-trans-50.gif]][[File:Smallredtrans-NR15.PNG]][[File:Spqr-red-trans-50.gif]][[File:Smallredtrans-NR15.PNG]][[File:Spqr-red-trans-50.gif]][[File:Smallredtrans-NR15.PNG]][[File:Spqr-red-trans-50.gif]][[File:Smallredtrans-NR15.PNG]][[File:Spqr-red-trans-50.gif]][[File:Smallredtrans-NR15.PNG]][[File:Spqr-red-trans-50.gif]][[File:Smallredtrans-NR15.PNG]][[File:Spqr-red-trans-50.gif]]</span></p>

+
 

[[Category:English]]

 

[[Category:English]]
---
Latest revision as of 12:07, 30 August 2019
NOVA ROMA
Dedicated to the restoration of classical Roman religion, culture and virtues
 Home| Latíné | Deutsch | Español | Français | Italiano | Magyar | Português | Română | Русский | English
Hodié a.d. VII Id. Dec. ‡ Q. Arrio P. Annaeo cos. ‡ MMDCCLXXII a.u.c. est. "E"
CURRENT EVENTS

DIS MANIBVS
L. CORNELIO SVLLAE FELICI
CENSORI III : CONSVLI III : PRAETORI : QVAESTORI : CVRATORI AERARII
SIT TIBI TERRA LEVIS
---
---
• The next event of Nova Roma is in Provincia Thracia, organized by A. Vitellius Celsus, legatus pro praetore, the Festival of "Сердика е моят Рим" ("Serdica is my Rome"): 21-22 September.
---
• Taxes are now overdue if you have not paid! - Ask about it in our Facebook group or in our mailing lists.
---
Join the Nova Roman guest-friendship project.
Watch videos about Nova Roma on YouTube
Watch amazing photos of Nova Roman wedding ceremonies, a consecration of an augur, and an inauguration of a templum
---
---
DAILY PHOTO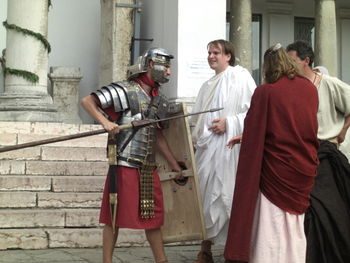 Good security at
XX Floralia Aquinci
. Performance of a Roman trial with
Cn. Lentulus
in the role of the defence, protecting the culprit (in black
toga
) with his body, when, after pronouncing the verdict, the guard is coming for him.