Main Page
From NovaRoma
(Difference between revisions)
m

Line 5:
Line 5:
 

<div style="border:thick solid #8B0000; border-width:6px; padding:10px">

 

<div style="border:thick solid #8B0000; border-width:6px; padding:10px">

 

<p style="font-size:220%; font-family:Times, Serif; font-weight:bold; text-align:center">Nova Roma has completed its 20th year!

 

<p style="font-size:220%; font-family:Times, Serif; font-weight:bold; text-align:center">Nova Roma has completed its 20th year!

−

<br>[[Ludi Novi Romani/MMDCCLXXI|PARTICIPATE IN THE LUDI NOVI ROMANI]]

 
 

<br><small>CELEBRATING THE XXth ANNIVERSARY OF THE FOUNDING OF NOVA ROMA</small>

 

<br><small>CELEBRATING THE XXth ANNIVERSARY OF THE FOUNDING OF NOVA ROMA</small>

 

</p>

 

</p>

−

<p style="font-size:130%; font-family:Times, Serif; color:#600000; font-weight:bold; text-align:center">'''These ''Ludi Novi Romani'' are the games celebrating the 20th Anniversary of the founding of Nova Roma through March 1-15.

+

<p style="font-size:130%; font-family:Times, Serif; color:#600000; font-weight:bold; text-align:center">'''Nova Roma was founded 20 years ago, March 1, 1998.'''

−

<br/>Nova Roma was founded 20 years ago, March 1, 1998.'''

+
 

</p>

 

</p>

 

<br style="clear:both"/>

 

<br style="clear:both"/>

−

<div style="background-color:#ffffff; border-width:20px; border-style:solid; border-color:#cc0000; padding:0.5em">

+

 

−

<p style="font-size:150%; font-family:Times, Serif; text-align:center">You can see the questions and answers of contests, here:

+
−

<br>[[Ludi Novi Romani/MMDCCLXXI/Ipse Dixit Quiz - The 20th Anniversary Edition|'''Ipse Dixit Quiz - The 20th Anniversary Edition''' - the Latin proverbs contest | '''PRIZE: An ancient Roman coin''']]

+
−

<br>[[Ludi Novi Romani/MMDCCLXXI/Certamen Historicum Antiquum|'''Certamen Historicum Antiquum''' - Roman history quiz contest | '''PRIZE: An e-book about Roman history''']]

+
−

</p>

+
−

</div>

+
 

</div>

 

</div>

 

<p style="color:#600000; font-family:Times, Serif; font-weight:bold; text-align:center"><span style="font-size:400%; line-height:100%">

 

<p style="color:#600000; font-family:Times, Serif; font-weight:bold; text-align:center"><span style="font-size:400%; line-height:100%">
---
Revision as of 13:57, 14 April 2018
---
NOVA ROMA
Dedicated to the restoration of classical Roman religion, culture and virtues
 Home| Latíné | Deutsch | Español | Français | Italiano | Magyar | Português | Română | Русский | English
Hodié a.d. XII Kal. Oct. ‡ Q. Arrio (II) T. Domitio (III) cos. ‡ MMDCCLXXIII a.u.c. est. "H"
---
---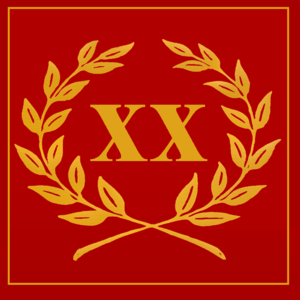 Nova Roma has completed its 20th year!
CELEBRATING THE XXth ANNIVERSARY OF THE FOUNDING OF NOVA ROMA
Nova Roma was founded 20 years ago, March 1, 1998.
DAILY PHOTO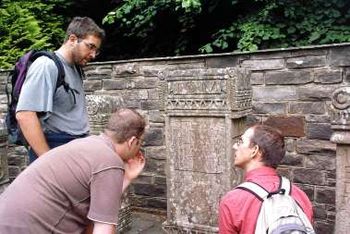 T. Amatius Paulus (Hispania), C. Moravius Laureatus (Britannia), & P. Memmius Albucius (Gallia) at
Vindolanda
, during the
V Conventus Novae Romae
.