Main Page
From NovaRoma
(Difference between revisions)
Line 1:
Line 1:
 

{{MainPageBanner|subtitle=Dedicated to the restoration of classical Roman religion, culture and virtues}}

 

{{MainPageBanner|subtitle=Dedicated to the restoration of classical Roman religion, culture and virtues}}

 

<div style="width:100%">

 

<div style="width:100%">

−

 

+
 

{{PortalBox | title=Obituary and Commemorations: | content=

 

{{PortalBox | title=Obituary and Commemorations: | content=

 

<p style="font-family:Times, Serif"><span style="font-size:130%">'''Read [[In memory of Ti. Galerius Paulinus|obituary and commemorations]] about Ti. Galerius Paulinus''', and his 12 years dedicated to the restoration of classical Roman culture and virtues: </span></p>

 

<p style="font-family:Times, Serif"><span style="font-size:130%">'''Read [[In memory of Ti. Galerius Paulinus|obituary and commemorations]] about Ti. Galerius Paulinus''', and his 12 years dedicated to the restoration of classical Roman culture and virtues: </span></p>
---
Revision as of 21:16, 16 December 2014
---
NOVA ROMA
Dedicated to the restoration of classical Roman religion, culture and virtues
 Home| Latíné | Deutsch | Español | Français | Italiano | Magyar | Português | Română | Русский | English
Hodié a.d. XI Kal. Nov. ‡ Q. Arrio (II) T. Domitio (III) cos. ‡ MMDCCLXXIII a.u.c. est. "H"
---
---
---
Obituary and Commemorations:
Read obituary and commemorations about Ti. Galerius Paulinus, and his 12 years dedicated to the restoration of classical Roman culture and virtues:
In memory of Ti. Galerius Paulinus


---
DAILY PHOTO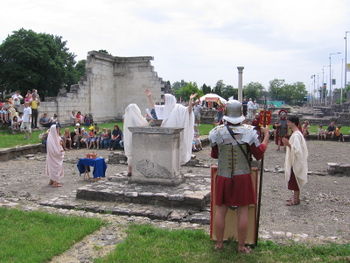 Legatus pro praetore
of
Pannonia
and priest
Cn. Lentulus
, assisted by Nova Romans, sacrifices for the well-being of
Nova Roma
at the altar of Aquincum, during the
Floralia Festival
in Budapest, Hungary.