Main Page
From NovaRoma
(Difference between revisions)
(removed Aquila banner until new articles are published)

Line 1:
Line 1:
 

{{MainPageBanner|subtitle=Dedicated to the restoration of classical Roman religion, culture and virtues}}

 

{{MainPageBanner|subtitle=Dedicated to the restoration of classical Roman religion, culture and virtues}}

 

<div style="width:100%">

 

<div style="width:100%">

−

<br><center>

 
−

[[File:Aquila-banner-01.jpg|alt=Aquila - The Official Newsletter of Nova Roma|link=http://novaromaeagle.blogspot.com/]]

 
−

<br>

 
−

'''[http://novaromaeagle.blogspot.com/ Aquila Nova Roma]''' - The Official Newsletter of Nova Roma has returned!

 
−

</center><br>

 
 

<div style="width:49.7%;float:left; margin-left:0px">

 

<div style="width:49.7%;float:left; margin-left:0px">

 

{{PortalBox | title=THE REPUBLIC | content={{Include summary|:Res publica Novae Romae}}

 

{{PortalBox | title=THE REPUBLIC | content={{Include summary|:Res publica Novae Romae}}
---
Revision as of 17:47, 24 July 2013
NOVA ROMA
Dedicated to the restoration of classical Roman religion, culture and virtues
 Home| Latíné | Deutsch | Español | Français | Italiano | Magyar | Português | Română | Русский | English
Hodié a.d. VII Id. Dec. ‡ Q. Arrio P. Annaeo cos. ‡ MMDCCLXXII a.u.c. est. "E"
CURRENT EVENTS

DIS MANIBVS
L. CORNELIO SVLLAE FELICI
CENSORI III : CONSVLI III : PRAETORI : QVAESTORI : CVRATORI AERARII
SIT TIBI TERRA LEVIS
---
---
• The next event of Nova Roma is in Provincia Thracia, organized by A. Vitellius Celsus, legatus pro praetore, the Festival of "Сердика е моят Рим" ("Serdica is my Rome"): 21-22 September.
---
• Taxes are now overdue if you have not paid! - Ask about it in our Facebook group or in our mailing lists.
---
Join the Nova Roman guest-friendship project.
Watch videos about Nova Roma on YouTube
Watch amazing photos of Nova Roman wedding ceremonies, a consecration of an augur, and an inauguration of a templum
---
---
DAILY PHOTO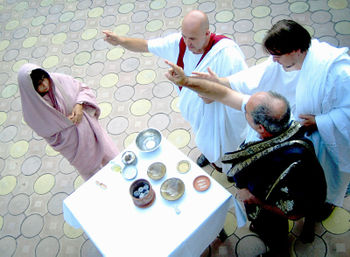 Livia Plauta
tribuna plebis,
T. Iulius
consul,
Cn. Lentulus
quaestor and
M. Moravius
consul, flamen, pontifex and augur sacrifice to Hercules for the 10th Anniversary of Nova Roma in 2008, during the
VI Conventus Novae Romae
.