Main Page
From NovaRoma
(Difference between revisions)
m

m

Line 22:
Line 22:
 

<div style="width:49.7%;float:right; margin-right:0px">

 

<div style="width:49.7%;float:right; margin-right:0px">

 

{{PortalBox | title=CURRENT EVENTS | content={{Current Events Shortlist}}}}

 

{{PortalBox | title=CURRENT EVENTS | content={{Current Events Shortlist}}}}

−

 
−

{{PortalBox | title= <div style="background-color:#000000; color:#c00000">II Conventus Novae Romae in America</div>| content=

 
−

<div style="background-color:#000000;"><table><tr><td>[[Image:Prov vex aae.png]]</td><td><span style="color:#c00000">The second annual '''Conventus Novae Romae in North America''' will be held on October 8-11. </span>[[II_Conventus_Novae_Romae_in_North_America|More info...]]</td></tr></table></div>}}

 
 
 
 

{{PortalBox | title=DAILY PHOTO | content={{PhotoSwitcher}}}}

 

{{PortalBox | title=DAILY PHOTO | content={{PhotoSwitcher}}}}
---
Revision as of 11:57, 18 November 2010
---
NOVA ROMA
Dedicated to the restoration of classical Roman religion, culture and virtues
 Home| Latíné | Deutsch | Español | Français | Italiano | Magyar | Português | Română | Русский | English
Hodié a.d. XV Kal. Feb. ‡ Q. Arrio (III) A. Tullia cos. ‡ MMDCCLXXIV a.u.c. est. "B"
---
---
DAILY PHOTO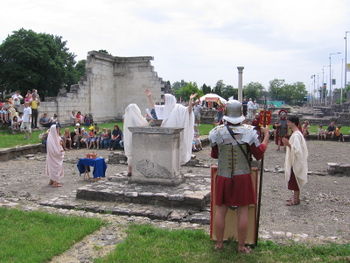 Legatus pro praetore
of
Pannonia
and priest
Cn. Lentulus
, assisted by Nova Romans, sacrifices for the well-being of
Nova Roma
at the altar of Aquincum, during the
Floralia Festival
in Budapest, Hungary.