Main Page
From NovaRoma
(Difference between revisions)
m

Line 19:
Line 19:
 

{{PortalBox | title=THE REPUBLIC | content={{Include summary|:Res publica Novae Romae}}

 

{{PortalBox | title=THE REPUBLIC | content={{Include summary|:Res publica Novae Romae}}

 

----

 

----

−

'''Quick links:''' [[Declaration (Nova Roma)|Declaration]] - [[Functions (Nova Roma)|Functions]] - [[Missions (Nova Roma)|Missions]] - [[Operational Divisions of Nova Roma| Divisions]] - [[Senate (Nova Roma)|Senate]] - [[Aerarium Saturni (Nova Roma)|Treasury]] - [[{{CURRENTYEAR}}|Magistrates]] - [[Comitia (Nova Roma)|Comitia]] - [[:Category:Legal system (Nova Roma)|Laws]] - [[Society of Nova Roma|Social structure]] - [[Provincia (Nova Roma)|Areas]] - [[Communities (Nova Roma)|Communities]] - [[Citizen (Nova Roma)|Citizens]] - [http://www.novaroma.org/civitas/album Album civium] - [[Annals (Nova Roma)|Annals]] - [[:Category:Res publica (Nova Roma)|All articles about our republic]] - [[FAQ]] - [[:Category:Nova Roma|All articles about Nova Roma]]}}

+

'''Quick links:''' [[Declaration (Nova Roma)|Declaration]] - [[Functions (Nova Roma)|Functions]] - [[Missions (Nova Roma)|Missions]] - [[Operational Divisions of Nova Roma| Divisions]] - [[Senate (Nova Roma)|Senate]] - [[Aerarium Saturni (Nova Roma)|Treasury]] - [[{{CURRENTYEAR}}|Magistrates]] - [[Comitia (Nova Roma)|Comitia]] - [[:Category:Legal system (Nova Roma)|Laws]] - [[Society of Nova Roma|Social structure]] - [[Provincia (Nova Roma)|Areas]] - [[Communities (Nova Roma)|Communities]] - [[Citizen (Nova Roma)|Citizens]] - [http://www.novaroma.org/civitas/album Album civium] - [[Annals (Nova Roma)|Annals]] - [[:Category:Res publica (Nova Roma)|All articles about our republic]] - [[FAQ]] - [[:Category:Nova Roma|All articles about Nova Roma]]}}

 
 
 

{{PortalBox | title=ROMAN RELIGION | content={{Include summary|:Cultus_deorum_Romanorum}}

 

{{PortalBox | title=ROMAN RELIGION | content={{Include summary|:Cultus_deorum_Romanorum}}

Line 29:
Line 29:
 

'''Learn more about Rome and Nova Roma in our many [[Nova Roma publications|publications]].'''

 

'''Learn more about Rome and Nova Roma in our many [[Nova Roma publications|publications]].'''

 

----

 

----

−

'''Quick links:''' [[Mailing lists (Nova Roma)|Mailing lists]] - [[Sodalitas|Special interest groups]] - [[Macellum_(Nova_Roma)|Marketplace]] - [[Media Services (Nova Roma)|Media Pages]] - [[Reenactments|Civilian and military reenactments]] - ''[[Academia Thules]]'' - [[:Category:Events for Romans|Events for Romans]] - [[Aediles (Nova Roma)|Aediles Portal for Public Events]] - [[:Category:Ludi (Nova Roma)|Games]] - [[Special:Newimages|Photos]] - [http://www.youtube.com/view_play_list?p=7121C0874693FF89 Videos] - [[Vox Romana|Our podcast]] - [[:Category:Civic life (Nova Roma)|All articles about civic life in Nova Roma]]}}

+

'''Quick links:''' [[Sodalitas|Special interest groups]] - [[Macellum_(Nova_Roma)|Marketplace]] - [[Media Services (Nova Roma)|Media Pages]] - [[Reenactments|Civilian and military reenactments]] - ''[[Academia Thules]]'' - [[:Category:Events for Romans|Events for Romans]] - [[Aediles (Nova Roma)|Aediles Portal for Public Events]] - [[:Category:Ludi (Nova Roma)|Games]] - [[Special:Newimages|Photos]] - [http://www.youtube.com/view_play_list?p=7121C0874693FF89 Videos] - [[Vox Romana|Our podcast]] - [[:Category:Civic life (Nova Roma)|All articles about civic life in Nova Roma]]}}

 
 
 

{{PortalBox | title=THE ROMAN WAY| content={{Include summary|:Via Romana}}

 

{{PortalBox | title=THE ROMAN WAY| content={{Include summary|:Via Romana}}
---
Revision as of 14:58, 14 April 2018
---
NOVA ROMA
Dedicated to the restoration of classical Roman religion, culture and virtues
 Home| Latíné | Deutsch | Español | Français | Italiano | Magyar | Português | Română | Русский | English
Hodié a.d. XI Kal. Nov. ‡ Q. Arrio (II) T. Domitio (III) cos. ‡ MMDCCLXXIII a.u.c. est. "H"
---
---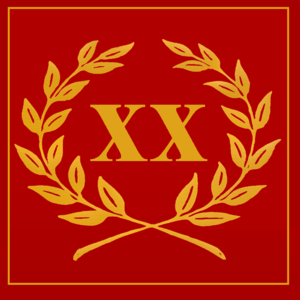 Nova Roma has completed its 20th year!
CELEBRATING THE XXth ANNIVERSARY OF THE FOUNDING OF NOVA ROMA
Nova Roma was founded 20 years ago, March 1, 1998.
DAILY PHOTO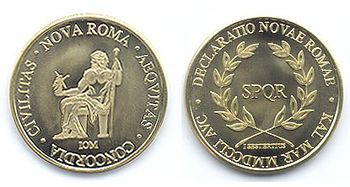 A Nova Roman sestertius, honouring the
Declaration of Nova Roma
in 1998.