Main Page
From NovaRoma
(Difference between revisions)
Line 4:
Line 4:
 

{{PortalBox | title=THE REPUBLIC | content={{Include summary|:Res publica Novae Romae}}

 

{{PortalBox | title=THE REPUBLIC | content={{Include summary|:Res publica Novae Romae}}

 

----

 

----

−

'''Quick links:''' [[Declaration (Nova Roma)|Declaration]] - [[FAQ]] - [[:Category:Legal system (Nova Roma)|Laws]] - [[Aerarium Saturni (Nova Roma)|Treasury]] - [[Comitia (Nova Roma)|Comitia]] - [[{{CURRENTYEAR}}|Magistrates]] - [[Senate (Nova Roma)|Senate]] - [[Provincia (Nova Roma)|Provinces]] - [[Municipium (Nova Roma)|Municipalities]] - <!-- ''[[Ager Publicus (Nova Roma)|Ager Publicus]]'' - -->[[Citizen (Nova Roma)|Citizens]] - [http://www.novaroma.org/civitas/album Album civium] - [[Society of Nova Roma|Social structure]] - [[Annals (Nova Roma)|Annals]] - [[:Category:Res publica (Nova Roma)|All articles about our republic]] - [[:Category:Nova Roma|All articles about Nova Roma]] }}

+

'''Quick links:''' [[Declaration (Nova Roma)|Declaration]] - [[FAQ]] - [[:Category:Legal system (Nova Roma)|Laws]] - [[Aerarium Saturni (Nova Roma)|Treasury]] - [[Comitia (Nova Roma)|Comitia]] - [[{{CURRENTYEAR}}|Magistrates]] - [[Senate (Nova Roma)|Senate]] - [[Provincia (Nova Roma)|Provinces]] - [[Municipium (Nova Roma)|Municipalities]] - [[Citizen (Nova Roma)|Citizens]] - [http://www.novaroma.org/civitas/album Album civium] - [[Society of Nova Roma|Social structure]] - [[Annals (Nova Roma)|Annals]] - [[:Category:Res publica (Nova Roma)|All articles about our republic]] - [[:Category:Nova Roma|All articles about Nova Roma]] }}

 
 
 

{{PortalBox | title=ROMAN RELIGION | content={{Include summary|:Cultus_deorum_Romanorum}}

 

{{PortalBox | title=ROMAN RELIGION | content={{Include summary|:Cultus_deorum_Romanorum}}

Line 14:
Line 14:
 

'''Learn more about Rome and Nova Roma in our many [[Nova Roma publications|publications]].'''

 

'''Learn more about Rome and Nova Roma in our many [[Nova Roma publications|publications]].'''

 

----

 

----

−

'''Quick links:''' [[Mailing lists (Nova Roma)|Mailing lists]] - [[Sodalitas|Special interest groups]] - [[Reenactments|Civilian and military reenactments]] - ''[[Academia Thules]]'' - [[:Category:Events for Romans|Events for Romans]] - [[:Category:Ludi (Nova Roma)|Games]] - [[Special:Newimages|Photos]] - [http://www.youtube.com/view_play_list?p=7121C0874693FF89 Videos] - [[Vox Romana|Our podcast]] - [[:Category:Civic life (Nova Roma)|All articles about civic life in Nova Roma]]}}

+

'''Quick links:''' [[Mailing lists (Nova Roma)|Mailing lists]] - [[Sodalitas|Special interest groups]] - [[Reenactments|Civilian and military reenactments]] - ''[[Academia Thules]]'' - [[:Category:Events for Romans|Events for Romans]] - [[:Category:Ludi (Nova Roma)|Games]] - [[Special:Newimages|Photos]] - [http://www.youtube.com/view_play_list?p=7121C0874693FF89 Videos] - [[Vox Romana|Our podcast]] - [[:Category:Civic life (Nova Roma)|All articles about civic life in Nova Roma]]}}

 
 
 

{{PortalBox | title=THE ROMAN WAY| content={{Include summary|:Via Romana}}

 

{{PortalBox | title=THE ROMAN WAY| content={{Include summary|:Via Romana}}
---
Revision as of 22:39, 21 January 2013
---
NOVA ROMA
Dedicated to the restoration of classical Roman religion, culture and virtues
 Home| Latíné | Deutsch | Español | Français | Italiano | Magyar | Português | Română | Русский | English
Hodié a.d. VII Kal. Nov. ‡ Q. Arrio (II) T. Domitio (III) cos. ‡ MMDCCLXXIII a.u.c. est. "D"
---
---
DAILY PHOTO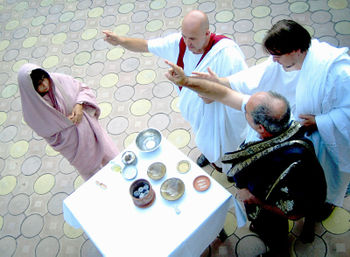 Livia Plauta
tribuna plebis,
T. Iulius
consul,
Cn. Lentulus
quaestor and
M. Moravius
consul, flamen, pontifex and augur sacrifice to Hercules for the 10th Anniversary of Nova Roma in 2008, during the
VI Conventus Novae Romae
.