Main Page
From NovaRoma
(Difference between revisions)
(changed link)

Line 30:
Line 30:
 

'''Learn more about Rome and Nova Roma in our many [[Nova Roma publications|publications]].'''

 

'''Learn more about Rome and Nova Roma in our many [[Nova Roma publications|publications]].'''

 

----

 

----

−

'''Quick links:''' [[Mailing lists (Nova Roma)|Discussion forum]] - [[Sodalitas|Special interest groups]] - [[Macellum_(Nova_Roma)|Marketplace]] - [[Media Services (Nova Roma)|Media Pages]] - [[Reenactments|Civilian and military reenactments]] - ''[[Academia Thules]]'' - [[:Category:Events for Romans|Events for Romans]] - [[Aediles (Nova Roma)|Aediles Portal for Public Events]] - [[:Category:Ludi (Nova Roma)|Games]] - [[Special:Newimages|Photos]] - [https://www.youtube.com/playlist?list=PL7121C0874693FF89 Videos] - [[Vox Romana|Our podcast]] - [[:Category:Civic life (Nova Roma)|All articles about civic life in Nova Roma]]}}

+

'''Quick links:''' [[(Nova Roma)|Discussion forum]] - [[Sodalitas|Special interest groups]] - [[Macellum_(Nova_Roma)|Marketplace]] - [[Media Services (Nova Roma)|Media Pages]] - [[Reenactments|Civilian and military reenactments]] - ''[[Academia Thules]]'' - [[:Category:Events for Romans|Events for Romans]] - [[Aediles (Nova Roma)|Aediles Portal for Public Events]] - [[:Category:Ludi (Nova Roma)|Games]] - [[Special:Newimages|Photos]] - [https://www.youtube.com/playlist?list=PL7121C0874693FF89 Videos] - [[Vox Romana|Our podcast]] - [[:Category:Civic life (Nova Roma)|All articles about civic life in Nova Roma]]}}

 
 
 
 
---
Revision as of 15:27, 25 October 2021
---
NOVA ROMA
Dedicated to the restoration of classical Roman religion, culture and virtues
 Roma Resurgens | Latíné | Deutsch | Español | Français | Italiano | Magyar | Português | Română | Русский | English| Roma Resurgens  
Hodié prid. Non. Dec. ‡ Q. Arrio (III) A. Tullia cos. ‡ MMDCCLXXIV a.u.c. est. "B"
---
IN MEMORY OF CN. CORNELIUS LENTULUS ALEXANDER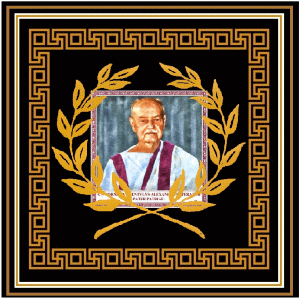 CENSORIAL FUNERAL, STATE MOURNING AND THE LUDI CORNELII
WERE HELD BY NOVA ROMA FOR
CN. CORNELIUS LENTULUS ALEXANDER
(Sándor Gonda),
IMPERATOR, PATER PATRIAE, CENSORIAL AND CONSULAR SENATOR, FORMER CONSUL, INTERREX AND REX SACRORUM, WHO HAS PASSED AWAY WHILE HOLDING THE OFFICE OF CENSOR AND PROCONSUL.

Read the obituary and commemorations about Cn. Cornelius Lentulus Alexander, and the account of his actions dedicated to the restoration of classical Roman culture and virtues.The aediles of Nova Roma conducted the Ludi Cornelii in honor of Cn. Cornelius Lentulus Alexander. Nova Romans paid their final respects in memory of our great fellow citizen, so that the world could see how the Nova Romans thanked and remembered the service of their fellow citizens! Click on the link and see the programs in which you should participate:
DAILY PHOTO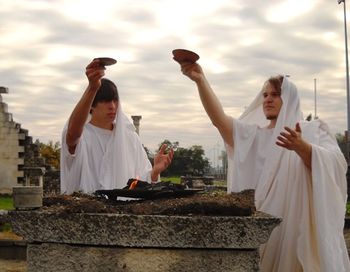 Praefectus
of
Lusitania
C. Cocceius
and
legatus pro praetore
of
Pannonia
Cn. Lentulus pontifex
, offering a sacrifice for the well-being of
Nova Roma
at the altar of Aquincum, at the
Lusitania-Pannonia Interprovincial Meeting
in Budapest, Hungary, 2010.
The Nova Roma Web Site In State Mourning

---