IT:Pagina principale
From NovaRoma
NOVA ROMA
Dedicato al ripristino della religione, della cultura e delle virtù romane classiche
 Home| Latíné | Deutsch | Español | Français | Italiano | Magyar | Português | Română | Русский | English
Hodié a.d. XV Kal. Nov. ‡ Q. Arrio P. Annaeo cos. ‡ MMDCCLXXII a.u.c. est. "C"
EVENTI IN CORSO

DIS MANIBVS
L. CORNELIO SVLLAE FELICI
CENSORI III : CONSVLI III : PRAETORI : QVAESTORI : CVRATORI AERARII
SIT TIBI TERRA LEVIS
---
---
• The next event of Nova Roma is in Provincia Thracia, organized by A. Vitellius Celsus, legatus pro praetore, the Festival of "Сердика е моят Рим" ("Serdica is my Rome"): 21-22 September.
---
• Taxes are now overdue if you have not paid! - Ask about it in our Facebook group or in our mailing lists.
---
Join the Nova Roman guest-friendship project.
Watch videos about Nova Roma on YouTube
Watch amazing photos of Nova Roman wedding ceremonies, a consecration of an augur, and an inauguration of a templum
---
---
LA FOTO DEL GIORNO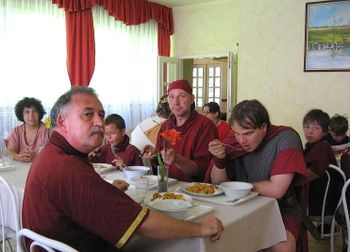 A tradition during the
ludi Apollinares
was to have lunch or dinner with open doors. Open door lunch of Nova Roman citizens for the
Ludi Apollinares
during the IV Nova Roman Reenactment Camp in
Pannonia
(Hungary), in 2761. From left to right Livia Plauta
tribuna plebis
, M. Metellus, Sp. Porcius and
Cn. Lentulus
as
centurio
around the table.
Le Site Web de Nova Roma
Cittadini novi romani! - Potete modificare questo sito!
Contatta
il
WikiMagisters
per ulteriori richieste.