DE:Hauptseite
From NovaRoma
NOVA ROMA
Die Rekonstruktion der klassischen römischen Religion, Kultur und Tugenden
 Home| Latíné | Deutsch | Esperanto | Español | Français | Italiano | Magyar | Português | Română | Русский | English
Hodié a.d. XVI Kal. Apr. ‡ III post M. Pompeium Sex. Lucilium cos. ‡ MMDCCLXXI a.u.c. est. "D"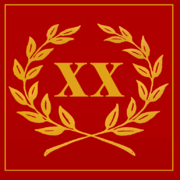 Nova Roma has completed its 20th year on the Kalends of March!
PARTICIPATE IN THE LUDI NOVI ROMANI
CELEBRATING THE XXth ANNIVERSARY OF THE FOUNDING OF NOVA ROMA
These Ludi Novi Romani are the games celebrating the 20th Anniversary of the founding of Nova Roma through March 1-15.
Nova Roma was founded 20 years ago, March 1, 1998.
 Home| Latíné | Deutsch | Esperanto | Español | Français | Italiano | Magyar | Português | Română | Русский | English
NOVA ROMA - INHALT DER WEBSITE

Res Publica (die Republik)

Cultus Deorum (Römische Religion)

Cives (Bürger)

Via Romana (der Römische Weg)

Forum (Kommunikation, Marktplatz)