DE:Hauptseite
From NovaRoma
(Difference between revisions)
 

(21 intermediate revisions by 4 users not shown)
Line 1:
Line 1:
 

{{MainPageBanner|subtitle=Die Rekonstruktion der klassischen römischen Religion, Kultur und Tugenden}}

 

{{MainPageBanner|subtitle=Die Rekonstruktion der klassischen römischen Religion, Kultur und Tugenden}}

−

{|cellpadding="0" border="0" width="100%" align="center"

+

="width100%"

−

|-

+

="width%"

−

|width="50%" valign="top"|

+

{{PortalBox | title=RES PUBLICA | content=Res publica Novae Romae

−

{{PortalBox | title=RES PUBLICA | content=Was ist [[Nova Roma]]? '''[[Res publica Novae Romae|Die Republik...]]'''

+
 
 
−

'''Quick links:''' [[DE:Declaration (Nova Roma)|Deklaration]] - [[FAQ]] - [[:Category:Tabularium (Nova Roma)|Gesetze, Edikte, Verfassung]] - [[Aerarium Saturni (Nova Roma)|Treasury]] - [[{{CURRENTYEAR}}|Magistraten]] - [[:Category:Senators (Nova Roma)|Senatoren]] - [[Provincia (Nova Roma)|Provinzen]] - [[Annals (Nova Roma)|Annals]] - ''[[Ager Publicus (Nova Roma)|Ager Publicus]]'' - [http://www.novaroma.org/civitas/album Album Civium] - ''[[Fasti MMDCCLX#{{#switch: {{#time:n}}| 1=IANVARIVS| 2=FEBRVARIVS| 3=MARTIVS| 4=APRILVS| 5=MAIVS| 6=IVNIVS| 7=QVINTILIS| 8=SEXTILIS| 9=SEPTEMBER| 10=OCTOBER| 11=NOVEMBER| 12=DECEMBER}}|Kalender]]''}}

+

----

 
 
−

{{PortalBox | title=CULTUS DEORUM | content='''[[Cultus deorum Romanorum|Die Römische Religion ...]]'''

+

{{||''[[|..] '''

 
+

 

 
+
 
+
 
+

 

 
+
 
+

 

 
+
 
 
 

'''Quick links:''' ''[[:Category:Religio Romana (Nova Roma)|Cultus Deorum]]'' - [[Priests (Nova Roma)|Priester und Priesterschaften]] -  [[Foreign priesthoods (Nova Roma)|Foreign priesthoods in Nova Roma]] - [[:Category:Ritus|Riten und Rituale]] - [[Roman Calendar|Römischer Kalender]] - ''[[Comitia Curiata (Nova Roma)|Comitia Curiata]]''}}

 

'''Quick links:''' ''[[:Category:Religio Romana (Nova Roma)|Cultus Deorum]]'' - [[Priests (Nova Roma)|Priester und Priesterschaften]] -  [[Foreign priesthoods (Nova Roma)|Foreign priesthoods in Nova Roma]] - [[:Category:Ritus|Riten und Rituale]] - [[Roman Calendar|Römischer Kalender]] - ''[[Comitia Curiata (Nova Roma)|Comitia Curiata]]''}}

 
 
−

{{PortalBox | title=VITA CIVICA| content='''[[Civic life (Nova Roma)|Leben der Bürger...]]'''

+

{{PortalBox | title=VITA CIVICA| content=Civic life (Nova Roma)

 
 
−

'''Quick links:''' [[Mailing lists (Nova Roma)|Community Forum]] - [[Sodalitas|Interessensgruppen]] - [[Reenactments|Historische Darstellungen]] - ''[[Academia Thules]]'' - [[Macellum (Nova Roma)|Marktplatz]] - [[:Category:Events for Romans|Events for Romans]]}}

+

----

 
 
−

{{PortalBox | title=VIA ROMANA| content=[[Via Romana|Der Römische Weg...]]'''

+
 
+

 

 
+

{{PortalBox | title=VIA ROMANA| content=Via Romana

 
+

 

 
+
 
 
 

'''Quick links:''' '''[[:Category:Bibliotheca|Library]]''' - [[:Category:Reading list|Reading list]]s - [[Roman Virtues|Römische Tugenden]] - [[:Category:Lingua Latina|Die lateinische Sprache]] - [[:Category:Roman Clothing and Equipment|Roman Clothing and Equipment]]}}

 

'''Quick links:''' '''[[:Category:Bibliotheca|Library]]''' - [[:Category:Reading list|Reading list]]s - [[Roman Virtues|Römische Tugenden]] - [[:Category:Lingua Latina|Die lateinische Sprache]] - [[:Category:Roman Clothing and Equipment|Roman Clothing and Equipment]]}}

Line 23:
Line 33:
 

{{PortalBox | title=AKTUELLE TERMINE | content= {{Current Events Shortlist}} }}

 

{{PortalBox | title=AKTUELLE TERMINE | content= {{Current Events Shortlist}} }}

 
 
−

{{PortalBox | title=BILD DES TAGES | content={{DailyPhoto}} }}

+

{{PortalBox | title=BILD DES TAGES | content={{}} }}

 
 
−

{{PortalBox | title=BÜRGER WERDEN | content=* [[FAQ|Häufig gestellte Fragen (FAQ)]]  

+
 
+

 

 
+

{{PortalBox | title=BÜRGER WERDEN | content=* [[FAQ|Häufig gestellte Fragen (FAQ)]]  

 

* [[Choosing a Roman name|Einen römischen Namen wählen]]

 

* [[Choosing a Roman name|Einen römischen Namen wählen]]

−

* '''[http://www.novaroma.org/bin/apply Mitgliedsantrag]'''

+

* '''[http://www.novaroma.org/bin/applyMitgliedsantrag]'''

 

* [[New citizen first steps|Für neue Bürger]] ''Und was tue ich jetzt?''

 

* [[New citizen first steps|Für neue Bürger]] ''Und was tue ich jetzt?''

 

* [http://groups.yahoo.com/group/Nova-Roma/ Nova Roma Mailingliste] - unserer Email-Diskussionsliste beitreten

 

* [http://groups.yahoo.com/group/Nova-Roma/ Nova Roma Mailingliste] - unserer Email-Diskussionsliste beitreten

−

* [[DE:NovaRoma:Gemeinschaftsportal|Diese Website (Wiki) bearbeiten]] }}

+

* [[NovaRoma:Gemeinschaftsportal|Diese Website (Wiki) bearbeiten]] }}

 

</div>

 

</div>

 
+
 

<div style="clear:both">{{PortalBox | title=Die Nova Roma Wiki Website | content=''Bürger von Nova Roma - Ihr könnt diese Website bearbeiten!''

 

<div style="clear:both">{{PortalBox | title=Die Nova Roma Wiki Website | content=''Bürger von Nova Roma - Ihr könnt diese Website bearbeiten!''

 
 
 

* Du musst Bürger von [[Nova Roma]] sein: [http://www.novaroma.org/bin/apply bewerben]

 

* Du musst Bürger von [[Nova Roma]] sein: [http://www.novaroma.org/bin/apply bewerben]

 

* Einen Wiki Useraccount anlegen: [[Special:Userlogin | hier registrieren]]

 

* Einen Wiki Useraccount anlegen: [[Special:Userlogin | hier registrieren]]

−

* Siehe das [[DE:NovaRoma:Gemeinschaftsportal|Gemeinschaftsportal]] für die Bearbeitungsrichtlinien

+

* Siehe das [[NovaRoma:Gemeinschaftsportal|Gemeinschaftsportal]] für die Bearbeitungsrichtlinien

 

[[NovaRoma:Admin Requests|Kontaktiere]] die [[NovaRoma:WikiMagisters|WikiMagister]], wenn du Fragen hast.}}

 

[[NovaRoma:Admin Requests|Kontaktiere]] die [[NovaRoma:WikiMagisters|WikiMagister]], wenn du Fragen hast.}}

 

</div>

 

</div>

 
 
−

[[Category:Master Index]]

+

 

 
+

[[Category:]]

 

__NOTOC__ __NOEDITSECTION__

 

__NOTOC__ __NOEDITSECTION__
---
Latest revision as of 20:01, 19 January 2013
NOVA ROMA
Die Rekonstruktion der klassischen römischen Religion, Kultur und Tugenden
 Home| Latíné | Deutsch | Esperanto | Español | Français | Italiano | Magyar | Português | Română | Русский | English
Hodié a.d. VIII Kal. Mar. ‡ III post M. Pompeium Sex. Lucilium cos. ‡ MMDCCLXXI a.u.c. est. "E"
BILD DES TAGES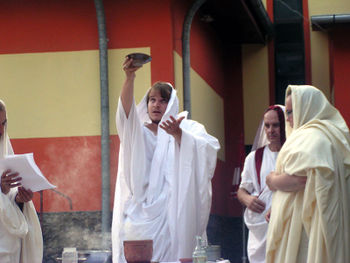 Cn. Lentulus
,
sacerdos Concordiae
, performing the sacrifice to
Concordia
for the 10th Anniversary of Nova Roma in 2008, at the Dacian
VI Conventus Novae Romae
in Romania.
Die Nova Roma Wiki Website