EO:Ĉefpaĝo
From NovaRoma
NOVA ROMA
Dediĉata por restarigi religion klasikan Roman, kulturon, kaj virton
 Home| Latíné | Deutsch | Español | Français | Italiano | Magyar | Português | Română | Русский | English
Hodié a.d. VI Id. Apr. ‡ Q. Arrio (II) T. Domitio (III) cos. ‡ MMDCCLXXIII a.u.c. est. "C"
FOTOGRAFI DE LA TAGO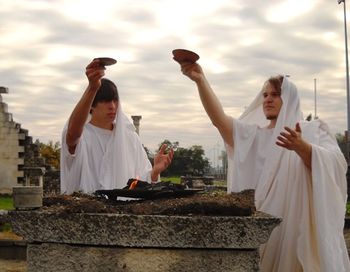 Praefectus
of
Lusitania
C. Cocceius
and
legatus pro praetore
of
Pannonia
Cn. Lentulus pontifex
, offering a sacrifice for the well-being of
Nova Roma
at the altar of Aquincum, at the
Lusitania-Pannonia Interprovincial Meeting
in Budapest, Hungary, 2010.