LA:Pagina Prima
From NovaRoma
(Difference between revisions)
 

(48 intermediate revisions by 5 users not shown)
Line 1:
Line 1:
−

__NOTOC__ __NOEDITSECTION__

+
 
+
 
+
 
+
 
 
−

{{MainPageBanner|subtitle=Restituendæ classicæ Rómánæ religióní, cultúræ atque virtútibus}}

+
 
 
−

{{LanguageBar|Main Page}}

+

{{|}}  

 
 
−

<table class="mainpage_table">

+

{{| title=| content=

−

<tr>

+
−

<td class="mainpage_left">

+
−

{{MainPageBox | title=NOVA RÓMA - INDEX | content=

+
 
 
−

===Rés Publica===

+

--

−

*[[Nova Roma|Nova Róma]] – Quid sit <i>Nova Róma</i> - [[FAQ]]

+
−

*[[:Category:Tabularium (Nova Roma)|Tabulárium]] - Légés, Édicta, Cónstitútió

+
−

*[[:Category:Magistrates (Nova Roma)|Magistrátús]] [[:Category:Senators (Nova Roma)|Senátórés]]que

+
−

*[http://www.novaroma.org/bin/view/provinciae Próvinciæ] eárumque [[Provinciae Aranearia (Nova_Roma)|Páginæ électronicæ]]

+
−

*[[Annals (Nova Roma) | Novæ Rómæ Annálés]] – gesta nostra

+
−

*[[Ager Publicus (Nova Roma)|Ager Publicus]]

+
 
 
−

===Cultús Deórum===

+

[[:Category:Religio Romana (Nova Roma)|Cultús ]] [[Priests (Nova Roma)|Sacerdótés Sacerdótia ]] [[:Category:Ritus|]] [[Roman Calendar|Fastí ]] [[Comitia Curiata (Nova Roma)|Comitia Cúriáta]]

−

*[[:Category:Religio Romana (Nova Roma)|Cultús Deórum]]

+
−

*[[Priests (Nova Roma)|Sacerdótés et Sacerdótia]]

+
−

*[[:Category:Ritus|Ritús Sacraque]]

+
−

*[[Roman Calendar|Fastí]]

+
−

*[[Comitia Curiata (Nova Roma)|Comitia Cúriáta]]

+
 
 
−

===Cívés===

+

==:(Nova Roma)

−

*[http://www.novaroma.org/civitas/album Album Civium]

+
−

*[http://www.novaroma.org/gallery Pinacothéca]

+
−

*[http://www.novaroma.org/via_romana/reenactments/ Campus Mártius (exercitátiónés mílitárés)]

+
−

*[[Sodalitates (Nova Roma)|Sodálitátés]]

+
−

*[[:Category:Events for Romans|Congressiónés Rómánae]] - conventús praeterití futúríque

+
−

+
−

===Via Rómána===

+
−

*[[Via Romana|Mórés Rómání]]

+
−

*[[Roman Virtues|Virtútés Rómánæ]]

+
−

*[[LA:Lingua Latina|Lingua Latína]]

+
−

*[[:Category:Bibliotheca|Caménæum]] – Litteræ et Artés

+
−

*[[:Category:Roman Clothing and Equipment|Vestés et Rés Rómánae]]

+
 
 
−

===Forum===

+

----

−

*[http://www.novaroma.org/forum/ Forum Rómánum]

+
−

*[http://www.insulaumbra.com/academiathules/ Académía Thúlés]

+
−

*[[Macellum (Nova Roma)|Macellum]]

+
−

*[[Interview the Expert|Perítum Cónsule]]

+
−

}}

+
−

</td>

+
−

<td class="mainpage_right" align="right">

+
−

<!-- don't use MainPageBox here, because the Current Events content comes from a template -->

+
−

{|class="mainpagebox"

+
−

|-

+
−

|class="mainpagebox_head" | NÚNTIÍ

+
−

|-

+
−

|class="mainpagebox_inner"|

+
−

<div align="center">{{2006}}</div><hr>

+
−

{{Nuntii Breves}}

+
−

<div align="center">'''[[Current events|Omnia Facta...]] - [http://www.novaroma.org/bin/calendar/cal Fastí Interactíví]'''</div>

+
−

|}

+
 
 
 
+
 
 
−

{|class="mainpagebox"

+

{| =| ={{}}

−

|-

+
−

|class="mainpagebox_head" | PHOTOGRAPHUM COTTÍDIÁNUM

+
−

|-

+
−

| {{DailyPhoto}}

+
−

|}

+
 
 
−

{{MainPageBox | title=POSTULÁTIÓ CÍVITÁTIS | content=

+

-

−

* [[FAQ|Frequenter Allátæ Quæstiónés]]

+
−

* [[Choosing a Roman name| Quómodó sit Nómen Éligendum]]

+
−

* '''[http://www.novaroma.org/bin/apply Cívitátem Postulá]'''

+
−

* [[New citizen first steps|Cívibus Novís]] ''Quid nunc faciam?''

+
−

* [http://groups.yahoo.com/group/Nova-Roma/ Forum électronicum] – Intrá

+
−

}}

+
 
 
−

{{MainPageBox | title=WIKI NOVÆ RÓMÆ | content=

+

''''

−

''Quirítés! Hoc wiki émendáre potestis!''

+
 
 
−

* Cívis esse debés: [http://www.novaroma.org/bin/apply Cívitátem postula]

+

/

−

* Vidé [[LA:NovaRoma:Porta civitatis|Portam Cívitátis]] ut cónsilia legás

+
 
 
−

[[NovaRoma:Admin Requests|Scríbe]] [[NovaRoma:WikiMagisters|cúrátóribus]] sí quid vís.

+
 
+
 
+

 

 
+
 
+

 

 
+
 
+
 
+

[[

 
+
 
+
 
+
 
+
 
+
 
+
 
+
 
+
 
+
 
+

 

 
+

NovaRoma:|]] [[NovaRoma:|cúrátóribus]] sí quid vís.

 

}}

 

}}

 
+
 
 
−

</td>

+

 

−

</tr>

+
−

</table>

+
---
Latest revision as of 19:57, 19 January 2013
NOVA ROMA
Restituendae classicae Rómánae religióní, cultúrae atque virtútibus
 Home| Latíné | Deutsch | Esperanto | Español | Français | Italiano | Magyar | Português | Română | Русский | English
Hodié a.d. VIII Kal. Quin. ‡ III post M. Pompeium Sex. Lucilium cos. ‡ MMDCCLXXI a.u.c. est. "G"
PHOTOGRAPHUS QUOTIDIÁNUS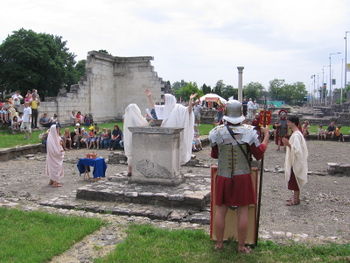 Legatus pro praetore
of
Pannonia
and priest
Cn. Lentulus
, assisted by Nova Romans, sacrifices for the well-being of
Nova Roma
at the altar of Aquincum, during the
Floralia Festival
in Budapest, Hungary.
POSTULÁTIÓ CÍVITÁTIS
Ad magistratum nuntium mittere
Forum électronicum principále intrá : "Trans Tiberim".
Página Électronica Novae Rómae