HU:Nova Roma
From NovaRoma
(Difference between revisions)
---
Revision as of 05:20, 15 January 2008
 Home| Latíné | Deutsch | Español | Français | Italiano | Magyar | Português | Română | Русский | English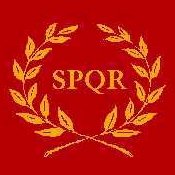 Nova Roma az ókori római kultúra tanulmányozására és helyreállítására alapított szervezet. Kr. e. 753-ban történt legendás alapításától Kr. u. 330-ig, mikor megszünt a Birodalom közigazgatási központja lenni, Róma állította fel a modern Nyugati Civilizáció alapjait. Róma civilizálta a világot, és mi szükségét látjuk, hogy ezt ez isteni küldetést életben tartsuk.
Az Örök Város alapítása után 2750 évvel történt megalapítása óta Nova Roma arra törekszik, hogy visszahozza azt az aranykort. De míg elődeink karddak és légiókkal vitték keresztül akaratukat, mi ismeretterjesztés és erkölcsi példamutatás révén szándékozunk elérni ugyanazt az eredményt.
Religio Romana
Nova Roma tevékenységinek szerves része a Religio Romana, a római nép ősi hitvilága. Mind a házi vallás (sacra privata) és az úgynevezett államvallás (sacra publica) létfontosságú a római vallás számára, és mindkettő meg van jelenítve a Nova Roma gyakorlatában. Hosszútávú célunk, hogy rekonstruáljuk az ókori papi Collegiumokat és ünnepeljük az összes római ünnepet az évben. Egyelőre azonban be kell érnünk egy szerényebb, praktikusabb rendszerrel. és folyamatosan képezzük azokat, akik el kívánják majd foglalni a szakrális tisztségeket.
Via Romana
Szintén fontos Nova Roma számára a Via Romana, a római kultúra valamennyi aspektusának általános újraélése, a konyhaművészettől kezdve az irodalomig, filozófiáig, az ókori római jogig és a művészetekig. A core aspect of the Roman culture which Nova Roma endeavors to revive is what are known as the Roman Virtues. These virtues are what gave a small city on the banks of the Tiber the moral and practical strength to govern much of the world, and are most sorely lacking in our society today. Another aspect of the Roman culture in Nova Roma is the promotion of the Lingua Latina, the only language in which those virtues and that culture ever found their most authentic and universal expression. By promoting Roman culture, we are in effect promoting nothing less than the revitalization of Western society. By practicing Roman crafts and arts, we more fully understand our own Western roots.
Szuverén
Nova Roma is more than a historical recreation society, although we are that. We are more than a pagan religious organization, although we are that, too. We are more than a classical studies group, but that falls within our purview as well. We are nothing less than a sovereign nation; an attempt to re-create the best of classical pagan Rome (with a few compromises to modern times), and we invite you to join us by applying for citizenship today.
See Also