Quintus Vipsanius Agrippa (Nova Roma)
From NovaRoma
 Home| Latíné | Deutsch | Español | Français | Italiano | Magyar | Português | Română | Русский | English
 Wiki: User: Talk - Contributions to this site 
 The only official record is in the Album Civium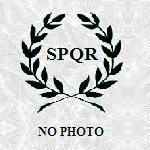 Quintus Vipsanius Agrippa
Album Civium

Quintus Vipsanius Agrippa (formerly Gaius Vipsanius Agrippa) has been a citizen of Nova Roma since November 30, 2000. He currently resides in Edmonton (Castellum Augustus), Alberta. He was elected quaestor for 2004 and ran (but lost) for one of the 5 positions as tribune of the plebs. He also served as viator (assistant to the tribunes) before being elected tribune in 2006.

As a member of the
equestrian order
, he operates the
Harpax
webstore which sells Nova Roma merchandise as well as the second issue (
quadriga
) of the
sestertius
.
Other Posts
Fr. Apulo C. Laenate cos. ‡ MMDCCLVIII a.u.c.