Nova Roma Twitch Channel
From NovaRoma
 Home| Latíné | Deutsch | Español | Français | Italiano | Magyar | Português | Română | Русский | English
What is Twitch?
Overview of Twitch

Twitch is a live streaming platform originally geared towards gamers that launched in 2011. Since then, it has amassed millions of users, with a total of 3.8 million unique broadcasters as of February 2020. Twitch offers gamers ⁠— or anyone interested in lifestyle casting about other subjects like food or music ⁠— the ability to stream their activity and let others watch in real-time. Streams can last anywhere from a minute to eight-hours and beyond. You can find a stream by browsing various categories, including specific games. If you find a streamer you like, you can follow their channel and get activity updates and notifications. Since launching, Twitch has partnered with gaming companies like Blizzard Entertainment and Overwatch League to host worldwide gaming and esports events exclusive to the platform.
How Twitch Works
When you watch a live stream or "broadcast," a split-screen display will allow you to see what the streamer sees on their monitor. But you'll also be able to hear and see them play through a smaller window on the edge of their stream. Twitch also allows users to purchase games through links on streams, with streamers receiving sales commissions, as well as the opportunity to sell products associated with their streams using affiliate links. While viewing a Twitch stream, you can comment alongside other viewers, and depending on the channel, you may be able to do things like make suggestions or ask questions and receive real-time answers. Twitch also saves streams, so you'll have the option to watch previously streamed gameplay or shows. The company has launched iOS and Android apps so users can get all the same content — from people to channels — alongside a host of mobile-friendly features wherever they are. Twitch offers subscriptions for those who find themselves getting more invested, with three tiers, ranging from $4.99 to $24.99 a month. Subscriptions allow you to support your favorite streamer and grant you the ability to watch a channel ad-free and access other perks, like emotes or chat badges. Emotes are exclusive emojis that let you show your support for a streamer, while chat badges help identify the user you are ⁠— from a broadcaster to a VIP. Other badges can be purchased that let you show off your support for specific streamers or interests. Twitch Prime is another subscription option, though it must be manually instead of automatically renewed each month. It gives you access to additional games and exclusive in-game content, with a bonus channel subscription every month at no additional cost, a member-only chat, more broadcast storage, and more.
Program Executive Staff & Legislation
Executive Staff
Find out more about the appointments within the information technology office of Nova Roma.
Curator Rei Informaticae, Curator of Information Technology
Praefectus Editor Principalis Canalis Twitch Novae Romae, Nova Roma Twitch Editor-in-Chief
Scriba Editor Canalis Twitch Novae Romae, Nova Roma Twitch Deputy Editor-in-Chief
Guiding Legislation
Senatus Consultum on Public Curators
Senatus Consultum establishing the official Nova Roma Twitch channel
Appointment of Editor-in-Chief
Appointment of deputy editor-in-chief and various content hosts
How to Watch & Interact
Open your preferred browser and navigate to http://www.twitch.tv/nova_roma. We recommend the Twitch desktop app on your computer or mobile device. If you miss a broadcast you can watch the previous streams.
So how can you support the channel? There is a level of support for you no matter what your interest or social media usage is like:
I. Share the link (http://www.twitch.tv/nova_roma) with your friends and family who appreciate all things Roman.
II. Simply watch the live streams.
III. Register a free Twitch account and watch the live streams.
IV. Click the Follow button on the channel (once registered).
V. Purchase bits and 'cheer' with them in stream (donates real money to Nova Roma, 1 cent per bit).
VI. Subscribe regularly to the channel (donates even more real money to Nova Roma)!
VII. Volunteer to host your own segment on the Nova Roma Twitch channel.
Did you know there is a way to donate to Nova Roma for free?! If you have an Amazon Prime subscription you can link it with your Twitch account. Then once a month, you get a free "Prime" subscription to give to a channel – to Nova Roma! How easy is that?!
Program Guide & Streaming Team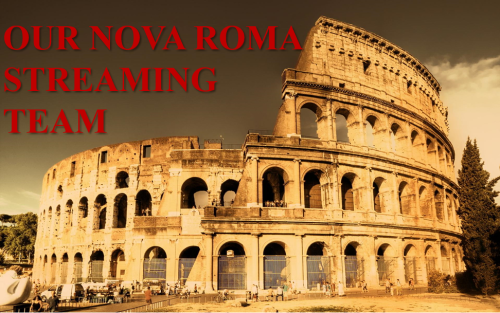 You can see the schedule of all our contributing streamers on our Google Calendar.
For your convenience, here is the current list of contributing streamers and content hosts (Praeco Canalis Twitch Novae Romae):
D. Aurelius Ingeniarius - Variety Stream, including the 'Tribune Talks' segment, making Roman paper soldiers, Roman board games, Latin language and Roman documentaries.
Streams: Regularly on Mondays, 12:30pm Rome time.
Streams: Streaming times vary.
Streams: American Timezone times.
Streams Tuesdays, 8-10pm Rome time.
Streams most Saturdays, from 12am Rome time.
Streams most Sundays, from 1pm Rome time.
Wall of Thanks - Acknowledging Contributors
CONGRATULATIONS to the Nova Roma community!
It is with thanks to the Nova Roma community that the channel has done so well.
Channel VIPs
VIP status is granted automatically for senior magistrates and noteworthy followers that have helped build the channel. The following citizens have been granted VIP status so far:
VIPs are valuable members of a streamer's community who are recognized with a special badge. VIPs are able to perform the following actions:
Chat without being affected by slow, sub-only, or followers-only modes
Chat without being affected by rate limits
Post links in chat even when links are disabled
Donations
This list is of citizens identified who have subscribed, cheered or donated to the Nova Roma Twitch Channel. This is the current ranking ladder of top channel contributors:
These citizens should be congratulated and given the highest praises for the financial backing and support of this Nova Roma enterprise.
Note that there is a levy of 5% Twitch withholds on payouts. There are also conversion rates as the funds transfer from the US to the channel owner's accounts in Australia. Note that from your channel contributions, Twitch takes a 50% cut from all subscriptions. Twitch pays out to streamers on the 15th of each month if the amount ready is over $100 USD. Physical revenue received by Nova Roma through the Twitch channel can be read from the annual Provincia Australia governor reports. Presently the channel owner donates 30% revenue to Nova Roma Inc. and donates the remainder 70% to the Provincia Australia Nova Roma treasury. This donation split will change as more revenue is generated by the channel.
Becoming a Streamer
We are looking for Nova Roma citizen who wishes to host their own segment on our Twitch channel. No prior skills required, you just need a camera and a microphone. Technical support will be provided to you free. You can host anything Roman related you wish at a regular time of your convenience. Consider hosting:
Talk shows,
Philosophy discussions,
Podcasts,
Roman PC games,
Nova Roma political campaigns and discussions,
Relgigio Romana education,
Roman military training,
Roman cooking streams,
Classical book readings
and many more Roman topics!
Don't hesitate! Apply today, with no obligations or commitments, through to the Channel Editor-in-Chief, D. Aurelius Ingeniarius, via the council of Provincia Australia!