Decius Iunius Palladius Invictus (Nova Roma)
From NovaRoma
 Home| Latíné | Deutsch | Español | Français | Italiano | Magyar | Português | Română | Русский | English
 Wiki: User: Talk - Contributions to this site 
 The only official record is in the Album Civium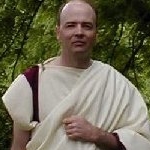 Decius Iunius Palladius Invictus
Album Civium
Decius Iunius Palladius Invictus is a patrician Senator and Consular of Nova Roma. Unlike his colleague, he retained his consulship during the Civil War of MMDCCLII. At the end of his consulship, he awarded his then-colleague, Lucius Cornelius Sulla the agnomen Felix. At the same time, the latter awarded him the agnomen Invictus.
A founding member of Nova Roma and the Senate, he revived the Gens Iunia, and founded the familia Iunia Palladia, the third oldest familia in the Republic.
By edict of Censors T Iulius Sabinus and P Memmius Albucius, Palladius Invictus was named Princeps Senatus, and has held that honour since then.
Other Posts
Fr. Apulo C. Laenate cos. ‡ MMDCCLVIII a.u.c.