Provincia Australia (Nova Roma)
From NovaRoma
(Difference between revisions)
m

m (Added new link.)

Line 56:
Line 56:
 

*'''AUSTRALIA NOVA ROMANA PROVINCIAL COUNCIL

 

*'''AUSTRALIA NOVA ROMANA PROVINCIAL COUNCIL

 

:'''[mailto:austnovaroma@outlook.com austnovaroma@outlook.com]'''

 

:'''[mailto:austnovaroma@outlook.com austnovaroma@outlook.com]'''

−

 
−

 
−

 
 
 
 
 
Line 76:
Line 73:
 

*'''NOVA ROMA PUBLIC FACEBOOK GROUP:'''

 

*'''NOVA ROMA PUBLIC FACEBOOK GROUP:'''

 

:'''https://www.facebook.com/groups/novaroma.org'''

 

:'''https://www.facebook.com/groups/novaroma.org'''

 
+
 
+
 
+
 
 
 

==Becoming a citizen of Nova Roma==

 

==Becoming a citizen of Nova Roma==
---
Revision as of 23:37, 25 September 2020
 Home| Latíné | Deutsch | Español | Français | Italiano | Magyar | Português | Română | Русский | English
Provincia

Australia

Nova Roma

M. Claudius Nero
legatus pro praetore


D. Aurelius Ingeniarius
legatus proconsulis Cn. Lentuli Alexandri
praefectus Provinciae Australiae Administrandae

---
---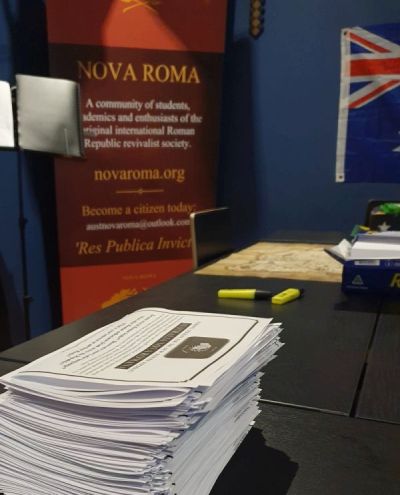 Provincia Australia of Nova Roma consists of Australia and New Zealand, and it is brought under the authority of proconsul cum maiore imperio Cn. Cornelius Lentulus Alexander, who is currently substituted after his passing away by his deputy, vice-governor the quaestor and legatus proconsularis Cn. Cornelius Lentulus the Younger. The proconsul's imperium is represented in Australia by legatus D. Aurelius Ingeniarius, who is, at the same time, the lieutenant governor of Australia as praefectus Provinciae Australiae administrandae, and undertook the task of revitalization and reorganization of the Nova Roman Australia.
Nova Roman Community Life and Projects in Australia
As one of the results of reorganizing the province, under the successful guidance of legatus and praefectus D. Aurelius, Nova Roma recruited a new allied legion in Australia: the Legio X Fretensis Australiana. A program is underway to establish a network of informed citizens with skills in various ancient Roman tradition, history, language or knowledge. People are what make organisations like these; so all students, academics and enthusiasts are being welcomed.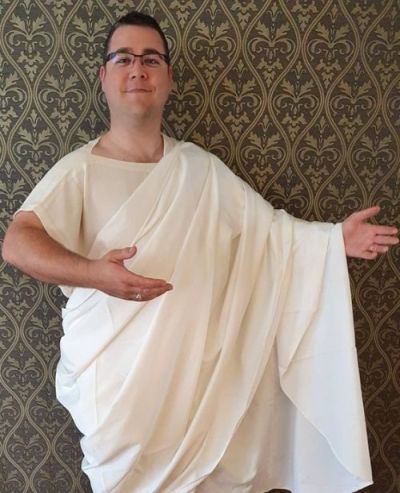 Province Community Portal
Engage, communicate and collaborate with fellow citizens within Provincia Australia. Join and follow along in these forums:
THE AUSTRALIAN COMMUNITY FORUM OF NOVA ROMA ON FACEBOOK:
AUSTRALIA NOVA ROMANA PUBLIC FACEBOOK PAGE:
THE AUSTRALIAN COMMUNITY RECORDS FORUM BOARDS ON JCINK:
CITIZEN RECORD MAP ON ZEEMAPS:
THE TWITCH TV CHANNEL OF NOVA ROMA AUSTRALIA:
AUSTRALIA NOVA ROMANA ON INSTAGRAM:
AUSTRALIA NOVA ROMANA YOUTUBE CHANNEL:
FREE CONFERENCE CALL.COM FOR AUSTRALIA NOVA ROMANA:
AUSTRALIA NOVA ROMANA PROVINCIAL COUNCIL
Join the greater Nova Roma community:
THE FORUM ROMANUM (MAIN PUBLIC LIST):
OFFICIAL NOVA ROMA DISCORD:
NOVA ROMA PUBLIC FACEBOOK GROUP:
NOVA ROMA YOUTUBE PLAYLIST:
Becoming a citizen of Nova Roma
If you are interested in fully integrating into Roman life, we encourage everyone to join as a citizen of Australia Nova Romana and Nova Roma. Fill out the form below to enroll for free.
For new citizens, we recommend the following articles to learn about the various areas of Nova Roman life:
For support, questions or assistance, you are always welcome to email the Consilium Provinciae at any time.
Nova Roman Network and Local Groups in Australia and New Zealand
Mos maiorum (way of the ancestors) and Romanitas (Roman identity) transcends organisations and borders. Those that study the intricacies of Roman tradition value the communities that these collective studies create. Nova Roma seeks to create a common movement and collective knowledge of 'Romans'. It is not the intent of Nova Roma to interfere in the affairs of its partner organisations. Nova Roma intends to build an inter-organisational and international, real functioning model Roman society and model state for educative purpose. This will foster friendship, brotherhood, and cooperation between individuals, groups and organisations which self-identify as Romans of today. Nova Roma hopes to foster something wonderful; a living Roman unity expressed by gestures and symbols, not by direct power. Below you will find direct local groups of Nova Roma and partner organisations sharing Roman ideals, resources and activities with us.
List of Provincial Vici
In accordance with Oppida and the Lex Fabia de oppidis et municipiis the Consilium Provinciae seeks to establish smaller self-managing focus groups to promote Mos maiorum and Romanitas. Management resources and records of the various vici can be found on the Australia Nova Romana website. Below is the list of recorded and sanctioned vici within Provincia Australia.
Vicus Melburnia
(Melbourne, Australia), under development.
Current Enrolled Citizens:
D. Aurelius Ingeniarius
C. Sempronius Aquila
L. Geminius Carbo
Our Provincial Partner Network
In accordance with Lex Aurelia de legionibus and Lex Aurelia de familiis gladiatoriis et ludis gladiatoriis Nova Roma sanctions cooperative partnerships and networks with existing reenactment groups. Under edicts from provincial authorities, the following local groups have agreed to a partnership with Nova Roma.
Legiones Reenactment Groups of Nova Roma
Autonomous Military Reenactment Unit of Nova Roma - Provincia Australia
Nihil
Allied Military Reenactment Unit of Nova Roma - Provincia Australia
ALLIED LEGION (LEGIO X FRETENSIS) SERVING WITH NOVA ROMA, AUSTRALIA:
Military Reenactment Unit, Friend of Nova Roma
Nihil
Gladiatorial Reenactment Groups of Nova Roma
Autonomous Gladiatorial Reenactment Group of Nova Roma - Provincia Australia
Nihil
Allied Gladiatorial Group of Nova Roma - Provincia Australia
Nihil
Roman Societal & Study Reenactment Groups
Nihil
Merchants, Markets and Resources of Provincia Australia
LOREM IPSUM - LATIN DUMMY TEXT GENERATOR: