Lucius Vitellius Triarius (Nova Roma)
From NovaRoma
(Difference between revisions)
Line 15:
Line 15:
 

*'''Election Statement: [[Election MMDCCLXVI (Nova Roma)/Lucius Vitellius Triarius|MMDCCLXVI (2013)]]'''

 

*'''Election Statement: [[Election MMDCCLXVI (Nova Roma)/Lucius Vitellius Triarius|MMDCCLXVI (2013)]]'''

 

*'''Election Statement: [[Lucius_Vitellius_Triarius_(Election_MMDCCLX)|MMDCCLX (2007)]]'''   

 

*'''Election Statement: [[Lucius_Vitellius_Triarius_(Election_MMDCCLX)|MMDCCLX (2007)]]'''   

−

*'''Patron gods of the familia [http://www.novaroma.org/nr/Category:Gens_Vitellia_(Nova_Roma) Vitellii Triarii]: [[Ianus]], [[Iuppiter|Iuppiter Optimus Maximus]], [[Mars|Pater Mars]], [[Quirinus]], [[Apollo]], [[Minerva]], and the [[Dii Familiares]]'''  

+

*'''Patron gods of the familia [http://www.novaroma.org/nr/Category:Gens_Vitellia_(Nova_Roma) Vitellii Triarii]: [[Ianus]], [[Iuppiter|Iuppiter Optimus Maximus]], [[Mars|Pater Mars]], [[Apollo]], and the [[Dii Familiares]]'''  

 
 
 
 
---
Revision as of 06:11, 19 September 2014
 Home| Latíné | Deutsch | Español | Français | Italiano | Magyar | Português | Română | Русский | English
 Wiki: User: Talk - Contributions to this site 
 The only official record is in the Album Civium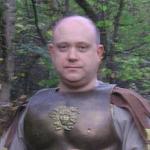 Lucius Vitellius Triarius
Album Civium

Click Here for: Bio Page | User Page | User Talk | Workshop | Workshop2 | Workshop3

Key Path Task Force Member
A project to improve the core navigation documents.

Cultus Task Force
Member
A multilingual project to improve the
Cultus Deorum
documents on this site.
---
Paterfamilias of the Vitellii Triarii
---
---

Lucius Vitellius Triarius was born and lives in Provincia America Transappalachiana (ATA). He currently lives in Volunum (Knoxville, Tennessee, USA). He is the paterfamilias of the domus and familia Vitellia Triaria, composed of his wife, Tiberia Octavia, and their children, Tiberius, Quintus and Tiberia. He joined Nova Roma on a.d. VIII Kal. Feb. ‡ Fr. Apulo C. Laenate cos. ‡ MMDCCLVIII a.u.c. (25 January 2005 CE), and became an assiduus member of Gens Vitellia. He is a member of the Plebeian order. He is a Homo novis ("new man") and the first of the familia Vitellii Triarii to serve in the Cursus honorum, and that being in the Queasturae, assigned to the Office of Aedilis Curulus, P. Memmius Albucius in M. Moravio T. Iulio cos. ‡ MMDCCLXI a.u.c. (2008).
He has had a lifelong interest in Ancient Rome, its accomplishments and failures, and how they have shaped the world that we live in today. He is convinced that the foundations and decisions the ancient Romans laid and made for us will continue to provide age-old answers to the new-age problems we will encounter in the future.
He believes that the future of Nova Roma lies in the hands of its citizenry on the local level. As a member of one of the most active provinces in the Res Publica, he personally feels that in order to further develop our organization, we must meet offline, as well as online. We must forge friendships with other organizations of like interests and recruit from them. By showing a positive image to the public, we can expand our citizenry base and effectively include many other smaller Roman organizations within our realm without harming or affecting their existing structure.
He also believe that Nova Roma can and will be the model Roman organization and central meeting place for all Roman interest groups in the future, Nova Roma being the Roman enthusiast's global daily gathering place. He supports cives working together by participating in Nova Roman events, both online and offline, as well as supporting our magistrates, lobbying our senators, and assisting our pontiffs in elevating our status in the modern Roman world.

Favorite Quotes:
"Quam bene vivas refert, non quam diu." (The important thing isn't how long you live, but how well you live) ~ L. Annaeus Seneca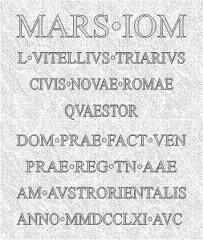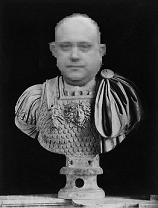 Other posts
Provincial posts
Res gestae