Tiberius Horatius Barbatus (Nova Roma)
From NovaRoma
 Home| Latíné | Deutsch | Español | Français | Italiano | Magyar | Português | Română | Русский | English
 Wiki: User: Talk - Contributions to this site 
 The only official record is in the Album Civium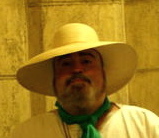 Tiberius Horatius Barbatus
Album Civium

Years ago, I was told I was on a journey. In many ways, I took the road less traveled.
I became a citizen of Nova Roma on 28 November 2007 (MMVII) or dies martis a.d. IV Kal. Dec. MMDCCLX a.u.c.
I was born 23 December 1955 (MCMLV) or dies iovis a.d. X Kal Ianuarius MMDCCIX a.u.c. and raised in the Provincia Lacus Magni Orientalis.
While living in Provincia Nova Britannia, I tried to serve the Republic to the best of my ability. Since that time, I moved to Provincia Carolina, where I again took up service to the Republic to the best of my ability. I recently moved again, still in the former regios of Carolina, but now in the provincia of Cismississippiana, where I offered my services to the Praetix was appointed scriba.
In general, I am the sum of my experiences. A man of blended heritage, a husband (again), an adopted son, a brother, a father, a grandfather, a soldier, a cop, a living historian, a lover of music and science fiction, an aspiriing writer, a fencer, a target shooter, a horseback rider. Centered, calm and comfortable with my existence. "I yam what I yam" - Popeye
Other Posts
Provincial Posts
Scriba, Praetix M Hortensia Maior Fabiana Faustina and Provincia America_Cismississippiana Praetorium
Procurator, Provincia Nova Britannia.
Legatus Regionis Massachusetts, Provincia Nova Britannia.
Scriba to legata pro praetore Annia Minucia Marcella.