Provincia Germania - Map & Guide (Nova Roma)
From NovaRoma
The territorial organization of the Nova Roman province of Germania
Our province has two subdivisions, Regio Germania Inferior et Superior et Magna, shortly Regio Germanica, (Germany), led by provincial quaestor C. Flavius Stilicho and Regio Noricum et Raetia (Austria and Switzerland), led by proquaestor C. Artorius Praeconinus.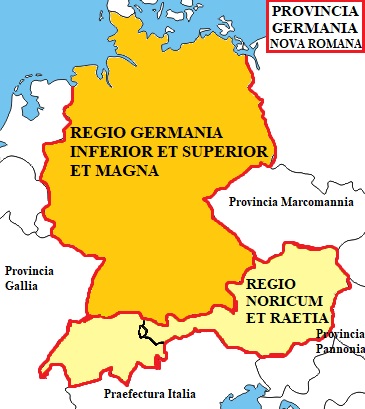 Latin names of towns
City, town and village names in Latin with their modern names.
Locations founded in the Late Antique area and later have their Latin names from this time (Late Antique, Medieval Latin, Renaissance and Neo-Latin).
Aarhusum Ahaus/D
Abudiacum Abbach/D
Aventinum Abensberg/D
Acanthopolis Dornstetten/D
Achera Achern/D
Acona Aken/D
Adana Ahden/D
Antunnacum Andernach/D
Adesla Odesloe/D
Aecha Aichach/D
Aelza Elzach/D
Aenipons Inierior Otting/D
Aenostadium Innstadt/D
Aeringa Ering/D
Aesticampium Sommerfeld/D
Aggeripontum Thamsbruck/D
Ahusia Ahaus/D
Aureatensis Eichstätt/D
Aitra Aitrach/D
Ala Aalen/D
Alba Augia Naviscorum Weißenohe/D
Alba Dominarum Frauenalb/D
Abianum Aibling/D
Albimontium Blankenburg/D
Albiorium Wittenberg/D
Albus Lacus Weißensee/D
Altiaia Alzey/D
Alcena Altena/D
Aldinga Aldingen/D
Ad Almonam Monasterium Altmühlmünster/D
Alma Alme/D
Alna Allen/D
Altense Monasterium Niederalteich/D
Alta Regia Altrich/D
Alta Ripa Altripp/D
Alta Specula Hohenwart/D
Alta Villa Eltville/D
Altonis Monasterium Altomünster/D
Amblava Amel/D
Amoenaeburgum Annaburg/D
Amoenitatis Villa Wunstorf/D
Amrinus Wildelo/D
Anasia Ense/D
Anclamium Anklam/D
Angeriensis Enger/D
Angulisamum Ingelheim/D
Angulus Alpium Albeck/D
Annaemontium Annaberg/D
Anstela Anstel/D
Antiqua Civitas Halberstadt/D
Antiquipolis Oldenburg/D
Antiquum Passagium Altefähr/D
Antiquum Vadum Altenfurt/D
Antunnacum Andernach/D
Aquae Granni Aachen/D
Aquaeburgum Wasserburg/D
Aquae Mattiacae Wiesbaden/D
Aremontium Arenberg/D
Arenacum Rindern/D
Ariodunum Erding/D
Arminii Arx Hermannsburg/D
Arvita Erwitte/D
Ascalingium Ahlden/D
Ascania Aschersleben/D
Asci Esch/D
Asciburgium Asberg/D
Asgabrunnum Eschborn/D
Asopus Aspe/D
Aspola Aspel/D
Assindensis Essen/D
Astuia Grabow/D
Attalense Coenobium Ettal/D
Attobriga Weltenburg/D
Augia Minor Weißenau/D
Augia Maior Reichenau/D
Augusta Treverorum Trier/D
Augusta Vindelicorum Augsburg/D
Augustoburgum Augustusburg/D
Auracum Urach/D
Aurelia Aquensis Baden-Baden/D
Auriacum Aurich/D
Auriacum Ducis Herzogenaurach/D
Auripolis Ingolstadt/D
Aurisium Roth am Sand/D
Avellanum Burghaslach/D


Baccaracus Bacharach/D
Bacrodensis Marienrode/D
Barbium Barby/D
Bardium Barth/D
Bardorum Vicus Bardowick/D
Baruthum Bayreuth/D
Bauconica Oppenheim/D
Baudobriga Boppard/D
Beca Brakel/D
Bedacum Burghausen/D
Belgica Euskirchen-Billig/D
Benedictionis Vallis Vlotho/D
Berolinum Berlin/D
Beronicum Bernried/D
Bibacum Biberbach/D
Bibera Biberach/D
Bibonium Böblingen/D
Bilivelda Bielefeld/D
Bingium Bingen/D
Bipontium Zweibrücken/D
Bocauna Silva Buchau/D
Boiodurum Passau/D
Bonna Bonn/D
Borbetomagus Worms/D
Brema Bremen/D
Brisacum Breisach/D
Brubacum Braubach/D
Brusella Bruchsal/D
Budissina Bautzen/D
Budoris Meerbusch-Büderich/D
Bunitium Butzow/D
Burginatium Kalkar/D
Burgovia Burgau/D
Burgum Burg/D


Castra Bebiana Bebenhausen/D
Castrum Bevernense Bevern/D
Colonia Claudia Ara Agrippinensium Köln/D
Colonia Ulpia Traiana Xanten/D
Constantia Konstanz/D
Covaliacae Kochel/D


Dispargum Duisburg/D
Durnomagus Dormagen/D


Fontes Baderae Paderborn/D


Gelduba Krefeld-Gellep/D
Gravionarium Bamberg/D


Iuliacum Jülich/D


Ludovici Arx Ludwigsburg/D
Lupodunum Ladenburg/D


Marburgum Marburg/D
Mogontiacum Mainz/D


Novaesium Neuss/D


Quadriburgium Qualburg/D
Quintanis Osterhofen/D


Rigomagus Remagen/D
Riparia Stadtamhof/D


Sorviodorum Straubing/D
Sulaga Bad Saulgau/D


Vicus Beda Bitburg/D

---

Aquae Baden bei Wien/A
Comagenis Tulln/A
Esc([ul]a) Bad Ischl/A
Locus Felix Wallsee-Sindelburg/A