Magna Mater
From NovaRoma
 Home| Latíné | Deutsch | Español | Français | Italiano | Magyar | Português | Română | Русский | English
Magna Mater, Cybele, the Great Mother of the Gods, had according Samuel Ball Platner ("A Topographical Dictionary of Ancient Rome", London: Oxford University Press, 1929) five temples in Rome. Her main temple was on the Palatine hill.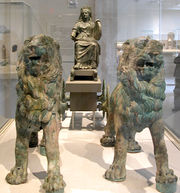 This
Temple
has been dedicated during the Punic wars on Idus Apr. 563 a.u.c. (10 April 191 b.c.e.) by Praetor M. Junius Brutus IV. From this day on, were held every year, in honour of the goddess and in front of the temple, the Ludi Megalesia. Magna Mater had become the Sacred Protectress of the City.
Useful link(s)
References
Before making an entry, please read the instructions for using the template and the special instructions for reading lists.