Publius Annaeus Constantinus Placidus (Nova Roma)
From NovaRoma
(Difference between revisions)
(update)

(6 intermediate revisions by 2 users not shown)
Line 1:
Line 1:
−

{{BioHeader|name=Publius Constantinus Placidus|id=5934}}

+

{{BioHeader|name=Publius Constantinus Placidus|id=5934}}

 
 
 
+
 
 
−

==[[Cursus Honorum (Nova Roma)|''Cursus Honorum'']]==

+

Nova Roma

 
 
−

* [[Aedilis Plebis (Nova Roma)|Aedilis Plebis]]

+
 
+

 

 
+

 

 
+
 
+

* [[Aedilis (Nova Roma)|

 
+
 
+
 
+
 
+

Aedilis Plebis ]]

 

:{{2008}}  

 

:{{2008}}  

 
+
 
 
 

==Other Posts==

 

==Other Posts==

Line 15:
Line 25:
 

:{{2005}}

 

:{{2005}}

 
 
 
+
 
+
 
+
 
+
 
 
−

[[Category: Magistrates (Nova Roma)|Constantinus Placidus, P.]]

+

[[Category: Magistrates (Nova Roma)|Constantinus Placidus, P. ]]

−

[[Category: Gens Constantina (Nova Roma)|Placidus, P. Constantinus]]

+

[[Category: Gens (Nova Roma)|Placidus, P. ]]

−

[[Category: Tribus Falerna (Nova Roma)|Placidus, P. Constantinus]]

+

[[Category: Tribus Falerna (Nova Roma)|Placidus, P. ]]
---
Revision as of 21:13, 2 January 2010
 Home| Latíné | Deutsch | Español | Français | Italiano | Magyar | Português | Română | Русский | English
 Wiki: User: Talk - Contributions to this site 
 The only official record is in the Album Civium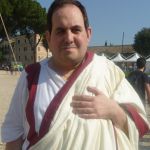 Publius Annaeus Constantinus Placidus
Album Civium

P. Annaeus Constantinus Placidus is one of Nova Roma's aediles curules, a current censorial scribe, a former aedilis plebis and a peaceful worker of the modern Romanitas from Italia. As aedilis he organized the Ludi Plebeii and the Ludi Cereales M. Moravio T. Iulio cos. ‡ MMDCCLXI a.u.c..
P. Annaeus is the official Italian interpreter of Nova Roma and translated several parts of the website to Italian.
He is Nova Roman citizen since K. Fabio T. Labieno cos. ‡ MMDCCLVI a.u.c..
Other Posts