Ludi Ceriales 2761 AUC (Nova Roma)
From NovaRoma

This page is maintained under authority of the
Plebeian Aediles

---
LUDI CERIALES 2761 AUC
This year's Ludi Ceriales were held from April 21 to today, April 28. As part of the Ludi, a Chariot Race and a Historical Quiz took place. A Literary Contest was also planned, but unfortunately no entries were received before the deadline (which was April 21), so the contest itself did not actually take place.

CHARIOT RACE
This year's chariot race was won by Delectus Consulis, driven by Incitator the Syrian and entered by Tiberius Galerius Paulinus for Factio Veneta. On behalf of the Aedilitas of Nova Roma, Plebeian Aedile Publius Constantinus Placidus expresses his congratulations to the winner.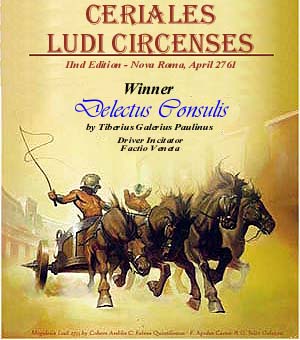 ---

HISTORICAL QUIZ
From April 21 onwards, an historical quiz based on famous Latin quotations, entitled Ipse dixit, took place on the main Nova Roma mailing list. The entrants were asked to answer six sets of questions relating to a famous phrase in Latin.
The quiz was won by Gallus Solaris Alexander, from Provincia Italia, with a score of 37 points. Congratulations from P. Con. Placidus, Gallus Solaris Alexander! You shall be rewarded with a Nova Roma New Sestertius within the course of this week.
The final standings were as follows:
1) Gallus Solaris Alexander: 37 points.
2) Cn. Equitius Marinus: 36 points.
3) L. Vitellius Triarius: 31 points
4) C. Fulvius Severus: 15 points.
5) Tib. Galerius Paulinus: 8 points.
6) C. Aurelia Falco Silvana: 6 points.
7) Q. Salonius Cato: 3 points.

Many thanks to all the entrants, and sorry to all the others who were not able to enter. See you all in November for the second round!