Provincia Australia (Nova Roma)
From NovaRoma
(Difference between revisions)
m (Moving the Province Report to the Praetorium Page)

Line 50:
Line 50:
 

:'''https://www.instagram.com/austnovaroma/'''

 

:'''https://www.instagram.com/austnovaroma/'''

 
 
−

*'''THE PROVINCIAL REPORT OF THE PRAEFECTUS AND LEGATUS D. AURELIUS TO PROCONSUL CN. LENTULUS ON THE REORGANIZATION OF AUSTRALIA:'''

+

 

−

:'''[[File:Australia 2019 - 4th Quarterly Report - Redacted.pdf]]'''

+
 
 
 
 
 
 
 

[[Image:NR Australians playing.jpg|center|thumb|600px|Citizens of Australia hold board game parties with the magnificent "REPUBLIC OF ROME" Valley Games Edition, a most educational introduction to the depth of Roman political history]]

 

[[Image:NR Australians playing.jpg|center|thumb|600px|Citizens of Australia hold board game parties with the magnificent "REPUBLIC OF ROME" Valley Games Edition, a most educational introduction to the depth of Roman political history]]
---
Revision as of 02:42, 10 September 2020
 Home| Latíné | Deutsch | Español | Français | Italiano | Magyar | Português | Română | Русский | English
Provincia

Australia

Nova Roma

M. Claudius Nero
legatus pro praetore


D. Aurelius Ingeniarius
legatus proconsulis Cn. Lentuli Alexandri
praefectus Provinciae Australiae Administrandae

---
---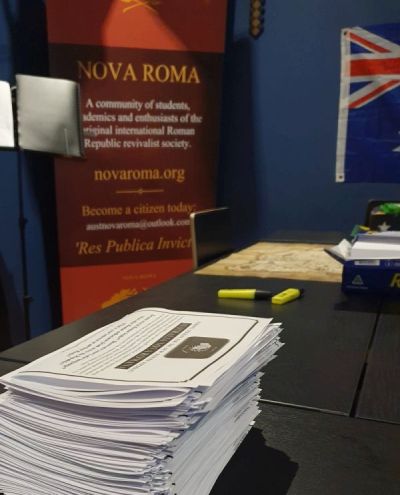 Provincia Australia of Nova Roma consists of Australia and New Zealand, and it is brought under the authority of proconsul cum maiore imperio Cn. Cornelius Lentulus Alexander, who is currently substituted after his passing away by his deputy, vice-governor the quaestor and legatus proconsularis Cn. Cornelius Lentulus the Younger. The proconsul's imperium is represented in Australia by legatus D. Aurelius Ingeniarius, who is, at the same time, the lieutenant governor of Australia as praefectus Provinciae Australiae administrandae, and undertook the task of revitalization and reorganization of the Nova Roman Australia.
Nova Roman Community Life and Projects in Australia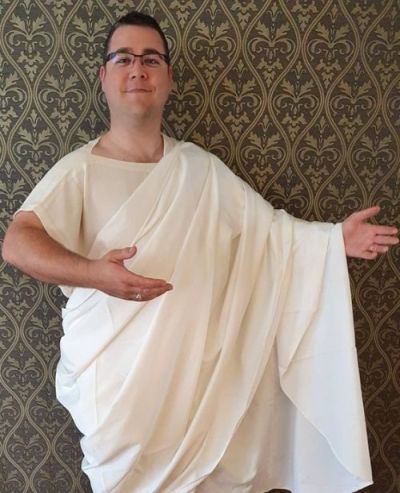 As one of the results of reorganizing the province, under the successful guidance of legatus and praefectus D. Aurelius, Nova Roma recruited a new allied legion in Australia: the Legio X Fretensis Australiana.
WEBSITE OF THE ALLIED LEGION (LEGIO X FRETENSIS) SERVING WITH NOVA ROMAN AUSTRALIA:
THE AUSTRALIAN COMMUNITY FORUM OF NOVA ROMA ON FACEBOOK:
AUSTRALIA NOVA ROMANA PUBLIC FACEBOOK PAGE:
THE AUSTRALIAN COMMUNITY RECORDS FORUM BOARDS ON JCINK:
CITIZEN RECORD MAP ON ZEEMAPS:
THE TWITCH TV CHANNEL OF NOVA ROMA AUSTRALIA:
AUSTRALIA NOVA ROMANA ON INSTAGRAM: