Main Page
From NovaRoma
(Difference between revisions)
(typo corrected and more info on WHY)

Line 28:
Line 28:
 

</p>

 

</p>

 
 
−

<div style="clear:both">{{PortalBox | title=The Nova Roma Web Site Under Offial State Mourning | content=This site is an ongoing project of the [[citizen (Nova Roma)|citizens]] of Nova Roma to build a guide to our Republic and to that of ancient Rome. Any citizen can [[NovaRoma:create a wiki account|create an account]]. Join the mailing list [http://groups.yahoo.com/group/NRWiki NRWiki @ yahoogroups.com] to ask questions or propose projects. '''Visit our [[NovaRoma:Community Portal|Community Portal]] for [[NovaRoma:Help files|editing guidelines and tutorials]]''' and to learn about current projects. Learn how to '''[[NovaRoma:Submit_Citizen_Photo|upload your profile picture]]''', '''[[NovaRoma:password|recover your password]]''' or [[NovaRoma:Admin Requests|contact the site administrators]] if you have any requests.

+

<div style="clear:both">{{PortalBox | title=The Nova Roma Web Site Under State Mourning | content=This is an ongoing project of the [[citizen (Nova Roma)|citizens]] of Nova Roma to build a guide to our Republic and to that of ancient Rome. Any citizen can [[NovaRoma:create a wiki account|create an account]]. Join the mailing list [http://groups.yahoo.com/group/NRWiki NRWiki @ yahoogroups.com] to ask questions or propose projects. '''Visit our [[NovaRoma:Community Portal|Community Portal]] for [[NovaRoma:Help files|editing guidelines and tutorials]]''' and to learn about current projects. Learn how to '''[[NovaRoma:Submit_Citizen_Photo|upload your profile picture]]''', '''[[NovaRoma:password|recover your password]]''' or [[NovaRoma:Admin Requests|contact the site administrators]] if you have any requests.

 

{{Template:PortalsTemporary}}

 

{{Template:PortalsTemporary}}

 

}}

 

}}
---
Revision as of 10:43, 11 November 2014






IN·MEMORIAM·CN·CORNELI·LENTVLI·ALEXANDRI·IMPERATORIS·CENSORIS·PROCONSVLIS·PATRIS·PATRIAE






---
NOVA ROMA
Dedicated to the restoration of classical Roman religion, culture and virtues
 Roma Resurgens | Latíné | Deutsch | Español | Français | Italiano | Magyar | Português | Română | Русский | English| Roma Resurgens  
Hodié a.d. XVII Kal. Quin. ‡ Q. Arrio (III) A. Tullia cos. ‡ MMDCCLXXIV a.u.c. est. "F"
---

PARTICIPATE IN THE LUDI CEREALES (Click Here)
WATCH OUR LUDI SCAENICI VIDEO FROM THE PREVIOUS FESTIVAL (Click Here)
Celebrating the goddess Ceres, patron of the plebeians
---
IN MEMORIAM TI. GALERI PAULINI
DIS MANIBUS
TI. GALERII PAULINI
TRIBUNI PLEBIS ET PROCONSULIS
QUI VIXIT ANNORUM LVII.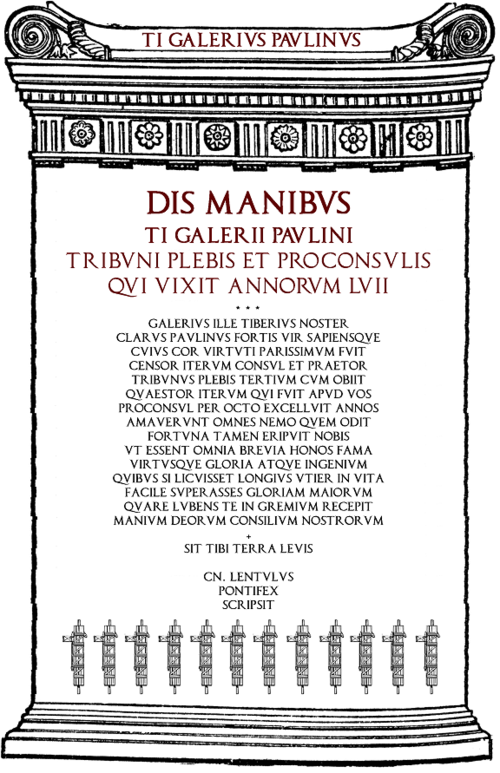 TI. GALERIUS PAULINUS
(Timothy Paul Gallagher),

Censorial and Consular Senator of Nova Roma,
has passed away while holding the office of Tribunus Plebis and Proconsul.

He lived 57 years.

He will live in our memories forever!
OBITUARY AND COMMEMORATIONS
Read obituary and commemorations about Ti. Galerius Paulinus, and his 12 years dedicated to the restoration of classical Roman culture and virtues:
The Nova Roma Web Site Under Official State Mourning
The Nova Roman senate, advised by the collegium pontificum, has ordered three days of State Mourning in memory of Ti. Galerius Paulinus, and the senate instructed that during the State Mourning "the Main Page of the Nova Roma website shall show nothing else but a tribute to Ti. Galerius Paulinus, his mourning portrait, black flags and similar symbols of grief, and other main portal pages of the website shall contain a black flag and reference to the mourning of Ti. Galerius Paulinus." This is why our Main Page is set up temporarily this way. The Nova Roma website is an ongoing project of the citizens of Nova Roma to build a guide to our Republic and to that of ancient Rome. Any citizen can create an account. Join the mailing list NRWiki @ yahoogroups.com to ask questions or propose projects. Visit our Community Portal for editing guidelines and tutorials and to learn about current projects. Learn how to upload your profile picture, recover your password or contact the site administrators if you have any requests.