Ludi Augustales Bimillenarii
From NovaRoma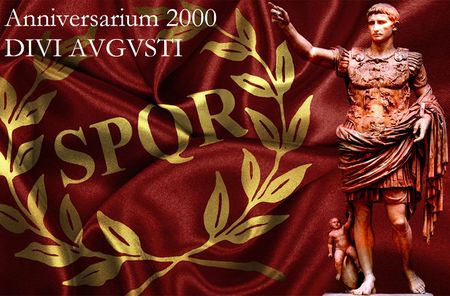 Announcement of the Festival
EDICTUM AEDILIS PLEBIS TI. IULII NERVAE DE LUDIS AUGUSTALIBUS BIMILLENARIIS
I. I hereby declare as an extraordinary festival and games the Ludi Augustales Bimillenarii (or Augustalia Bimillenaria), to honor and commemorate the 2000th anniversary of the death and deification of Imperator Caesar Augustus, this exceptionally significant man of Roman history, founder of the Empire, and preserver of many republican traditions and values of the mos maiorum.
II. The games will be managed and organized by C. Claudius Quadratus, assisted by Cn. Cornelius Lentulus, and will be held between 19th August, the day of the 2000th anniversary of Augustus' death, and 23rd September, the birthday of Augustus. Not all days will host an event, but ceremonies and events may occur between this interval of the Augustalia Bimillenaria.
III. I call upon my fellow aediles, the aediles curules, to issue a supporting statement, and in this case the games will be recorded as done under their and my joint authority.
IV. Effective immediately.
Datum est a.d. III Id. Sex. Sta. Cornelia C. Aemilio coss. MMDCCLXVII a.u.c.
Ti. Iulius Nerva
AEDILIS PLEBIS
Programs
Augustus Anniversary Ritual - by Nova Roman provinces
On 19th of August 2014, citizens of Nova Roma from various provinces will recite the: Res Gestae Divi Augusti
Canada Citerior - C. Claudius Quadratus - initiator.
Dacia - T. Iulius Sabinus.
Ohio - C. Decius Laterensis.
Carolina - S. Laelia Macra.
Pannonia - Cn. Cornelius Lentulus.
Alasca et Havaia - M. Pompeius Caninus.
Pontifex Cn. Cornelius Lentulus prepared a short ritual (prayer) for those who wish to honor Augustus more. The text to use:
Dive Auguste,
hoc die festivissimo et sanctissimo anniversarii bis millesimi mortis et divinitatis tuae,
te precamur quaesumusque,
uti Novam Romam, populum Novum Romanum, rem publicam Novam Romanam,
semper protegas et augeas,
utique Nova Roma rem publicam populi Romani Quiritium populumque Romanum
restituat, restauret, reficiat, renovet,
uti te populus Romanus renatus denuo colere tibique sacra facere possit!
Quarum rerum ergo,
macte hoc vino libando (ture ommovendo / libo dato etc.)
esto fito volens propitius
mihi, domo familiae!
- Wine (or incense or libum or whatever is sacrificed).
More complex ceremonies will be held in provinces and details will be updated on this page.
Augustus Commemorative Contest - by C. Claudius Quadratus
CERTAMEN NUMISMATICUM AUGUSTEUM
August 19, 2014, marks the 2000th anniversary of the death of Augustus. Nova Roma (at initiative of the procurator of Canada Citerior, C. Claudius Quadratus augur) will commemorate this event by holding a contest. The contest is open to all, but will only be announced on Nova Roman fora.
CONTEST TASK
Write an original essay, not to exceed 1000 words, preferably (but not necessarily) in English, on ANY subject relating to the coinage of Octavian / Augustus.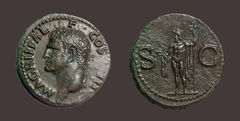 PRIZES
Every entrant (!) who submits an essay in accordance with the rules will be awarded a genuine identifiable original ancient Roman coin. The entrant who, in the jury's opinion, submits the clearest and most informative essay will be awarded an As issued by Caligula bearing the image of Marcus Agrippa, including the legend M AGRIPPA L F COS III (one of the most famous Roman inscriptions that will be recognized by many of you). The value of the Agrippa coin exceeds $100.
Contest Rules
Essays must be original. Length: 500 - 1000 words.
Entries must be submitted to gattarocanadese@yahoo.ca during the period August 19, 2014 to September 16, 2014.
Entries must be submitted anonymously. Use an email address that does not identify you and do not include your name. The jury mustn't know your identity until after the essays have been read and judged.
Results will be announced on September 23, 2014 - the birthday of Augustus.
Suggestions
A useful and readily available resource is Roman Coins and their Values, by David R. Sear (The Millennium Edition, Vol. 1). If describing a particular coin, include a catalog reference - either to Sear or some other catalog such as The Roman Imperial Coinage, Vol. 1.
Contact the organizer and jury C. Claudius Quadratus at gattarocanadese@yahoo.ca if you have any questions.