Celebration of the Greater Quinquatrus
Festival of Minerva, March 19-23
By Patricia Cassia
pcassia@novaroma.org
On March 19, we begin one of the major holidays in the Roman calendar, the Greater Quinquatrus. This five-day holiday was sacred to both Mars and Minerva. As priestess of Minerva, I offer some ideas for honoring her at this time.
The Goddess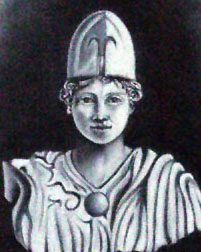 "Minerva," oil painting by Maximina Octavia (Susan Quan)

The Quinquatrus became associated with Minerva after a major temple in her honor was dedicated on March 19. The temple, on the Aventine hill outside the sacred boundary (pomerium) of the city, was a gathering place for writers, artists, actors and teachers, to whom Minerva was patroness. Scholars believe that after a day of religious observance on the 19th, gladiatorial contests were held March 20-23.

Minerva's other aspects include health (Minerva Medica), trade and craftsmanship, and strategy in war. The poet Ovid, in his Fasti, encourages a wide variety of Romans to make offerings to her: students, young girls learning spinning and weaving, fullers, dyers, cobblers, doctors. Juvenal speaks of a boy who worships Minerva with a penny (as), and the schoolchildren of Rome enjoyed a "spring break" from classes during this five-day holiday.

Minerva was also the patroness of musicians, who honored her both at the Tubilustrium on March 23 (the day when the sacred trumpets were purified, whether for religious or military purposes we cannot be sure) and at the Lesser Quinquatrus in June. With Jupiter and Juno she was part of the great Capitoline Triad, honored in Rome as major deities and throughout the Roman world as symbols of the great city's reach.

Minerva's Influence, Ancient and Modern

As you can see, Minerva touches on many areas of life. Here are some ideas for specific subjects with which to seek her aid:
Health. Roman inscriptions and offerings show that this was one of the major concerns for people in the ancient world. In addition, those who do the work of healing the body or mind may find special help in Minerva's influence.
Learning. Students and teachers may find special reason to make offerings to Minerva, but her guidance is valuable to all who seek to learn a craft or trade. Few of us become cobblers or fullers these days, but it is not a great stretch of the imagination to ask her blessings on trades which did not exist at the time of her historical worship. Computer trades, which have so much to do with making information more accessible, seem to me to be especially appropriate areas for Minerva's influence.
Clothing and personal appearance. Minerva particularly governed all who made cloth, clothing or shoes, and there are references to temple attendants who acted as "dressers" or "hairstylists" to the goddess, sometimes dancing or miming these actions, sometimes literally decorating the goddess' statue. If your work involves clothing, or if you have an occasion when it is specifically important to look your best, ask her help.
Art. If your full-time work is in a creative field, you will find Minerva's influence especially helpful, but her inspiration is also available to those who paint, sculpt, write or play music as a relaxing, creative outlet.
Strategy. Minerva's influence on war does not come in the full frontal assault or the battle frenzy, but in the tents and back rooms. Whatever your battle – a court case, a struggle to win promotion at work, a fight against personal demons – look to Minerva when you need a plan, when you want to know how best to use the information available to you, and when you are plotting complex tactics.
A Sample Offering to Minerva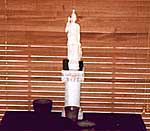 It is important to state that the following is not a genuine Roman ritual, but a reconstruction of one, using information available in scholarly texts and on the rites and rituals section of this Web site. You should consider it a template at best, and supplement it with your own research or adapt it to your needs.
Start by obtaining a picture or statue of Minerva and setting it up in a place where you can be quiet – a personal altar or lararium if you have one, but any peaceful place will do. Minerva was associated in antiquity with the Greek Athena, so you can also use symbols that relate to her – a figurine of an owl, for example.
Add a candle or oil lamp and use an offering-dish to receive your gift. You may choose to offer bread, meat, wine or milk, or to make mola salsa according to the recipe on the Nova Roma Web site. You may also offer an inanimate object such as a coin, oil lamp or handmade figurine (such as the lady's head found at the temple of Minerva Medica in Rome, which antiquarians believe was an offering to Minerva for the restoration of hair lost to an illness).
Assemble everything you need and prepare yourself for the offering. The ancient Roman would have covered his or her head with a fold of the toga or palla as a gesture of respect, and you may wish to cover your head as well before approaching this altar. Light the candle or lamp. If offering loose incense, light your charcoal now. Finally, wash your hands.
Stand in silent contemplation for a moment, gazing upon the statue of the goddess and clearing your mind of outside distractions. Take another moment and mentally focus on the goal of your offering.
Approach the altar. If you like, perform the gesture of adoratio, kissing your right hand to the goddess. (More on posture and gestures in ancient Roman religion) Begin your prayer, in either Latin or English:
"Dea Minerva, te hoc ferto obmovendo bonas preces precor, uti sies volens propitius mihi (liberisque meis) domo familiaeque meae mactus hoc ferto."
"Goddess Minerva, before you I make this offering, I sincerely pray that you will look kindly and favorably on me (and my children), on my house, and my household."
After this opening, continue in your own words, praying to Minerva for whatever blessing you wish from her.
Then take up your offering and hold it up to the statue or picture. Place a small amount of your offering in the dish.
"Minerva, macte esto."
"Minerva, may you be honored."
"Profane" the rest of the offering by touching it, so that you may now partake of it yourself or share it with any who join you in this offering.
Other Ways to Honor Minerva
Beyond performing the reconstructed sacrifice, a creative modern worshiper may find other ways to honor Minerva in public and private life. If any of these appeal to you, find a way to perform one or two of them, or adapt them based on your own needs and understanding, during the Quinquatrus as acts of devotion to the goddess.
Devote your time, energy and money to enhancing the resources available at your local library, particularly on Roman subjects.
Offer support to students, whether by raising money for scholarships or volunteering practical aid such as transportation or proofreading. Encourage the young people you know to pursue education, and to respect their teachers.
Offer support to teachers by contributing to school funds, listening and supporting their efforts, or performing practical tasks to give them more time for grading, feedback and lesson planning.
Offer your expertise in teaching others the skills and crafts you know.
Choose one of the healing arts and study it until you are skilled enough to heal others.
Study the clothing and personal appearance of ancient Romans, and put together a Roman outfit for yourself, suitable for appearing at historical re-enactment events. Use your new persona to help educate others about ancient Roman history.
If you already have Roman garb, consider making accessories, shoes or new garments to increase the realism and character of your presentation, or help a newcomer to put together his or her own Roman costume.
Encourage the arts in your area by attending concerts, visiting museums, buying books and volunteering to teach young people.
Participate in the arts yourself. Consider taking up a creative outlet you havenŐt previously explored, or renewing your interest in one you have tried before. In particular, you may find special meaning in the arts of painting, sculpture, writing and music.
Study military strategy, law and politics, and use your knowledge to work toward making your world a better place.
– Patricia Cassia, March 2002