Ceres
From NovaRoma
 Home| Latíné | Deutsch | Español | Français | Italiano | Magyar | Português | Română | Русский | English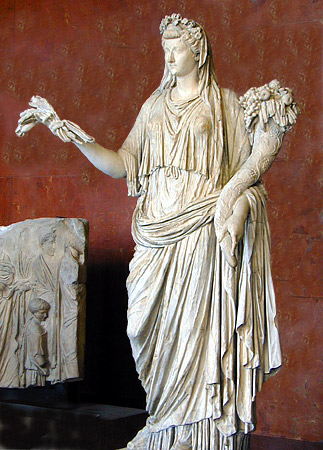 Ceres
is the Goddess of agriculture. During a drought in 496 BCE, the
Sibylline Books
ordered the institution of the worship of Demeter, Dionysus and Persephone, called by the Latin names
Ceres
,
Liber
and
Libera
. Ceres was the Goddess of the plebeians: the
aediles plebis
cared for her temple and had their official residences in it, and were responsible for the games in her honour -- the
Ludi Cereales
-- her original festival in April. There was a women's 9-day fast and festival when women offered the first corn harvest to
Ceres
, originally celebrated every five years, but later - by the time of Augustus - held every October 4.