Sodalitas pro diis (Nova Roma)
From NovaRoma
 Home| Latíné | Deutsch | Español | Français | Italiano | Magyar | Português | Română | Русский | English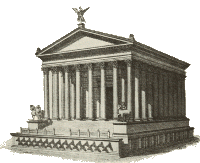 This sodalitas is devoted to the eternal Roman Gods
---
Formation of this sodalitas was announced on the main list prid. Kal. Oct. ‡ M. Moravio T. Iulio cos. ‡ MMDCCLXI a.u.c. in message 57817.
The founders of the sodalitas Pro Diis A Temple for the Gods in Rome.
Given by our hands, XIX Kalendas, Septembres M. Moravio T. Iulio cos. MMDCCLXI A U C.
Per the Lex Cassia de creatione sodalitatum, any group of citizens may petition the Senate to create a sodalitas. The group should form itself informally and operate for six months. After that the Senate will consider recognizing it.
A proposal for a project plan
A Charter for the sodalitas
A mail list for discussions has been created
A website for the sodalitas is currently under construction
Regional coordinators will promote the project sodalitas proDIIS in their home contries/regions
The construction of a Roman Temple today, is first of all a civic duty, a materialization of our Values. FROM ideas expressed in Internet via flow of Megabyte,TO marble, stones, columns, to follow our Roman ancestors .
A Nova Roman Temple in Rome will be our place to meet, to discuss, to feel at home. And for our Roman State will be a preferred place to perform the State rituals required in our calendar.
We would like to ask all interested citizens to join, support and to unite for this great, important project. This project will give to all citizens and amici of Nova Roma the opportunity to help to create and build a temple for the eternal Gods of Rome.
All civis and amici (friends) of Nova Roma are invited to join the sodalitas by making an application to the Collegium of the sodalitas, by providing their Citizen Name, their provincia, and their contact email address.