Saturnalia
From NovaRoma
 Home| Latíné | Deutsch | Español | Français | Italiano | Magyar | Português | Română | Русский | English
This article is about Saturnalia in ancient Rome. For Saturnalia in Nova Roma, see Saturnalia in Nova Roma.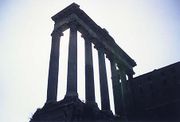 Saturnalia is a Roman festival which starts a.d. XVI Kal. Ian. ‡ and in the Republic lasted for 7 days. Saturnalia celebrated the golden age of Saturn, when there was no war or want.
Saturnalia festivities began with ritual and sacrifices in the Temple of Saturn, located in the Forum. The statue of the god was hollow and filled with olive oil, as a symbol of his agricultural functions. His feet were bound with woolen strips, that were unbound at Saturnalia.
After the rituals, the Senators (who had to be present) dismissed the crowd with the cry of "Io, Saturnalia!", a sign for the happy festivities of family parties and other private gatherings to begin. The traditional gifts were wax tapers and little dolls, although gifts of silver later became traditional. Merriment prevailed and social restrictions were turned upside down: a common practice was for the master to change place with his slaves. Public gambling was permitted.
"but suddenly shouted with one accord the well-known cry, "Io Saturnalia" (for at the festival of Saturn the slaves don their masters' dress and old festival)" [1]

The biggest part of Saturnalia was attitude more than decoration. Feasting, drunkenness, merrymaking, hopefully the conception of more children (or at least enjoying those activities which led to conception!), pranks, gift giving, role reversals (not true ones, only symbolic ones - slaves weren't really free to make a freedman's decisions and anything they did or decreed would reverse at the end of Saturnalia, children weren't really adults and could not enter into any binding contracts or make business deals, etc.) and so forth.
The role reversals seemed to be more for minor privileges - slaves and children got to be waited on for meals, and to lead the rituals, and to participate in the revelry as if they were their parents/masters. The parents/masters jokingly played the part of slaves and children by waiting on them and making rude and bawdy jokes at their expense.
"Secondly, during my week the serious is barred; no business allowed. Drinking and being drunk, noise and games and dice, appointing of kings and feasting of slaves, singing naked, clapping of tremulous hands, an occasional ducking of corked faces in icy water,--such are the functions over which I preside." [2]

Many of the decorations involved greenery - swathes, garlands, wreaths, etc - being hung over doorways and windows, and ornamenting stairs. Ornaments in the trees included sun symbols, stars, and faces of the God Janus. Trees were not brought indoors (the Germans started that tradition), but decorated where they grew.
Food was also a primary decoration - gilded cakes in a variety of shapes were quite popular, and children and birds vied for the privilege of denuding the trees of their treats. The commonest shapes were fertility symbols, suns and moons and stars, baby shapes, and herd animal shapes (although, to be honest, it's hard to tell if some of those ancient cookie cutters are supposed to be goats or deer).
People were just as likely to be ornamented as the trees. Wearing greenery and jewelry of a sacred nature was apparently common, based on descriptions, drawings, and the like from the era. Although the emphasis was on Saturn, Sol Invictus got a fair share of the revelry as well.
See also
References
↑ Cassius Dio LX.19.3
↑ Lucian of Samosata: Saturnalia, Book IV