RO:Pagina principală
From NovaRoma
(Difference between revisions)
(dacia box from right to left)

 

(24 intermediate revisions by 5 users not shown)
Line 1:
Line 1:
−

{{MainPageBanner|subtitle=Dedicated to the restoration of classical Roman religion, culture and virtues}}

+

{{MainPageBanner|subtitle=,

 
+

}}

 

<div style="width:100%">

 

<div style="width:100%">

 

<div style="width:49.7%;float:left; margin-left:0px">

 

<div style="width:49.7%;float:left; margin-left:0px">

 

{{PortalBox |

 

{{PortalBox |

−

  title=THE REPUBLIC |

+

  title=|

 

  content={{Include summary|RO:Res publica Novae Romae}}

 

  content={{Include summary|RO:Res publica Novae Romae}}

 

----

 

----

−

'''Quick links:''' [[Declaration (Nova Roma)|Declaration]] - [[FAQ]] - [[:Category:Tabularium (Nova Roma)|Laws]] - [[Aerarium Saturni (Nova Roma)|Treasury]] - [[{{CURRENTYEAR}}|Magistrates]] - [[:Category:Senators (Nova Roma)|Senators]] - [[Provincia (Nova Roma)|Provinces]] - [[Annals (Nova Roma)|Annals]] - ''[[Ager Publicus (Nova Roma)|Ager Publicus]]'' - [http://www.novaroma.org/civitas/album Album Civium] - ''{{Calendar|Calendar}}''}}

+

''':''' [[(Nova Roma)|]] - [[FAQ]] - [[:Category:(Nova Roma)|]] - [[Aerarium Saturni (Nova Roma)|]] - [[{{CURRENTYEAR}}|]] - [[:Category:Senators (Nova Roma)|]] - [[Provincia (Nova Roma)|]] - [[Annals (Nova Roma)|]] - ''[[Ager Publicus (Nova Roma)|Ager Publicus]]'' - [http://www.novaroma.org/civitas/album ] - ''{{Calendar|Calendar}}

 
+

 

 
+

''}}

 
 
 

{{PortalBox |

 

{{PortalBox |

−

  title=ROMAN RELIGION |

+

  title=|

 

  content={{Include summary|RO:Cultus_deorum_Romanorum}}

 

  content={{Include summary|RO:Cultus_deorum_Romanorum}}

 

----

 

----

−

'''Quick links:''' ''[[:Category:Religio Romana (Nova Roma)|Cultus Deorum]]'' - [[Priests (Nova Roma)|Priests and Priesthoods]] -  [[Foreign priesthoods (Nova Roma)|Foreign priesthoods in Nova Roma]] - [[:Category:Ritus|Rites and Rituals]] - [[Roman Calendar]] - ''[[Comitia Curiata (Nova Roma)|Comitia Curiata]]''}}

+

''':''' ''[[:Category:Religio Romana (Nova Roma)|]]'' - [[Priests (Nova Roma)|]] -  [[Foreign priesthoods (Nova Roma)|]] - [[:Category:Ritus|]] - [[Roman Calendar]] - ''[[Comitia Curiata (Nova Roma)|Comitia Curiata]]''}}

 
 
 

{{PortalBox |

 

{{PortalBox |

−

  title=CIVIC LIFE|

+

  title=|

 

  content={{Include summary|RO:Civic life (Nova Roma)}}

 

  content={{Include summary|RO:Civic life (Nova Roma)}}

 

----

 

----

−

'''Quick links:''' [[Mailing lists (Nova Roma)| Community Forum]] - [[Sodalitas|Special interest groups]] - [[Reenactments|Military reenactments]] - ''[[Academia Thules]]'' - [[Macellum (Nova Roma)|Shops]] - [[:Category:Events for Romans|Events for Romans]]}}

+

''':''' [[Mailing lists (Nova Roma)|]] - [[Sodalitas|]] - [[Reenactments|]] - ''[[Academia Thules]]'' - [[Macellum (Nova Roma)|]] - [[:Category:Events for Romans|]]}}

 
 
 

{{PortalBox |

 

{{PortalBox |

−

  title=THE ROMAN WAY|

+

  title=|

 

  content={{Include summary|RO:Via Romana}}

 

  content={{Include summary|RO:Via Romana}}

 

----

 

----

−

'''Quick links:''' '''[[:Category:Bibliotheca|Library]]''' - [[:Category:Reading list|Reading list]]s - [[Roman Virtues]] - [[:Category:Lingua Latina|Latin language]] - [[:Category:Roman Clothing and Equipment|Roman Clothing and Equipment]]}}

+

''':''' '''[[:Category:Bibliotheca|]]''' - [[:Category:Reading list|]] - [[Roman Virtues]] - [[:Category:Lingua Latina|]] - [[:Category:Roman Clothing and Equipment|]]}}

 
 
 

</div>

 

</div>

 
 
 

<div style="width:49.7%;float:right; margin-right:0px">

 

<div style="width:49.7%;float:right; margin-right:0px">

−

{{PortalBox | title=CURRENT EVENTS | content={{Current Events Shortlist}} }}

+

{{PortalBox | title=| content={{Current Events Shortlist}} }}

 
 
−

{{PortalBox | title=DACIA | content= [[Image:CIV-Titus Iulius Sabinus.jpg|75px]] [[Titus Iulius Sabinus (Nova Roma)|Titus Iulius Sabinus]], ''legatus pro praetore [[Dacia (Nova Roma)|Dacia]]e.''}}

+

{{PortalBox | title=| content=}}

 
 
−

{{PortalBox | title=PHOTO OF THE DAY | content={{RO:DailyPhoto}} }}

+

{{:}}

 
 
−

{{PortalBox |

+

{{PortalBox |title=|content=[[FAQ|]].  

−

title=BECOMING A CITIZEN |

+

[http://groups.yahoo.com/group/Nova-Roma/ ].  

−

content=Start by reading our [[FAQ|Frequently Asked Questions]]. Join our [http://groups.yahoo.com/group/Nova-Roma/ email discussion list]. If you have questions you can [http://www.novaroma.org/bin/contact contact a magistrate]. Please read "[[Choosing a Roman name]]" before you '''[http://www.novaroma.org/bin/apply apply for citizenship in Nova Roma]'''. '''For New Citizens: [[New citizen first steps|''now what do I do?'']] '''}}

+

[http://www.novaroma.org/bin/contact ].

 
+

"[[Choosing a Roman name]]" '''[http://www.novaroma.org/bin/apply in Nova Roma]'''.  

 
+

''': [[New citizen first steps|''?'']] '''}}

 

</div>

 

</div>

 

<div style="clear:both">{{PortalBox |

 

<div style="clear:both">{{PortalBox |

−

  title=The Nova Roma Web Site |

+

  title=Nova Roma |

−

  content=This site is an ongoing project of the citizens of Nova Roma to build a guide to our Republic and to that of ancient Rome. Any citizen can [[NovaRoma:create a wiki account|create an account]]. Join the mailing list [http://groups.yahoo.com/group/NRWiki NRWiki @ yahoogroups.com] to ask questions or propose projects. Visit our [[NovaRoma:Community Portal|Community Portal]] for editing guidelines and to learn about current projects. [[NovaRoma:Admin Requests|Contact the site administrators]] if you have any requests.}}

+

  content=site Nova Roma a . [[NovaRoma:create a wiki account|]]. [http://groups.yahoo.com/group/NRWiki NRWiki @ yahoogroups.com] . [[NovaRoma:Community Portal|]] . [[NovaRoma:Admin Requests|]] .}}

 

</div></div>

 

</div></div>

−

'''If you need help you can [http://www.novaroma.org/bin/contact contact a magistrate].'''

+

'''[http://www.novaroma.org/bin/contact ].'''

−

[[Category:Master Index]] __NOTOC__ __NOEDITSECTION__

+

[[Category:]] __NOTOC__ __NOEDITSECTION__

−

{{NAMESPACE}}

+
---
Latest revision as of 11:27, 25 August 2011
NOVA ROMA
Dedicata restaurarii religiei, virtutilor si culturii clasice romane
 Home| Latíné | Deutsch | Esperanto | Español | Français | Italiano | Magyar | Português | Română | Русский | English
Hodié a.d. XI Kal. Iun. ‡ Template:2019 est. "F"
FOTOGRAFIA ZILEI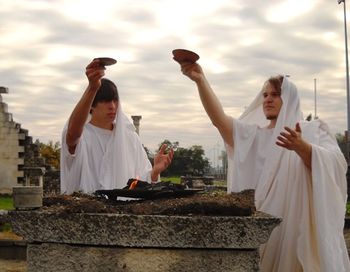 Praefectus
of
Lusitania
C. Cocceius
and
legatus pro praetore
of
Pannonia
Cn. Lentulus pontifex
, offering a sacrifice for the well-being of
Nova Roma
at the altar of Aquincum, at the
Lusitania-Pannonia Interprovincial Meeting
in Budapest, Hungary, 2010.
Daca aveti nevoie de ajutor contactati un magistrat.