Media Services (Nova Roma)
From NovaRoma
(Difference between revisions)
Line 81:
Line 81:
 

====NR====

 

====NR====

 
 
−

Refer to the [[Register of Lists (Nova Roma)|Register of Lists]] for the official Nova Roman lists

+

Refer to the [[(Nova Roma)|Register of ]] for the official Nova Roman

 
 
 

==Other Venues==

 

==Other Venues==
---
Revision as of 15:38, 25 October 2021
 Home| Latíné | Deutsch | Español | Français | Italiano | Magyar | Português | Română | Русский | English

This page is maintained under authority of the Princeps senatus.
Make no unauthorized changes .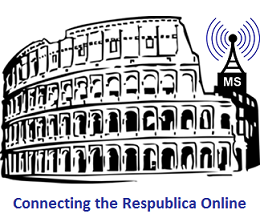 Welcome to the Media Services page of the Senate Communications Committee (SCC)
Browse this page to locate various media platforms for Nova Roma-related communications projects. Have a Nova Roma-related media project other personal project you believe other citizens would be interested in? Would you like to list here? Just send us the web address of your site, and we will link it in for you! If you know how to add your own, feel free to do so.
CONTACT US
Contact the SCC for more information or to submit your project site today, by using the online email tool here and sending your message to the IT Task Force. They will forward it on to the SCC.

Pinterest Images Boards
Personal Boards

YouTube Videography About Nova Roma

Twitter Conversations for Roman Enthusiasts
Personal Profiles
None Yet!

FaceBook for Nova Romans
Personal Pages
None Yet!

Book Clubs & Book Blogs

Online Newsletters and Non-Book Blogs
Yahoo! Groups
Non-NR
NR
Refer to the Register of Official Forums for the official Nova Roman discussion forums.
Other Venues
From time to time, sites under this heading may be moved up the page under a specific brand venue heading. If your social media/other project venue is not listed above, then your site should go under this heading. If your site was previously listed, and you do not see your site here anymore, look up the page. It has probably been moved to a higher state of media being!