Main Page
From NovaRoma
(Difference between revisions)
m

Line 1:
Line 1:
 

{{MainPageBanner|subtitle=Dedicated to the restoration of classical Roman religion, culture and virtues}}

 

{{MainPageBanner|subtitle=Dedicated to the restoration of classical Roman religion, culture and virtues}}

−

<div style="background-color:#ffffff; border:thick solid #EAC117; border-width:18px; padding:10px"><p style="background-color:#EAC117; text-align:center">[[File:N20.png|300px]]</p></div>

 
−

<p style="color:#600000; font-family:Times, Serif; font-weight:bold; text-align:center"><span style="font-size:400%; line-height:100%">

 
−

[[File:Spqr-red-trans-50.gif]][[File:Smallredtrans-NR20.png]][[File:Spqr-red-trans-50.gif]][[File:Smallredtrans-NR20.png]][[File:Spqr-red-trans-50.gif]][[File:Smallredtrans-NR20.png]][[File:Spqr-red-trans-50.gif]][[File:Smallredtrans-NR20.png]][[File:Spqr-red-trans-50.gif]][[File:Smallredtrans-NR20.png]][[File:Spqr-red-trans-50.gif]][[File:Smallredtrans-NR20.png]][[File:Spqr-red-trans-50.gif]][[File:Smallredtrans-NR20.png]][[File:Spqr-red-trans-50.gif]][[File:Smallredtrans-NR20.png]][[File:Spqr-red-trans-50.gif]]</span></p>

 
−

<div style="border:thick solid #8B0000; border-width:6px; padding:10px">

 
−

<p style="font-size:220%; font-family:Times, Serif; font-weight:bold; text-align:center">Nova Roma has completed its 20th year!

 
−

<br><small>CELEBRATING THE XXth ANNIVERSARY OF THE FOUNDING OF NOVA ROMA</small>

 
−

</p>

 
−

<p style="font-size:130%; font-family:Times, Serif; color:#600000; font-weight:bold; text-align:center">'''Nova Roma was founded 20 years ago, March 1, 1998.'''

 
−

</p>

 
 

<br style="clear:both"/>

 

<br style="clear:both"/>

 
 
−

</div>

 
−

<p style="color:#600000; font-family:Times, Serif; font-weight:bold; text-align:center"><span style="font-size:400%; line-height:100%">

 
−

[[File:Spqr-red-trans-50.gif]][[File:Smallredtrans-NR20.png]][[File:Spqr-red-trans-50.gif]][[File:Smallredtrans-NR20.png]][[File:Spqr-red-trans-50.gif]][[File:Smallredtrans-NR20.png]][[File:Spqr-red-trans-50.gif]][[File:Smallredtrans-NR20.png]][[File:Spqr-red-trans-50.gif]][[File:Smallredtrans-NR20.png]][[File:Spqr-red-trans-50.gif]][[File:Smallredtrans-NR20.png]][[File:Spqr-red-trans-50.gif]][[File:Smallredtrans-NR20.png]][[File:Spqr-red-trans-50.gif]][[File:Smallredtrans-NR20.png]][[File:Spqr-red-trans-50.gif]]</span></p>

 
 

<div style="width:100%">

 

<div style="width:100%">

 

<div style="width:49.7%;float:left; margin-left:0px">

 

<div style="width:49.7%;float:left; margin-left:0px">

Line 59:
Line 47:
 

</div>

 

</div>

 

__NOTOC__ __NOEDITSECTION__

 

__NOTOC__ __NOEDITSECTION__

−

<p style="color:#600000; font-family:Times, Serif; font-weight:bold; text-align:center"><span style="font-size:400%; line-height:100%">

+

 

−

[[File:Spqr-red-trans-50.gif]][[File:Smallredtrans-NR20.png]][[File:Spqr-red-trans-50.gif]][[File:Smallredtrans-NR20.png]][[File:Spqr-red-trans-50.gif]][[File:Smallredtrans-NR20.png]][[File:Spqr-red-trans-50.gif]][[File:Smallredtrans-NR20.png]][[File:Spqr-red-trans-50.gif]][[File:Smallredtrans-NR20.png]][[File:Spqr-red-trans-50.gif]][[File:Smallredtrans-NR20.png]][[File:Spqr-red-trans-50.gif]][[File:Smallredtrans-NR20.png]][[File:Spqr-red-trans-50.gif]][[File:Smallredtrans-NR20.png]][[File:Spqr-red-trans-50.gif]]</span></p>

+
 

[[Category:English]]

 

[[Category:English]]
---
Revision as of 10:38, 6 February 2019
---
NOVA ROMA
Dedicated to the restoration of classical Roman religion, culture and virtues
 Home| Latíné | Deutsch | Español | Français | Italiano | Magyar | Português | Română | Русский | English
Hodié a.d. III Id. Sex. ‡ Q. Arrio (II) T. Domitio (III) cos. ‡ MMDCCLXXIII a.u.c. est. "H"
---
---
DAILY PHOTO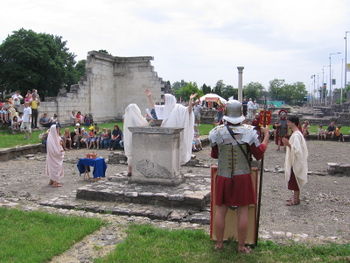 Legatus pro praetore
of
Pannonia
and priest
Cn. Lentulus
, assisted by Nova Romans, sacrifices for the well-being of
Nova Roma
at the altar of Aquincum, during the
Floralia Festival
in Budapest, Hungary.