Main Page
From NovaRoma
(Difference between revisions)
m

Line 51:
Line 51:
 
 
 

</div>

 

</div>

−

<div style="clear:both">{{PortalBox | title=The Nova Roma Web Site | content=This site is an ongoing project of the [[citizen (Nova Roma)|citizens]] of Nova Roma to build a guide to our Republic and to that of ancient Rome. Any citizen can [[NovaRoma:create a wiki account|create an account]]. Join the mailing list [http://groups.yahoo.com/group/NRWiki NRWiki @ yahoogroups.com] to ask questions or propose projects. '''Visit our [[NovaRoma:Community Portal|Community Portal]] for [[NovaRoma:Help files|editing guidelines and tutorials]]''' and to learn about current projects. Learn how to '''[[NovaRoma:Submit_Citizen_Photo|upload your profile picture]]''', '''[[NovaRoma:password|recover your password]]''' or [[NovaRoma:Admin Requests|contact the site administrators]] if you have any requests.

+

<div style="clear:both">{{PortalBox | title=The Nova Roma Web Site | content=This site is an ongoing project of the [[citizen (Nova Roma)|citizens]] of Nova Roma to build a guide to our Republic and to that of ancient Rome. Any citizen can [[NovaRoma:create a wiki account|create an account]]. Join the mailing list [http://groups.yahoo.com/group/@ yahoogroups.com] to ask questions or propose projects. '''Visit our [[NovaRoma:Community Portal|Community Portal]] for [[NovaRoma:Help files|editing guidelines and tutorials]]''' and to learn about current projects. Learn how to '''[[NovaRoma:Submit_Citizen_Photo|upload your profile picture]]''', '''[[NovaRoma:password|recover your password]]''' or [[NovaRoma:Admin Requests|contact the site administrators]] if you have any requests.

 

{{Template:PortalsTemporary}}

 

{{Template:PortalsTemporary}}

 

}}</div></div>

 

}}</div></div>
---
Revision as of 18:20, 9 March 2018
---
NOVA ROMA
Dedicated to the restoration of classical Roman religion, culture and virtues
 Home| Latíné | Deutsch | Español | Français | Italiano | Magyar | Português | Română | Русский | English
Hodié a.d. XIV Kal. Feb. ‡ Q. Arrio (III) A. Tullia cos. ‡ MMDCCLXXIV a.u.c. est. "C"
---
---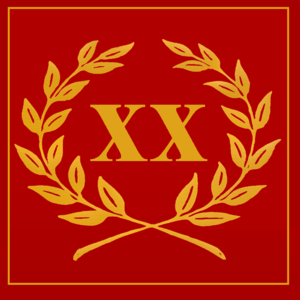 Nova Roma has completed its 20th year!
PARTICIPATE IN THE LUDI NOVI ROMANI
CELEBRATING THE XXth ANNIVERSARY OF THE FOUNDING OF NOVA ROMA
These Ludi Novi Romani are the games celebrating the 20th Anniversary of the founding of Nova Roma through March 1-15.
Nova Roma was founded 20 years ago, March 1, 1998.
DAILY PHOTO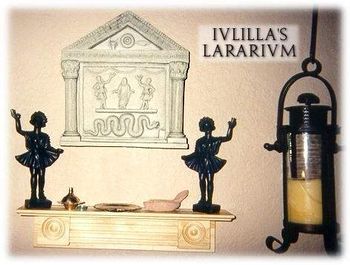 A modern
lararium