Main Page
From NovaRoma
(Difference between revisions)
m

 

(39 intermediate revisions by 5 users not shown)
Line 1:
Line 1:
 

{{MainPageBanner|subtitle=Dedicated to the restoration of classical Roman religion, culture and virtues}}

 

{{MainPageBanner|subtitle=Dedicated to the restoration of classical Roman religion, culture and virtues}}

 

<div style="width:100%">

 

<div style="width:100%">

−

<br><center>

 
−

[[File:Aquila-banner-01.jpg|alt=Aquila - The Official Newsletter of Nova Roma|link=http://novaromaeagle.blogspot.com/]]

 
−

<br>

 
−

'''[http://novaromaeagle.blogspot.com/ Aquila Nova Roma]''' - The Official Newsletter of Nova Roma has returned!

 
−

</center><br>

 
 

<div style="width:49.7%;float:left; margin-left:0px">

 

<div style="width:49.7%;float:left; margin-left:0px">

 
+
 

{{PortalBox | title=THE REPUBLIC | content={{Include summary|:Res publica Novae Romae}}

 

{{PortalBox | title=THE REPUBLIC | content={{Include summary|:Res publica Novae Romae}}

 

----

 

----

−

'''Quick links:''' [[Declaration (Nova Roma)|Declaration]] - [[FAQ]] - [[:Category:Legal system (Nova Roma)|Laws]] - [[Aerarium Saturni (Nova Roma)|Treasury]] - [[Comitia (Nova Roma)|Comitia]] - [[{{CURRENTYEAR}}|Magistrates]] - [[Senate (Nova Roma)|Senate]] - [[Provincia (Nova Roma)|Provinces]] - [[Municipium (Nova Roma)|Municipalities]] - [[Citizen (Nova Roma)|Citizens]] - [http://www.novaroma.org/civitas/album Album civium] - [[Society of Nova Roma|Social structure]] - [[Annals (Nova Roma)|Annals]] - [[:Category:Res publica (Nova Roma)|All articles about our republic]] - [[:Category:Nova Roma|All articles about Nova Roma]] }}

+

'''Quick links:''' [[Declaration (Nova Roma)|Declaration]] - [[FAQ]] - [[:Category:Legal system (Nova Roma)|Laws]] - [[Aerarium Saturni (Nova Roma)|Treasury]] - [[Comitia (Nova Roma)|Comitia]] - [[{{CURRENTYEAR}}|Magistrates]] - [[Senate (Nova Roma)|Senate]] - [[Provincia (Nova Roma)|Provinces]] - [[Municipium (Nova Roma)|Municipalities]] - [[Citizen (Nova Roma)|Citizens]] - [http://www.novaroma.org/civitas/album Album civium] - [[Society of Nova Roma|Social structure]] - [[Annals (Nova Roma)|Annals]] - [[:Category:Res publica (Nova Roma)|All articles about our republic]] - [[:Category:Nova Roma|All articles about Nova Roma]]}}

 
 
 

{{PortalBox | title=ROMAN RELIGION | content={{Include summary|:Cultus_deorum_Romanorum}}

 

{{PortalBox | title=ROMAN RELIGION | content={{Include summary|:Cultus_deorum_Romanorum}}

Line 19:
Line 15:
 

'''Learn more about Rome and Nova Roma in our many [[Nova Roma publications|publications]].'''

 

'''Learn more about Rome and Nova Roma in our many [[Nova Roma publications|publications]].'''

 

----

 

----

−

'''Quick links:''' [[Mailing lists (Nova Roma)|Mailing lists]] - [[Sodalitas|Special interest groups]] - [[Macellum_(Nova_Roma)|Marketplace]] - [[Reenactments|Civilian and military reenactments]] - ''[[Academia Thules]]'' - [[:Category:Events for Romans|Events for Romans]] - [[:Category:Ludi (Nova Roma)|Games]] - [[Special:Newimages|Photos]] - [http://www.youtube.com/view_play_list?p=7121C0874693FF89 Videos] - [[Vox Romana|Our podcast]] - [[:Category:Civic life (Nova Roma)|All articles about civic life in Nova Roma]]}}

+

'''Quick links:''' [[Mailing lists (Nova Roma)|Mailing lists]] - [[Sodalitas|Special interest groups]] - [[Macellum_(Nova_Roma)|Marketplace]] - [[Reenactments|Civilian and military reenactments]] - ''[[Academia Thules]]'' - [[:Category:Events for Romans|Events for Romans]] - [[:Category:Ludi (Nova Roma)|Games]] - [[Special:Newimages|Photos]] - [http://www.youtube.com/view_play_list?p=7121C0874693FF89 Videos] - [[Vox Romana|Our podcast]] - [[:Category:Civic life (Nova Roma)|All articles about civic life in Nova Roma]]}}

 
 
 

{{PortalBox | title=THE ROMAN WAY| content={{Include summary|:Via Romana}}

 

{{PortalBox | title=THE ROMAN WAY| content={{Include summary|:Via Romana}}

 

----

 

----

 

'''Quick links:''' [[:Category:Reading list|Reading list]]s - [[Latin language]] - [[:Category:Roman Clothing and Equipment|Roman clothing and equipment]] - [[:Category:Via Romana|All articles about the Roman Way]] - [[:Category:Ancient Rome|All articles about ancient Rome]]}}

 

'''Quick links:''' [[:Category:Reading list|Reading list]]s - [[Latin language]] - [[:Category:Roman Clothing and Equipment|Roman clothing and equipment]] - [[:Category:Via Romana|All articles about the Roman Way]] - [[:Category:Ancient Rome|All articles about ancient Rome]]}}

 
+
 

</div>

 

</div>

 

<div style="width:49.7%;float:right; margin-right:0px">

 

<div style="width:49.7%;float:right; margin-right:0px">

Line 31:
Line 28:
 
 
 

{{Becoming a citizen}}

 

{{Becoming a citizen}}

 
+
 

</div>

 

</div>

 

<div style="clear:both">{{PortalBox | title=The Nova Roma Web Site | content=This site is an ongoing project of the [[citizen (Nova Roma)|citizens]] of Nova Roma to build a guide to our Republic and to that of ancient Rome. Any citizen can [[NovaRoma:create a wiki account|create an account]]. Join the mailing list [http://groups.yahoo.com/group/NRWiki NRWiki @ yahoogroups.com] to ask questions or propose projects. '''Visit our [[NovaRoma:Community Portal|Community Portal]] for [[NovaRoma:Help files|editing guidelines and tutorials]]''' and to learn about current projects. Learn how to '''[[NovaRoma:Submit_Citizen_Photo|upload your profile picture]]''', '''[[NovaRoma:password|recover your password]]''' or [[NovaRoma:Admin Requests|contact the site administrators]] if you have any requests.

 

<div style="clear:both">{{PortalBox | title=The Nova Roma Web Site | content=This site is an ongoing project of the [[citizen (Nova Roma)|citizens]] of Nova Roma to build a guide to our Republic and to that of ancient Rome. Any citizen can [[NovaRoma:create a wiki account|create an account]]. Join the mailing list [http://groups.yahoo.com/group/NRWiki NRWiki @ yahoogroups.com] to ask questions or propose projects. '''Visit our [[NovaRoma:Community Portal|Community Portal]] for [[NovaRoma:Help files|editing guidelines and tutorials]]''' and to learn about current projects. Learn how to '''[[NovaRoma:Submit_Citizen_Photo|upload your profile picture]]''', '''[[NovaRoma:password|recover your password]]''' or [[NovaRoma:Admin Requests|contact the site administrators]] if you have any requests.

Line 45:
Line 43:
 

  padding:0.5em;  

 

  padding:0.5em;  

 

  text-align:center">

 

  text-align:center">

−

{{{content|'''[mailto:novaromacontact@gmail.com  Contact Nova Roma]'''.}}}</div>

+

{{{content|'''[:.Contact ]'''}}}</div>

 

</div>

 

</div>

 

__NOTOC__ __NOEDITSECTION__

 

__NOTOC__ __NOEDITSECTION__

−

<p style="color:#600000; font-family:Times, Serif; font-weight:bold; text-align:center"><span style="font-size:400%; line-height:100%">

+

 

−

[[File:Spqr-red-trans-50.gif]][[File:Smallredtrans-NR15.PNG]][[File:Spqr-red-trans-50.gif]][[File:Smallredtrans-NR15.PNG]][[File:Spqr-red-trans-50.gif]][[File:Smallredtrans-NR15.PNG]][[File:Spqr-red-trans-50.gif]][[File:Smallredtrans-NR15.PNG]][[File:Spqr-red-trans-50.gif]][[File:Smallredtrans-NR15.PNG]][[File:Spqr-red-trans-50.gif]][[File:Smallredtrans-NR15.PNG]][[File:Spqr-red-trans-50.gif]][[File:Smallredtrans-NR15.PNG]][[File:Spqr-red-trans-50.gif]][[File:Smallredtrans-NR15.PNG]][[File:Spqr-red-trans-50.gif]]</span></p>

+
 

[[Category:English]]

 

[[Category:English]]
---
Latest revision as of 12:07, 30 August 2019
NOVA ROMA
Dedicated to the restoration of classical Roman religion, culture and virtues
 Home| Latíné | Deutsch | Español | Français | Italiano | Magyar | Português | Română | Русский | English
Hodié a.d. XVIII Kal. Ian. ‡ Q. Arrio P. Annaeo cos. ‡ MMDCCLXXII a.u.c. est. "E"
CURRENT EVENTS

DIS MANIBVS
L. CORNELIO SVLLAE FELICI
CENSORI III : CONSVLI III : PRAETORI : QVAESTORI : CVRATORI AERARII
SIT TIBI TERRA LEVIS
---
---
• The next event of Nova Roma is in Provincia Thracia, organized by A. Vitellius Celsus, legatus pro praetore, the Festival of "Сердика е моят Рим" ("Serdica is my Rome"): 21-22 September.
---
• Taxes are now overdue if you have not paid! - Ask about it in our Facebook group or in our mailing lists.
---
Join the Nova Roman guest-friendship project.
Watch videos about Nova Roma on YouTube
Watch amazing photos of Nova Roman wedding ceremonies, a consecration of an augur, and an inauguration of a templum
---
---
DAILY PHOTO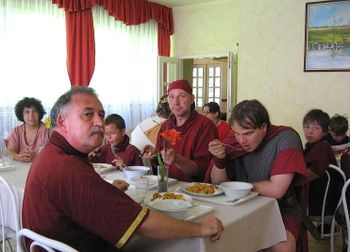 A tradition during the
ludi Apollinares
was to have lunch or dinner with open doors. Open door lunch of Nova Roman citizens for the
Ludi Apollinares
during the IV Nova Roman Reenactment Camp in
Pannonia
(Hungary), in 2761. From left to right Livia Plauta
tribuna plebis
, M. Metellus, Sp. Porcius and
Cn. Lentulus
as
centurio
around the table.