Main Page
From NovaRoma
(Difference between revisions)
m

m

Line 26:
Line 26:
 

{{PortalBox | title=THE REPUBLIC | content={{Include summary|:Res publica Novae Romae}}

 

{{PortalBox | title=THE REPUBLIC | content={{Include summary|:Res publica Novae Romae}}

 

----

 

----

−

'''Quick links:''' [[Declaration (Nova Roma)|Declaration]] - [[Functions (Nova Roma)|Functions]] - [[Missions (Nova Roma)|Missions]] - [[Operational Divisions of Nova Roma| Divisions]] - [[Senate (Nova Roma)|Senate]] - [[Aerarium Saturni (Nova Roma)|Treasury]] - [[{{CURRENTYEAR}}|Magistrates]] - [[Comitia (Nova Roma)|Comitia]] - [[:Category:Legal system (Nova Roma)|Laws]] - [[Society of Nova Roma|Social structure]] - [[Provincia (Nova Roma)|Areas]] - [[Municipium (Nova Roma)|Municipalities]] - [[Citizen (Nova Roma)|Citizens]] - [http://www.novaroma.org/civitas/album Album civium] - [[Annals (Nova Roma)|Annals]] - [[:Category:Res publica (Nova Roma)|All articles about our republic]] - [[FAQ]] - [[:Category:Nova Roma|All articles about Nova Roma]]}}

+

'''Quick links:''' [[Declaration (Nova Roma)|Declaration]] - [[Functions (Nova Roma)|Functions]] - [[Missions (Nova Roma)|Missions]] - [[Operational Divisions of Nova Roma| Divisions]] - [[Senate (Nova Roma)|Senate]] - [[Aerarium Saturni (Nova Roma)|Treasury]] - [[{{CURRENTYEAR}}|Magistrates]] - [[Comitia (Nova Roma)|Comitia]] - [[:Category:Legal system (Nova Roma)|Laws]] - [[Society of Nova Roma|Social structure]] - [[Provincia (Nova Roma)|Areas]] - [[(Nova Roma)|]] - [[Citizen (Nova Roma)|Citizens]] - [http://www.novaroma.org/civitas/album Album civium] - [[Annals (Nova Roma)|Annals]] - [[:Category:Res publica (Nova Roma)|All articles about our republic]] - [[FAQ]] - [[:Category:Nova Roma|All articles about Nova Roma]]}}

 
 
 

{{PortalBox | title=ROMAN RELIGION | content={{Include summary|:Cultus_deorum_Romanorum}}

 

{{PortalBox | title=ROMAN RELIGION | content={{Include summary|:Cultus_deorum_Romanorum}}
---
Revision as of 12:54, 14 April 2018
NOVA ROMA
Dedicated to the restoration of classical Roman religion, culture and virtues
 Home| Latíné | Deutsch | Esperanto | Español | Français | Italiano | Magyar | Português | Română | Русский | English
Hodié a.d. VII Kal. Apr. ‡ Template:2019 est. "E"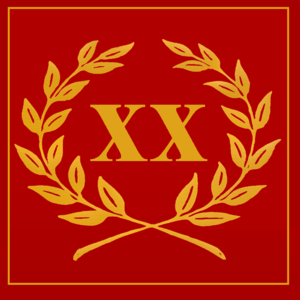 Nova Roma has completed its 20th year!
PARTICIPATE IN THE LUDI NOVI ROMANI
CELEBRATING THE XXth ANNIVERSARY OF THE FOUNDING OF NOVA ROMA
These Ludi Novi Romani are the games celebrating the 20th Anniversary of the founding of Nova Roma through March 1-15.
Nova Roma was founded 20 years ago, March 1, 1998.
DAILY PHOTO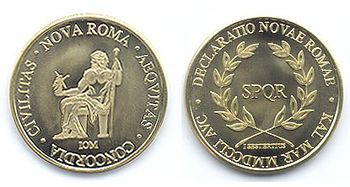 A Nova Roman sestertius, honouring the
Declaration of Nova Roma
in 1998.