Ludi plebeii circenses subscription
From NovaRoma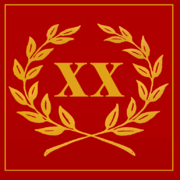 Nova Roma has completed its 20th year on the Kalends of March!
PARTICIPATE IN THE LUDI NOVI ROMANI
CELEBRATING THE XXth ANNIVERSARY OF THE FOUNDING OF NOVA ROMA
These Ludi Novi Romani are the games celebrating the 20th Anniversary of the founding of Nova Roma through March 1-15.
Nova Roma was founded 20 years ago, March 1, 1998.
 Home| Latíné | Deutsch | Esperanto | Español | Français | Italiano | Magyar | Português | Română | Русский | English

ANNOUNCEMENT OF LUDI PLEBEII CHARIOT RACES
Subscribe your chariot into Ludi Plebeii! Deadline for subscription is at 10th of November.
In order to subscribe send following information by email to: c.curius@academiathules.org

A. His/her name in Nova Roma;
B. The name of his/her driver;
C. The name of his/her chariot;
D. His/her tactics for the Quarter and Semifinals;
E. His/her tactics for the Finals;
F. The name of his/her "factio" or team :

More information about each tactic at Circenses rules.
Don't forget the Ludi Circenses championship, in order to keep your hopes of winning up, subscribe now! Link: Circenses championship
How to subscribe your chariot into race