LA:Pagina Prima
From NovaRoma
(Difference between revisions)
 

(4 intermediate revisions by 3 users not shown)
Line 18:
Line 18:
 

----

 

----

 
 
−

'''Vincula commoda:''' [[LA:Mailing lists (Nova Roma)| Forum électronicum]] - [[LA:Sodalitas|Sodálitátés]] - [[LA:Reenactments|Recónstructiónés mílitárés]] - [[LA:Academia Thules|Académía Thúlés]] - [[LA:Macellum (Nova Roma)|Macellum]] - [[LA:Category:Events for Romans|Agenda Rómánís]]}}

+

'''Vincula commoda:''' [[LA:Mailing lists (Nova Roma)| Forum électronicum]] - [[LA:Sodalitas|Sodálitátés]] - [[LA:Reenactments|Recónstructiónés mílitárés]] - [[LA:Academia Thules|Académía Thúlés]] - [[LA:Macellum (Nova Roma)|Macellum]] - [[LA:Category:Events for Romans|Agenda Rómánís]]}}

 
 
 

{{PortalBox | title=RÓMÁNITÁS| content={{Include summary|LA:Via Romana}}

 

{{PortalBox | title=RÓMÁNITÁS| content={{Include summary|LA:Via Romana}}

Line 31:
Line 31:
 

{{PortalBox | title=NUNTIÍ | content={{Current Events Shortlist}} }}

 

{{PortalBox | title=NUNTIÍ | content={{Current Events Shortlist}} }}

 
 
−

{{PortalBox | title=PHOTOGRAPHUS QUOTIDIÁNUS | content={{Template:LA:DailyPhoto}} }}

+

{{PortalBox | title=PHOTOGRAPHUS QUOTIDIÁNUS | content={{}} }}

 
 
−

{{PortalBox | title=POSTULÁTIÓ CÍVITÁTIS | content=

+
 
+

{{PortalBox | title=POSTULÁTIÓ CÍVITÁTIS | content=

 

* [[LA:FAQ|Frequenter Allátae Quaestiónés]]  

 

* [[LA:FAQ|Frequenter Allátae Quaestiónés]]  

 

* [http://groups.yahoo.com/group/Nova-Roma/ Forum électronicum principále] intrá  

 

* [http://groups.yahoo.com/group/Nova-Roma/ Forum électronicum principále] intrá  

Line 40:
Line 41:
 

* '''[http://www.novaroma.org/bin/apply?lang=la Cívitátem Novae Rómae postulá]'''

 

* '''[http://www.novaroma.org/bin/apply?lang=la Cívitátem Novae Rómae postulá]'''

 

* Cívibus novís: [[LA:New citizen first steps|''Quid nunc faciam?'']]  

 

* Cívibus novís: [[LA:New citizen first steps|''Quid nunc faciam?'']]  

−

}}

+

}}

 

</div>

 

</div>

 

<div style="clear:both">{{PortalBox | title=Página Électronica Novae Rómae | content=

 

<div style="clear:both">{{PortalBox | title=Página Électronica Novae Rómae | content=

 

'''Quirítés! Hanc páginam émendáre potestis!'''

 

'''Quirítés! Hanc páginam émendáre potestis!'''

 
 
−

'''Tibíne est opus persónae électronicae?''' Aliquis cívis [[LA:NovaRoma:create a wiki account|persónam 'wiki' facere]] potest. '''Suntne tibí difficultátés?''' Forum électronicum [http://groups.yahoo.com/group/NRWiki NRWiki @ yahoogroups.com] intrá et epistulum scríbe. Vidé [[LA:NovaRoma:Community Portal|Portam Cívitátis]] ut cónsilia legás. [[LA:NovaRoma:Admin Requests|Scríbe cúrátóribus]] sí quid vís.

+

'''Tibíne est opus persónae électronicae?''' Aliquis cívis [[LA:NovaRoma:create a wiki account|persónam 'wiki' facere]] potest. '''Suntne tibí difficultátés?''' Forum électronicum [http://groups.yahoo.com/group/NRWiki NRWiki @ yahoogroups.com] intrá et epistulum scríbe. Vidé [[NovaRoma:|Portam Cívitátis]] ut cónsilia legás. [[LA:NovaRoma:Admin Requests|Scríbe cúrátóribus]] sí quid vís.

 

}}

 

}}

 

</div>

 

</div>
---
Latest revision as of 19:57, 19 January 2013
NOVA ROMA
Restituendae classicae Rómánae religióní, cultúrae atque virtútibus
 Home| Latíné | Deutsch | Esperanto | Español | Français | Italiano | Magyar | Português | Română | Русский | English
Hodié a.d. XII Kal. Sep. ‡ III post M. Pompeium Sex. Lucilium cos. ‡ MMDCCLXXI a.u.c. est. "A"
PHOTOGRAPHUS QUOTIDIÁNUS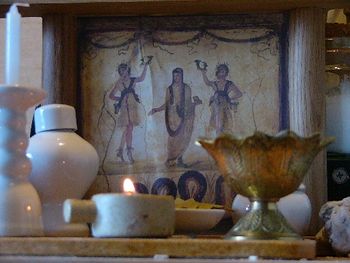 Lararium
hodiernum.
POSTULÁTIÓ CÍVITÁTIS
Notice: During the month of August, applications for citizenship may be delayed for up to 30 days.
Ad magistratum nuntium mittere
Forum électronicum principále intrá : "Trans Tiberim".
Página Électronica Novae Rómae